1956 Rochet Super Special 60cm (from Gene Portuesi's Detroit shop)

06-23-22, 01:12 PM
Newbie
Join Date: Aug 2014
Location: San Francisco, Crested Butte, Tahoe City
Posts: 3
Bikes: lots
Mentioned: 0 Post(s)
Tagged: 0 Thread(s)
Quoted: 1 Post(s)
Likes: 0
Liked 0 Times in 0 Posts
1956 Rochet Super Special 60cm (from Gene Portuesi's Detroit shop)
---
This was my late father's racing bike. He was quite the amateur track & road cyclist in the Dearborn, MI area in the late 50's. There's a long history with this bike, and my older brother & I have made some bad decisions through the years which has left it in the condition you see here. The only original parts we still have are the frame, stem, front derailleur & shifter & front Campagnolo 36h low flange hub (which still feels awesome of course). What is cool is that we saved the original sales receipts from Gene's shop in Detroit. My dad, Thom (Tom) Myall was coached by Gene Portuesi. I've debated restoring it, but when I did have it ride-able 15years ago (with flat bars, a random Specialized french BB that I found in Larry's parts bin at Noe Valley Cyclery in San Francisco) I found it a tad big for me (I ride a 58cm top tube) and it was a bit of a noodle, but I was amazed how well the Mafac brakes worked. I'd love it to go to a good home....
Thx
Patrick Myall
7/6/22 update: Thx to everyone for all the replies, unfortunately I CANNOT READ PRIVATE MESSAGES because I have less than 10 posts so apologies to everyone who has private messaged me, I'm not sure how best to get in touch with all of you. Also I'm bike touring in Europe currently, back in the US in late July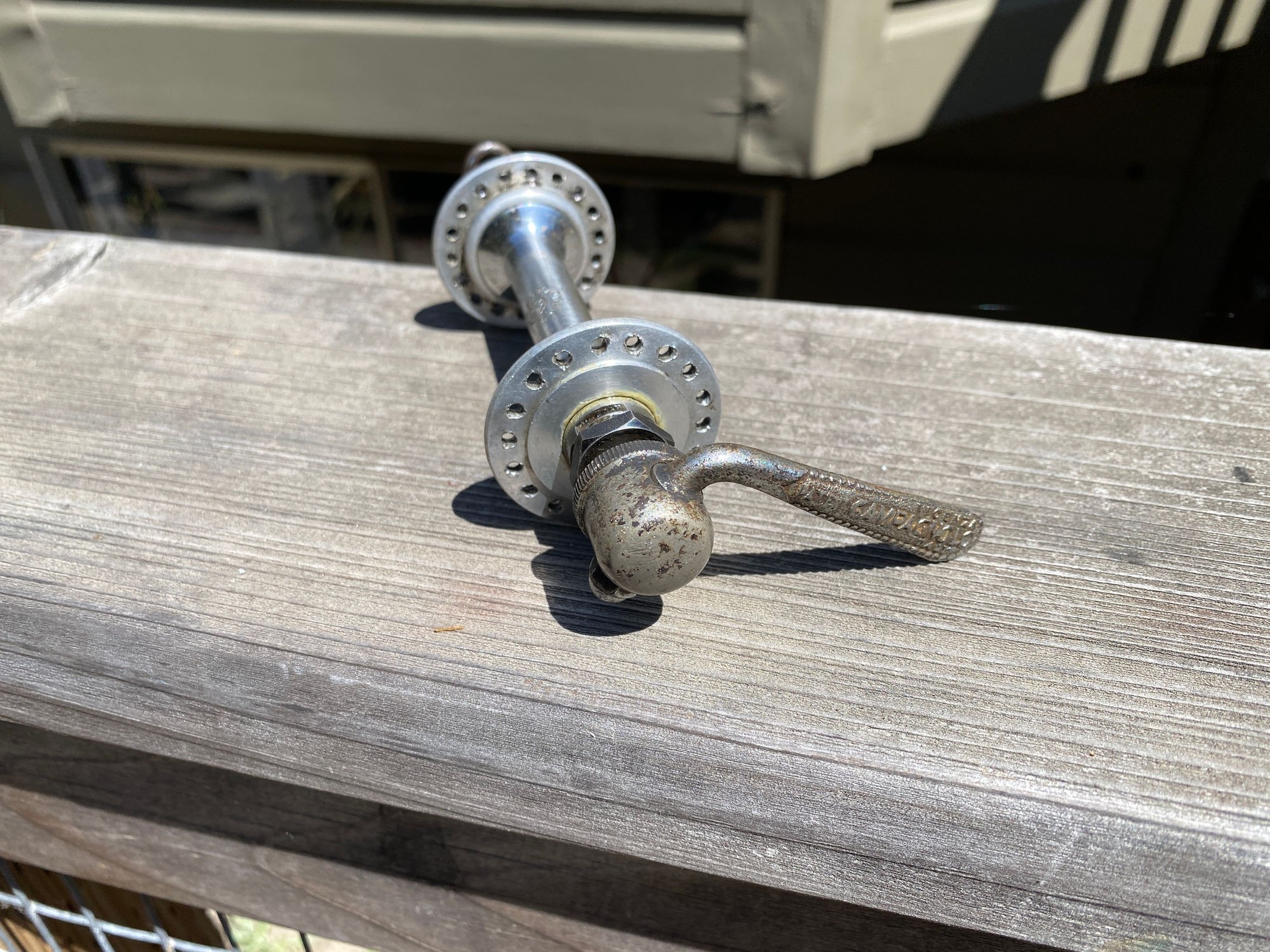 ---
Last edited by 3daywheelie; 07-06-22 at

03:35 AM

. Reason: I upgraded my membership, hopefully I can add pictures now

06-23-22, 02:00 PM
Senior Member
Join Date: Aug 2016
Location: Visalia, CA
Posts: 1,836
Mentioned: 39 Post(s)
Tagged: 0 Thread(s)
Quoted: 779 Post(s)
Hello and welcome to Bike Forums,

On eBay these days, if the frame is cleaned up and presented nicely it may be worth a few hundred dollars to a buyer keen on just such a Rochet in this particular and slightly unusual size - however, you'd have to wait for the perfect patron to get more than $250 or so for the frameset. I suggest stripping it down and advertising it at that price to start if you are keen to maximize your profits and sell the components separately. The stem and front derailleur are worth $100-200 apiece (and should also be cleaned up a bit for advertising) because they are very rare and people looking for such things are willing to pay. The front hub is nice but doesn't necessarily match this bicycle so I would also sell that separately. Definitely scrap the chain and rear derailleur, clean up the brakes a bit and remove the cables and housing whether you part them out or not.

If you want to sell the bicycle as assembled I would suggest giving the wheels to a co-op because they are not useless but do not match the quality or age of the rest of the bicycle. For what will amount to a challenging but rewarding project I would start by asking $500 for the frame, fork, headset, stem, shifter, front derailleur and brake levers/cable guides. You have a receipt and a cool backstory to provide and I'm sure that some prospective buyers might appreciate the added provenance.

Parted out or not, if it doesn't sell fast enough for you just slowly drop the price and someone will eventually take a stab at it. Good luck!

-Gregory

(EDIT: I dropped my estimated prices a bit on the frame and whole bicycle after considering the important fact that the fork is obviously not original. That is a buzzkill for many buyers.)
---
Last edited by Kilroy1988; 06-23-22 at

02:03 PM

.

06-23-22, 04:25 PM
Friendship is Magic
Join Date: Nov 2010
Location: The Big Tomato
Posts: 21,315
Bikes: old ones
Mentioned: 296 Post(s)
Tagged: 0 Thread(s)
Quoted: 24248 Post(s)
...interesting bike, and probably about my size. But I just don't do these restoration projects any more. FWIW, here's a Follis I revamped (not a true detailed restoration) from about that same era. Someone will want to do this one....the Follis was in much worse shape when I bought it than yours is. Those Simplex "suicide" frpnt derailleurs alone are becoming harder to find , and thus command higher prices in the used parts marketplace. Likewise that adjustable stem has value in and of itself.
__________________


06-23-22, 05:10 PM
Senior Member
Join Date: Feb 2013
Location: Alta California
Posts: 12,290
Mentioned: 350 Post(s)
Tagged: 1 Thread(s)
Quoted: 3020 Post(s)
-----

if you have researched marque history you may have learned that there was a moment when the marque nominally went out yet new cycles bearing the name continued to appear for a short time following

do not know any of the details regarding this but it is sure to have been discussed on the CR list


---

the Ambrosio regolabile is worth a pretty penny all by its lonesome

---

documentation/provenance a big plus for the collector/enthusiast

-----

06-24-22, 04:46 AM
Gold Member
Join Date: Mar 2012
Location: Ocean County, NJ
Posts: 3,036
Bikes: Looking for a Baylis or Wizard in 59-62cm range
Mentioned: 62 Post(s)
Tagged: 0 Thread(s)
Quoted: 372 Post(s)
Cool bike! I once had a Rochet I bought from France ebay, however was too small. If you decide to sell, I would be interested.
__________________
"My biggest fear is that when I die my wife will sell my bicycles for what I told her they cost."
Get on your bikes and ride!
https://instagram.com/norseamerican/