Thoughts on 1972 Raleigh Professional

01-31-23, 09:24 PM
Full Member
Join Date: Mar 2004
Location: Glendora, CA
Posts: 229
Bikes: Merlin Extralight '94 & Cannondale Supersix '15
Mentioned: 0 Post(s)
Tagged: 0 Thread(s)
Quoted: 143 Post(s)
A good number of components do not look original to me. Granted these largely comprise consumables, so we would expect some swaps along the way.
* the '72 Pro came with the wide-rivet Brooks Professional
* derailleur pulleys come from a much later period. One rarely finds the "Brev Camp" ones.
* the chain does not look like the usual Regina
* cables and housing
* toe straps
* tires
* the rims look like replacements
Still, fantastic condition and a nice acquisition. Congratulations!

02-24-23, 03:53 PM
Junior Member
Join Date: Apr 2022
Posts: 76
Mentioned: 0 Post(s)
Tagged: 0 Thread(s)
Quoted: 22 Post(s)
Well thought I would update my post. I have since got tires on her and cleaned and checked everything.
Made some brake tweaks and took her for a spin. Man does she ride nice. So many memories came back riding her around the hood.. For us kids at the time it was a Paramount or the Professional we all lusted after. At least in Palo Alto where I grew up.
First time on tubulars in decades but the ride was great and they did not come off so I must have done a good job.
Back rim has a tiny bit of a flat spot so I sourced some vintage Campy Record high flange hubs attached to Weiman rims which should be a good vintage match. Just need to find the right freewheel for it now.
Will see about getting the original straightened at some point.
My wife thinks she needed a name and I have always loved the name kitty, very English public school. So kitty is my new cougar.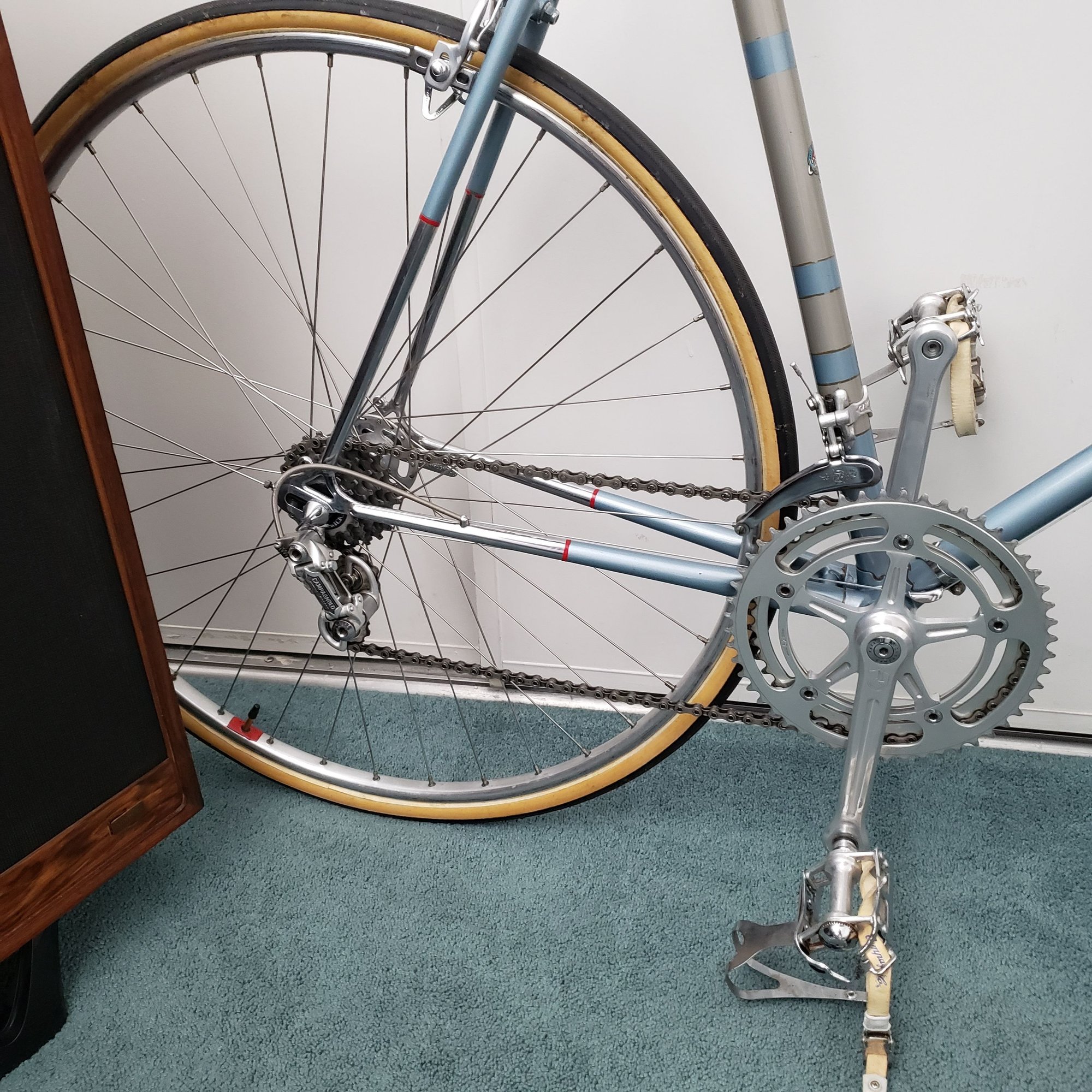 02-24-23, 04:12 PM
Senior Member
Join Date: Nov 2010
Posts: 3,366
Mentioned: 9 Post(s)
Tagged: 0 Thread(s)
Quoted: 538 Post(s)
Yes, Kitty is beautiful. Like many here I love the Mink Blue/Silver colorway. Pure class. And the chrome fork crown is sublime. I noticed the insertion marks on the stem. I wonder whether that indicates it has had 4 previous owners? Never saw one quite like that.

Enjoy!

02-24-23, 04:28 PM
Banned.
Join Date: Jul 2009
Location: PAZ
Posts: 12,394
Mentioned: 255 Post(s)
Tagged: 0 Thread(s)
Quoted: 2586 Post(s)

02-24-23, 04:57 PM
The Wheezing Geezer
Join Date: Oct 2021
Location: Espaņola, NM
Posts: 575
Bikes: 1976 Fredo Speciale, Jamis Citizen 1, Ellis-Briggs FAVORI, Rivendell Clem Smith Jr.
Mentioned: 1 Post(s)
Tagged: 0 Thread(s)
Quoted: 248 Post(s)
Looks great!

Congratulations, especially for the sew-ups!