Thoughts on 1972 Raleigh Professional

01-31-23, 09:24 PM
Full Member
Join Date: Mar 2004
Location: Glendora, CA
Posts: 268
Bikes: Merlin Extralight '94 & Cannondale Supersix '15
Mentioned: 0 Post(s)
Tagged: 0 Thread(s)
Quoted: 163 Post(s)
A good number of components do not look original to me. Granted these largely comprise consumables, so we would expect some swaps along the way.
* the '72 Pro came with the wide-rivet Brooks Professional
* derailleur pulleys come from a much later period. One rarely finds the "Brev Camp" ones.
* the chain does not look like the usual Regina
* cables and housing
* toe straps
* tires
* the rims look like replacements
Still, fantastic condition and a nice acquisition. Congratulations!

02-24-23, 03:53 PM
Junior Member
Join Date: Apr 2022
Posts: 84
Mentioned: 0 Post(s)
Tagged: 0 Thread(s)
Quoted: 24 Post(s)
Well thought I would update my post. I have since got tires on her and cleaned and checked everything.
Made some brake tweaks and took her for a spin. Man does she ride nice. So many memories came back riding her around the hood.. For us kids at the time it was a Paramount or the Professional we all lusted after. At least in Palo Alto where I grew up.
First time on tubulars in decades but the ride was great and they did not come off so I must have done a good job.
Back rim has a tiny bit of a flat spot so I sourced some vintage Campy Record high flange hubs attached to Weiman rims which should be a good vintage match. Just need to find the right freewheel for it now.
Will see about getting the original straightened at some point.
My wife thinks she needed a name and I have always loved the name kitty, very English public school. So kitty is my new cougar.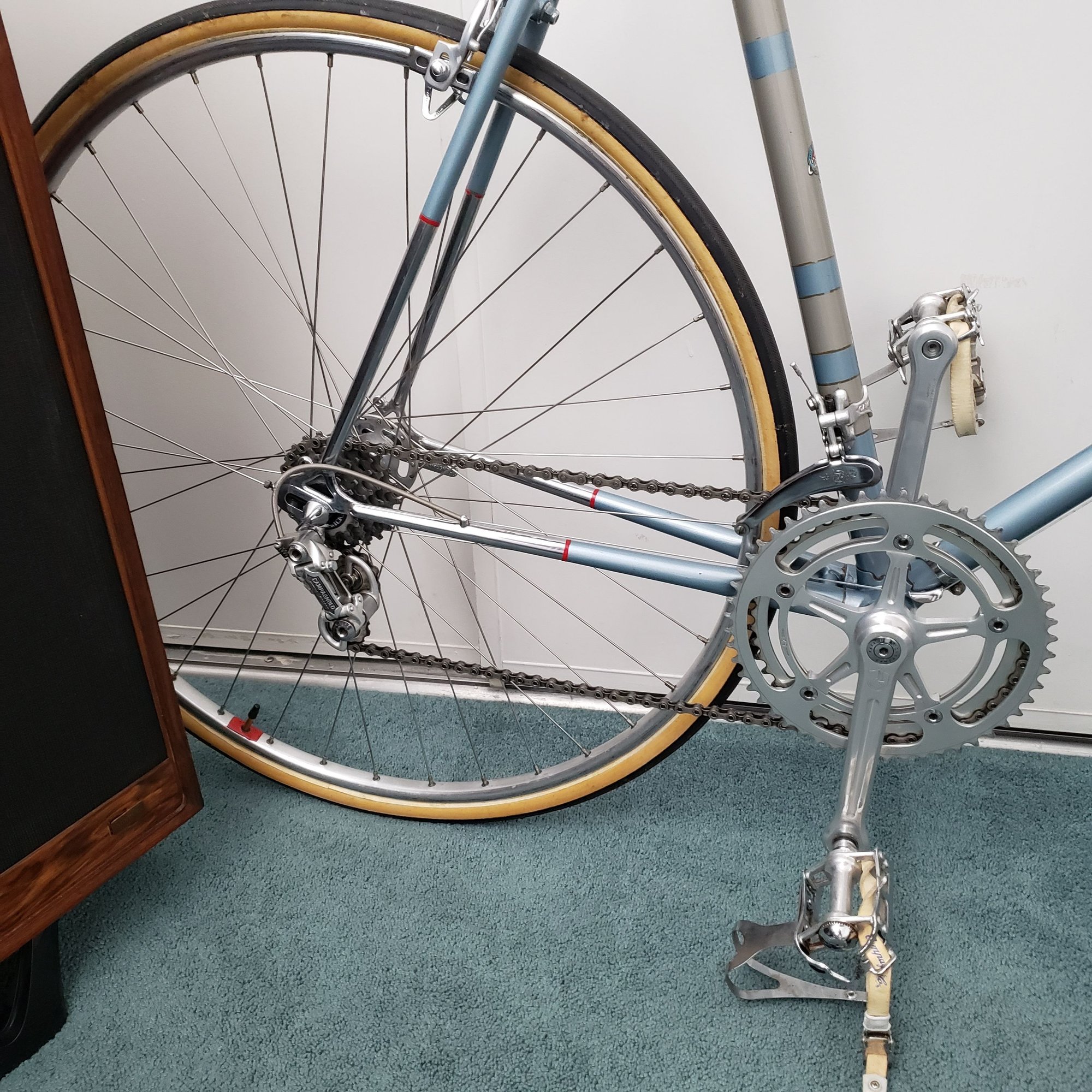 02-24-23, 04:12 PM
Senior Member
Join Date: Nov 2010
Posts: 3,465
Mentioned: 9 Post(s)
Tagged: 0 Thread(s)
Quoted: 566 Post(s)
Yes, Kitty is beautiful. Like many here I love the Mink Blue/Silver colorway. Pure class. And the chrome fork crown is sublime. I noticed the insertion marks on the stem. I wonder whether that indicates it has had 4 previous owners? Never saw one quite like that.

Enjoy!

02-24-23, 04:28 PM
Banned.
Join Date: Jul 2009
Location: PAZ
Posts: 12,394
Mentioned: 255 Post(s)
Tagged: 0 Thread(s)
Quoted: 2586 Post(s)

02-24-23, 04:57 PM
The Wheezing Geezer
Join Date: Oct 2021
Location: Española, NM
Posts: 688
Bikes: 1976 Fredo Speciale, Jamis Citizen 1, Ellis-Briggs FAVORI, Rivendell Clem Smith Jr.
Mentioned: 1 Post(s)
Tagged: 0 Thread(s)
Quoted: 298 Post(s)
Looks great!

Congratulations, especially for the sew-ups!

04-09-23, 03:14 PM
The rims appear to be AVA which were OE on Raleigh Pros in the early 70's. They also came with Campy brake cables and silver/gray housings.
Measuring Raleigh frame sizes appeared to be BB center to intersection of where the top of the top tube would be, which with the Professional is above the scalloped top of the seat tube.
The shop I was at sold a bunch and parted out a lot more when Raleigh would have a sale on them for not much more than the price of the Campy gruppo.