Motobecane Grand Jubilee

05-23-23, 10:52 AM
Full Member
Join Date: Mar 2021
Location: San Diego, CA
Posts: 303
Bikes: 1986 Schwinn High Sierra, 1989 Supergo Access Comp, 1990 Trek 750, 1990 Trek 970, 1991 Miyata Quickcross, 1992 Bridgestone RB-2, 1993 Bridgestone MB-3, 2002 Stumpjumper M4 Pro, 2003 S-Works FSR
Mentioned: 2 Post(s)
Tagged: 0 Thread(s)
Quoted: 125 Post(s)
Motobecane Grand Jubilee
---
I could get this one for $150 or maybe a bit less. I think t's a 1978 w Vitus frame. Way too big for me so it would be a flip. Original owner says not much use, and appears to be mostly or all original. Would need new tires at least. Is it worth the effort?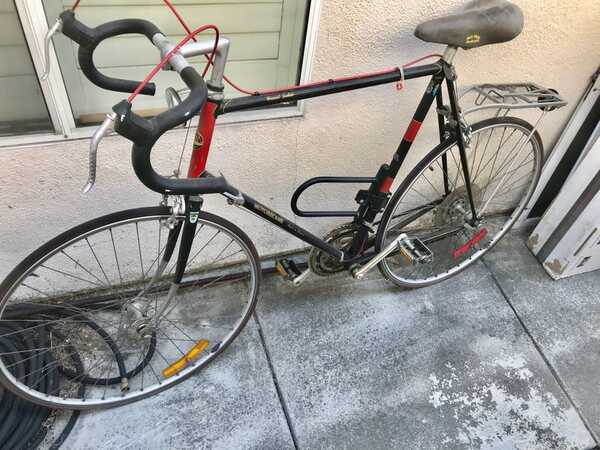 05-23-23, 10:55 AM
Bike don't lie
Join Date: Jul 2007
Location: Kalamazoo MI
Posts: 21,024
Bikes: Fuji SL2.1 Carbon Di2 Cannondale Synapse Alloy 4 Trek Checkpoint ALR gravel Viscount Aerospace Pro Colnago Classic Rabobank Schwinn Waterford PMount
Mentioned: 56 Post(s)
Tagged: 0 Thread(s)
Quoted: 2946 Post(s)
In my area, there isn't much flip room left after your initial purchase and needing tires, etc.

I'd pass.

05-23-23, 10:57 AM
Senior Member
Join Date: Apr 2012
Location: Middle Earth (aka IA)
Posts: 20,432
Bikes: A bunch of old bikes and a few new ones
Mentioned: 177 Post(s)
Tagged: 0 Thread(s)
Quoted: 5850 Post(s)

05-24-23, 06:50 AM
Thrifty Bill
Join Date: Jan 2008
Location: Mountains of Western NC
Posts: 23,533
Bikes: 86 Katakura Silk, 87 Prologue X2, 88 Cimarron LE, 1975 Sekai 4000 Professional, 73 Paramount, plus more
Mentioned: 96 Post(s)
Tagged: 0 Thread(s)
Quoted: 1224 Post(s)
Ditto. In my market, after putting 4 to 6 hours into it, and another $75 in consumables, I might get $150 for it, $175 tops. I am seeing some really nice stuff right now under $100.

Prices of finished projects are DOWN, prices on consumables are UP. It's the classic squeeze play. I prefer to avoid it.

The one really nice thing on that era Motobecane is they used a lot of Japanese parts. So it might have come with first generation Cyclone (if not, Vx GT which is nice too), forged French sized stem, nice crankset, possibly Japanese made Swiss threaded BB, decent French sized headset.

The last similar Motobecane I bought was $50. At that price point, it was a no brainer.


Are you selling any vintage down tube shifter bikes for $200 or more? That used to be the price point, no more.
---
Last edited by wrk101; 05-25-23 at

12:11 PM

.

05-24-23, 08:44 PM
Senior Member
Join Date: Nov 2010
Posts: 3,511
Mentioned: 9 Post(s)
Tagged: 0 Thread(s)
Quoted: 584 Post(s)
I agree with most of the sentiments. I have one in the opposite color scheme, mostly red. Mine was in excellent condition and I paid $140 for it, if I remember correctly. I love, love it. No room for profit at that price.

05-25-23, 08:55 AM
Senior Member
Join Date: Oct 2011
Location: Fairplay Co
Posts: 9,278
Bikes: Current 79 Nishiki Custum Sport, Jeunet 620, notable previous bikes P.K. Ripper loop tail, Kawahara Laser Lite, Paramount Track full chrome, Raliegh Internatioanl, Motobecan Super Mirage. 59 Crown royak 3 speed
Mentioned: 25 Post(s)
Tagged: 1 Thread(s)
Quoted: 722 Post(s)
A set of tires that would look good on this bike would run $60 minimum right now and fixed up fully serviced ready to ride $250 or so is the most I could see this one going for so no real room for flip on this one at nearly any price. You would need to get it for basically free for it to make sense and then it would only be OK deal.

05-26-23, 05:00 AM
Senior Member
Join Date: Nov 2008
Location: New York Metro Area
Posts: 4,242
Bikes: '02 Litespeed, '99 Bianchi Alfana. '91 Fuji Saratoga, '84 Peugeot Canyon Express, '82 Moto GR, '81 Fuji America, '81 Fuji Royale; '78 Bridgestone Diamond Touring, '76 Fuji America, plus many more!
Mentioned: 6 Post(s)
Tagged: 0 Thread(s)
Quoted: 178 Post(s)
Don't waste your time. I myself would grab it for $75 to $100 to recondition, modify (bar-cons, etc.) and ride. Motobecanes are great bikes, the Grand Jubilee is a great model, '78 was a great model year, and it's my size. The market around me is way softer than a marshmallow right now. You might see similar bikes cleaned up for $400, but they aren't selling. They are constantly reposted over and over again. You don't even see them selling for $150. On the other hand, you don't even see many decent vintage bikes like that for sale. I binged on a tsunami.of really crazy deals on upper mid-range bikes last year, and I'm hoping all bikes my size stay in the $400 range.
---
Last edited by cycleheimer; 05-26-23 at

05:11 AM

.