Sekine 21" value thoughts

01-23-09, 05:52 PM
Member
Join Date: Jan 2009
Location: River Falls, WI
Posts: 27
Bikes: This week or last week?
Mentioned: 0 Post(s)
Tagged: 0 Thread(s)
Quoted: 0 Post(s)
Likes: 0
Liked 0 Times in 0 Posts
Sekine 21" value thoughts
---
That really is a nice old Herc. I love seeing all the old bikes here. Thats Sears Bike is Cool too. I remember seeing that Bike in the christmas catalog as a kid. Sears allways had some bikes that did something different than the norm in the early 70's. Nice eye candy as a kid though. what side crak is twisted. I have a left side crank arm from a Penny's formost that is a steel cotter crank alot like the herc I would think. You can have it for shipping.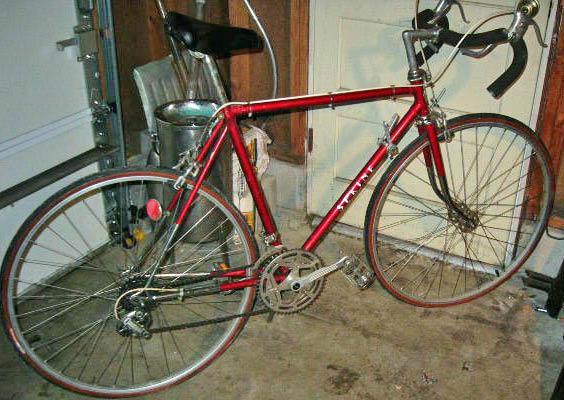 I had a nice score. Ive been watching this bike for 3 weeks online at a local online auction service. I knew it was a red Sekine with a smaller frame and it didnt look too boogered up by the picture in the ad. I won at $40 and picked it up today. I am pretty sure it is a 21" SHS with the Shimano Titlist front & rear derailiuers and the shimano tourney brakes. It was stored in the basement most of its life. In good shape but I noticed that someone scratched their intitials in the down tube. and it has some road scars as it was ridden. I am going to clean it all up, over haul it, new seat and tape and re cable it. Not nice enough for me to keep but I think it will bring some attention locally. any thoughts as to what it should sell for? (i am willing to ship if someone is interested in this.)
I can get some better pics too.

01-23-09, 09:43 PM
Thrifty Bill
Join Date: Jan 2008
Location: Mountains of Western NC
Posts: 22,019
Bikes: 86 Katakura Silk, 87 Prologue X2, 88 Cimarron LE, 1975 Sekai 4000 Professional, 73 Paramount, plus more
Mentioned: 67 Post(s)
Tagged: 0 Thread(s)
Quoted: 655 Post(s)
Likes: 0
What is material of construction of frame? High ten steel, or something better? Around here, a high ten bike, with turkey levers, alloy rims, etc., in ready to ride condition is about $100 to $120. Same thing with a better frame gets you in the $150 to $175 range. Looks like a steel seat post.
Thread
Thread Starter
Forum
Replies
Last Post

Posting Rules
You may not post new threads
You may not post replies
You may not post attachments
You may not edit your posts
---
HTML code is Off
---