'69 Humber Sports

02-01-09, 06:56 PM
BMW Aficionado
Join Date: Feb 2009
Location: Boston, MA
Posts: 230
Bikes: '66 Raleigh RSW, '69 Humber Sports, '71 Raleigh Pro, '73 Raleigh Super Course, '74 Raleigh International, '75 + '77 Raleigh Competition, '87 Raleigh Edge, others
Mentioned: 0 Post(s)
Tagged: 0 Thread(s)
Quoted: 1 Post(s)
Likes: 0
Liked 0 Times in 0 Posts
'69 Humber Sports
---
Recently I found this bike buried in my grandma's garage.. Never heard of the brand before in my life and there don't seem to be too many threads on it here. Surprisingly enough, after a good cleaning everything works fine. It's just been bugging me; is this some sort of a rarity? I probably wouldn't be selling it, but I'm very curious as to the value of it. Thanks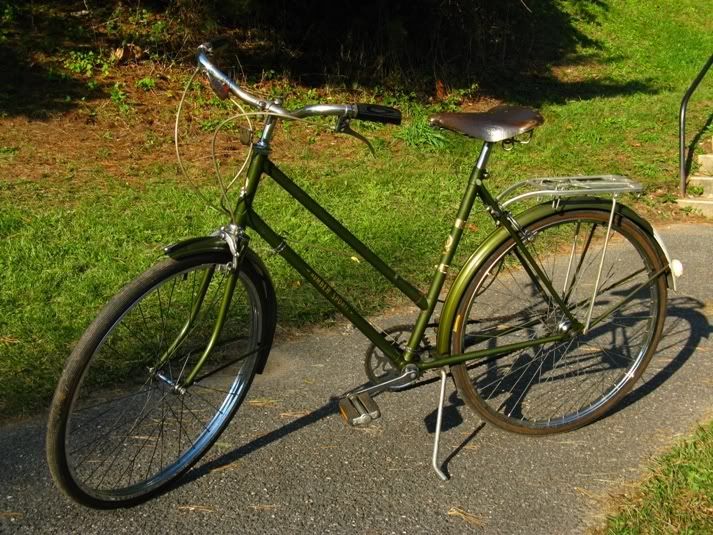 02-01-09, 07:25 PM
Administrator
From Sheldon Brown.

Raleigh, Rudge & Humber
These were the flagship brands of Raleigh Industries, and are of equal quality. 26" wheel models would normally come with Raleigh-pattern rims and Brooks leather saddles. Having separate lines allowed Raleigh to offer exclusive territories to local dealers without writing off other dealers in the same area. The frames on these bikes were generally identical, but each had special distinctive cosmetic features, particularly in the fork construction, and the pattern of the cutouts in the chainwheel:

* Raleigh models featured the "dimpled fork", a fork with a tubular crown and chrome-plated buttons on the ends of the crown. The Raleigh logo depicts Sir Walter Raleigh laying his cape down on the mud so that Queen Elizabeth won't soil her shoes. Other Raleigh logos represent a heron, for reasons that are unclear.

* Rudge models have a sloping fork crown with a removeable chrome cap. The Rudge logo is a human hand, and the chainwheels are cut out in this pattern (you can see this in my article on Cottered Cranks.)

Rudge had some connection with Whitworth, and some of them say "Rudge-Whitworth". See my glossary entry on "Whitworth."
* Humber models often feature a truly bizarre fork design, where upper part of the each fork "blade" consists of two small diameter tubes, one in front of the other, joining halfway down the "blade".

Humber chainwheels have cutouts representing 5 little people running around in a circle, with their feet outward, and their heads joining at the middle.

Humber was also an automobile manufacturer, but I believe the bicycle division was spun off early in the century. The Humber is a major English river.
---
Last edited by cb400bill; 02-01-09 at

10:52 PM

.

02-02-09, 12:10 AM
www.theheadbadge.com
Join Date: Sep 2005
Location: Southern Florida
Posts: 23,502
Bikes: http://www.theheadbadge.com
Mentioned: 27 Post(s)
Tagged: 0 Thread(s)
Quoted: 314 Post(s)

02-02-09, 06:28 AM
BMW Aficionado
Join Date: Feb 2009
Location: Boston, MA
Posts: 230
Bikes: '66 Raleigh RSW, '69 Humber Sports, '71 Raleigh Pro, '73 Raleigh Super Course, '74 Raleigh International, '75 + '77 Raleigh Competition, '87 Raleigh Edge, others
Mentioned: 0 Post(s)
Tagged: 0 Thread(s)
Quoted: 1 Post(s)
Likes: 0
Liked 0 Times in 0 Posts
Thanks for the info guys, and yep, the seat post is 1".

02-04-09, 12:23 PM
Senior Member
Join Date: Feb 2002
Location: Massachusetts
Posts: 664
Mentioned: 0 Post(s)
Tagged: 0 Thread(s)
Quoted: 2 Post(s)
Likes: 0
Liked 0 Times in 0 Posts
It is a fairly rare cycle, at least when compared to other 3-speeds like a Raleigh Sports.
Too bad it doesn't have it's chainguard.

It has value as a reliable commuter and would fetch at least $150 in a commuting city during the season.
Thread
Thread Starter
Forum
Replies
Last Post
"The 33"-Road Bike Racing
Cyclocross and Gravelbiking (Recreational)

Posting Rules
You may not post new threads
You may not post replies
You may not post attachments
You may not edit your posts
---
HTML code is Off
---