Sanwa Classic

11-22-09, 03:49 PM
Bike Sorceress
Join Date: Apr 2008
Location: MPLS
Posts: 629
Bikes: 2016 Trek 520 | 1975 Raleigh LTD-3 | 1988 Schwinn Premis | 1957 Schwinn Corvette | 1993 Giant ATX780 | 2015 Cannondale Rush | Unknown Custom Single Speed
Mentioned: 4 Post(s)
Tagged: 0 Thread(s)
Quoted: 20 Post(s)
Liked 0 Times in 0 Posts
Sanwa Classic
---
I figure it's probably not worth as much as I put into it, but let's see what you guys think:
Sanwa Classic 2210
58cm Hi-Ten Lugged Frame
Alloy rims, Weimann Front, Araya rear with 6-speed freewheel, with a set of almost new Bontrager RaceLite HardCase tires
Silstar cranks
Suntour Front Derailleur and Stem Shifters, Shimano Tourney Rear Derailleur
Tektro Aero brake levers and Specialized interrupt/cyclocross levers
Dia-Compe brake calipers
Brooks B15 Saddle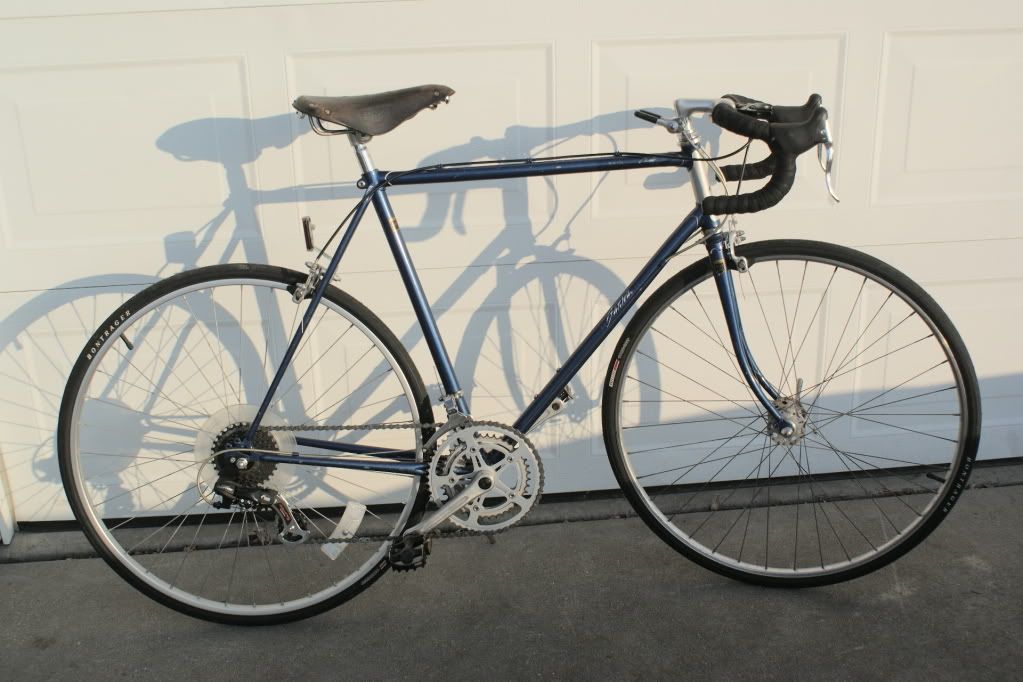 11-22-09, 06:03 PM
sultan of schwinn
Join Date: Sep 2009
Location: Lehigh Valley, PA
Posts: 3,581
Mentioned: 0 Post(s)
Tagged: 0 Thread(s)
Quoted: 0 Post(s)
Likes: 0
Liked 0 Times in 0 Posts
Retail: about $100 for the wheelset with the tires, $65 for the rest of the components (mainly the brakes), $50 for the saddle and about $25 for the frame (ie. $225 parted out). As a full bike with the brooks saddle about $150-175 depending on the market.

BTW, how do you like the Tektro levers? I considered them for a project but I backed off. How do they feel?

On another note, if you are planning on riding it, getting a better RD, will make your life much easier (it might be hard, if the frame does not have an RD mount, but very doable...)

11-22-09, 07:08 PM
Bike Sorceress
Join Date: Apr 2008
Location: MPLS
Posts: 629
Bikes: 2016 Trek 520 | 1975 Raleigh LTD-3 | 1988 Schwinn Premis | 1957 Schwinn Corvette | 1993 Giant ATX780 | 2015 Cannondale Rush | Unknown Custom Single Speed
Mentioned: 4 Post(s)
Tagged: 0 Thread(s)
Quoted: 20 Post(s)
Liked 0 Times in 0 Posts
I haven't used them that much, but I think the Tektro levers are nice. The hoods seem wider than other levers I've used.

Didn't think about parting it out, that would probably get me as much money as I put in. I'm still not sure if I want to get rid of it though...

11-22-09, 08:27 PM
Thrifty Bill
Join Date: Jan 2008
Location: Mountains of Western NC
Posts: 22,020
Bikes: 86 Katakura Silk, 87 Prologue X2, 88 Cimarron LE, 1975 Sekai 4000 Professional, 73 Paramount, plus more
Mentioned: 67 Post(s)
Tagged: 0 Thread(s)
Quoted: 657 Post(s)
Likes: 0
You could not get $100 for that unmatched wheelset and tires around here. Complete, $125 bike. Parted out due to the seat and Tektro levers, $150.
It would be very hard to get $150 for the bike complete due to the relatively unknown Taiwan brand, and the high ten steel frame. I have a Sanwa 215 (cromoly frame) in the to be flipped later queue right now. It is not in the great shape of your bike and most of the drivetrain ended up on my wife's Centurion mixte.
Best way to get full value out of it is to keep it and enjoy it! If it was a more recognizable brand, it would be easier to get the value out of it.
Thread
Thread Starter
Forum
Replies
Last Post
General Cycling Discussion

Posting Rules
You may not post new threads
You may not post replies
You may not post attachments
You may not edit your posts
---
HTML code is Off
---