Yokota Enterprise 27" road bike

06-16-10, 10:04 PM
Newbie
Join Date: Jun 2010
Posts: 1
Mentioned: 0 Post(s)
Tagged: 0 Thread(s)
Quoted: 0 Post(s)
Likes: 0
Liked 0 Times in 0 Posts
Yokota Enterprise 27" road bike
---
Found this "Yakota Enterprise" at Goodwill for twenty bucks. It was dirty as hell but cleaned up quite nicely, requiring only newer tires and tubes. Says "Special Cro Mo Tubing" on the seat tube and it has Biopace chain wheels. Everything else on the breaks and derailleurs say Exage Motion. The seat is a selle italia anatomic. Wheels are 27" Araya and Hubs are Joytech. I was considering forking over the dough for a Brook's, but this seat has done fine for commuting. Forgive my newbishness. What do you think it'd bring?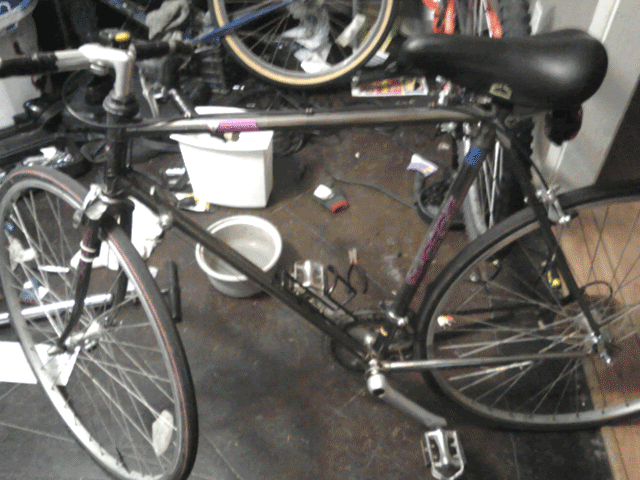 Also, here's a (maybe 1974) Schwinn Le Tour. It's kinda rusty but all the kids I work with seem desperate to buy even with some major rusting. I'd been offered $250 in current condition, but just couldn't bare to part with it. It's completely rideable except for the fact that I swapped the tires for the yokota. Anyway if I could just get a ballpark on either I'd be most grateful. Sorry about picture quality. I had to borrow a friend's crappy phone cam.
---
Last edited by wallyanti; 06-16-10 at

10:07 PM

. Reason: Forgetfulness

06-17-10, 09:49 AM
sultan of schwinn
Join Date: Sep 2009
Location: Lehigh Valley, PA
Posts: 3,581
Mentioned: 0 Post(s)
Tagged: 0 Thread(s)
Quoted: 0 Post(s)
Likes: 0
+1... Sell the Le Tour at that price

Cromoly tube and exage motion components make the Yokota about 89-90 bike. Nice ridable bike and probably a better ride than the Le Tour.

06-20-10, 09:28 PM
Senior Member
Join Date: Nov 2009
Posts: 7,107
Mentioned: 2 Post(s)
Tagged: 0 Thread(s)
Quoted: 2 Post(s)
Likes: 0
Liked 0 Times in 0 Posts
my yakota is about the same vintage but came with 700c wheels.

if its in as good as it looks in the pictures, i may be mildly interested. what size is it?

12-27-14, 01:40 PM
Carpe Velo
Join Date: Dec 2011
Location: Fort Worth, Texas
Posts: 2,520
Bikes: 2000 Bianchi Veloce, '88 Schwinn Prologue, '90 Bianchi Volpe,'94 Yokota Grizzly Peak, Yokota Enterprise, '16 Diamondback Haanjo, '91 Bianchi Boardwalk, Ellsworth cruiser
Mentioned: 0 Post(s)
Tagged: 0 Thread(s)
Quoted: 6 Post(s)
Just found this old thread while looking for information on Yokota and figured I would dredge it up and add to it for the reference of anyone who comes along later.
I picked up this Yokota enterprise this past summer (2014) for $160. Lower end enthusiast road bike. Did a lot of upgrades on it. A lot of steel bits (such as seatpost & handlebars) were replaced with aluminum alloy parts. Original drivetrain was Shimano Exage with biopace rings. Kept the Biopace, but upgraded the derailleurs to a 105 rear and Ultegra front. 6 speed Exage shifters were replaced with 7 speed RX100 and of course a 7 speed freewheel to match.
Brakes were changed to a modern dual pivot. Interesting thing I found was the original single pivots were a bit of a medium reach. The short reach RX100 set I had would not reach from the rear brake bridge to the rim, so I had to use a long reach Tektro in the back. But the long reach was too long if I used it in the front, so they are a slight visual mismatch. Levers were changed to an origin8 model with a drillium appearance. The hoods are very similar in shape to Campy Ergo's.
The first photo is a "before" pic, when I bought it. After overhaul I probably have about $300 in it.

03-19-15, 04:12 PM
Senior Member
Join Date: Mar 2013
Location: Maryland
Posts: 3,730
Bikes: 1972 Fuji S-10-S,1970 Raleigh Sports, and more
Mentioned: 50 Post(s)
Tagged: 0 Thread(s)
Quoted: 797 Post(s)
Reviving a thread I suppose.
I found a Yokota Mixte frame and fork today. All of the frame decals are missing, only the fork still has it's decals. It has a Shimano bottom bracket, but someone reversed the axle. The rear spacing measures 135mm (I was expecting 130mm).
Someone removed the head tube bearing cups - I'm not sure why, but they left the remainder of the headset parts. The paint is in pretty good condition - I initially thought it was red, but in better light it appears to be more of a rose color. I can see where the seat tube decals have been removed (less paint fading); the photos probably don't indicate that. The frame is light, so I think that it is at least straight gauge cro-moly. I'm not sure about the fork, and there was the shadow of a tubing decal. The serial number on the bottom bracket is 89051508. I assume this means that it was built in 1989.
I think this is not a California Yokota. I have read that there was a Japanese builder of the same name that built frames for many private labels before selling under his marque.
I would be interested in your feedback.
Oh - BTW those brakes did not come with the frame.
Thread
Thread Starter
Forum
Replies
Last Post
Classic and Vintage Bicycles: Whats it Worth? Appraisals.
Classic and Vintage Bicycles: Whats it Worth? Appraisals.

Posting Rules
You may not post new threads
You may not post replies
You may not post attachments
You may not edit your posts
---
HTML code is Off
---