come on then you lot of clever cloggs,analyse this.

09-10-10, 01:40 PM
Junior Member
Join Date: Sep 2010
Location: poole, dorset, uk
Posts: 5
Bikes: claud(ride to the pub)butler mtb, carrara fury mtb,new edition to the family--bianchi racer
Mentioned: 0 Post(s)
Tagged: 0 Thread(s)
Quoted: 0 Post(s)
Likes: 0
Liked 0 Times in 0 Posts
come on then you lot of clever cloggs,analyse this.
---
firstly hello
i fancy getting into a bit of riding racing bikes, never done it before and dont know much about it but i brought this off ebay last week for £102.
i`m 6ft5" so needed something with a large frame and this fitted the bill at 25".
i`ve done a bit of research now and realise that bianchi have some history and a bit of pedigree, i feel i have made a good choice although i have only ridden it around the block so far, i`m hoping to get out for a blast at the weekend.
basically can anyone tell me any info on this bike at all?
i realise its old and probably has all the wrong componants but just looking at the frame,colour,stickers and numbers any info of year built or where it was built,hand built or mass factory robot produced, anything to give me some insight to what i am riding would be gratefully received.
i`m going to ride it for a bit and if i like it i will be looking into fine tuning/updating it and as its got some surface rust on it(it looks worse in the pics) i might look into powder coating so if i do enjoy it i`ll be back on here for more help.
i hope the pic link to photo bucket works.
thanks in advance.
https://s27.photobucket.com/albums/c1...view=slideshow

09-10-10, 02:45 PM
Bianchi Goddess
Join Date: Apr 2009
Location: Shady Pines Retirement Fort Wayne, In
Posts: 27,308
Bikes: Too many to list here check my signature.
Mentioned: 142 Post(s)
Tagged: 2 Thread(s)
Quoted: 1933 Post(s)
Hello since your Bianchi is in the UK it is a bit harder for us birds and blokes here in the states to analyse. but judging from the color and styl of the decals and the tubing typ I think this is a '83/'84ish Sport SS (atleast herein the states) I suspect the fork, RD and cranks are all replacement parts.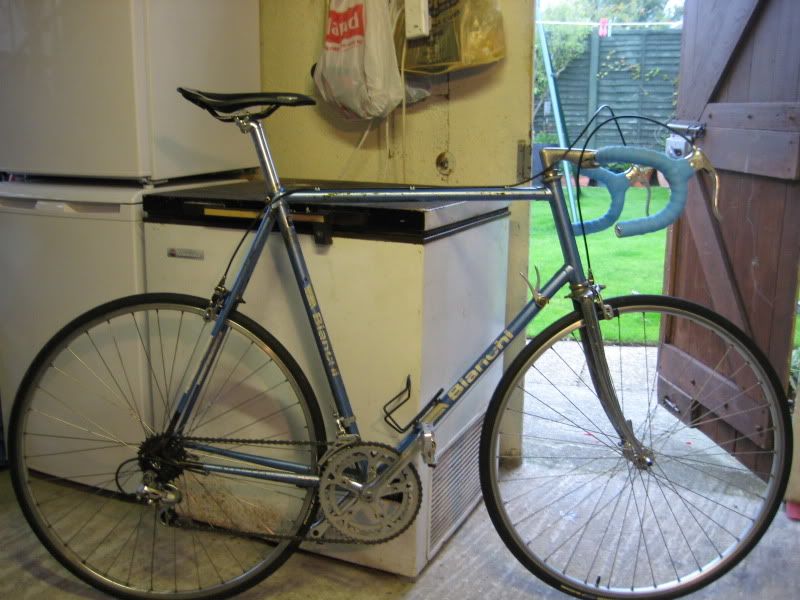 __________________
Bianchis '90 Proto, '90 Campione del Fausto Giamondi Specialisma Italiano Mundo, '91 Boarala 'cross, '93 Project 3, '86 Volpe, '97 Ti Megatube, '93 Reparto Corse SBX

Others but still loved; '80 Batavus Professional, '87 Cornelo, '?? Jane Doe (still on the drawing board), '90ish Haro Escape SLX Bertoni "Speckled Trout"

---
Last edited by Bianchigirll; 09-10-10 at

04:00 PM

.