What's it worth? '84 Holdsworth Elan and a '?? Colnago Sport

02-27-11, 09:34 PM
Senior Member
Join Date: Mar 2010
Posts: 313
Bikes: Surly Long haul Trucker with front and rack Nice Racks, 1984 Colnago Sport, 1983 Raleigh Condor
Mentioned: 0 Post(s)
Tagged: 0 Thread(s)
Quoted: 0 Post(s)
Likes: 0
Liked 0 Times in 0 Posts
What's it worth? '84 Holdsworth Elan and a '?? Colnago Sport
---
I've been looking for a vintage steel frame and I got a response with someone who has these too frames. They might even be on this forum.

So first bike is an 84 Holdsworth Elan. It's currently built as a full bike, but he said he'd part it out as a frame,fork,headset, and BB. I can't afford what he's asking for the complete.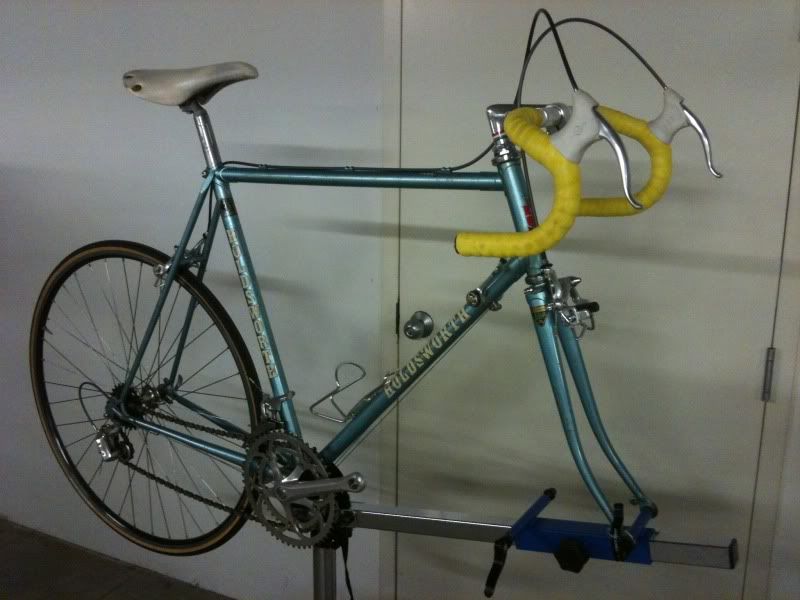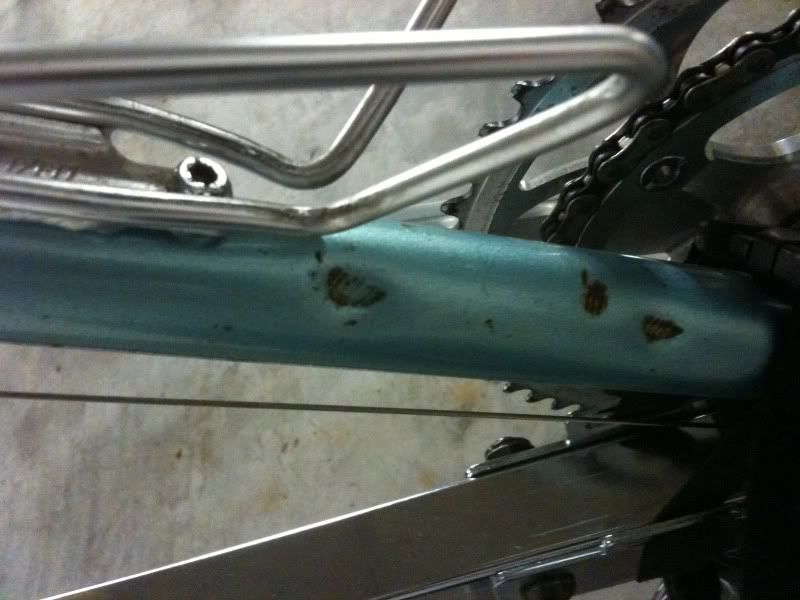 I'm a little concerned with the dents on the downtube. The Reynolds decal is ripped, the Elan decal appears to be missing, and the Holdsworth decals don't appear to be in the best shape. The is some minor corosion in spots but nothing serious. So how much do you think the frameset + bb + headset is worth?
He also has a Colnago Sport with "mostly Gipiemme parts" that I assume is a whole bike. It's not restored at all though, and I don't know what year it is. I don't have any pics yet.
I've read a bit on these bikes, and it seems like the Holdsworth Elan is a pretty decent bike, but some are saying the Colnago Sport is a lower end bike built in mexico.
Two questions.
What do you guys think is a fair price for these?
Also, would I be better off in the long run getting the Holdsworth frameset or the Colnago complete bike?
Thanks

02-28-11, 07:05 AM
Thrifty Bill
I avoid damaged frames like that one. Is the DT crimped, or is there a large dent several inches long beside the bottle cage?

Best bet is to buy the best complete bike you can afford. Often, complete bikes can be found for about the price of a nice frameset. So it is like you are getting the components for free. Even if you don't want the components, you can strip them off to help pay for the frameset, or help pay for the components you really want.

02-28-11, 11:39 AM
Senior Member
I have a Colnago Sport, it is a good bike made from Aelle tubing but it has none of the characteristics of a 'regular' Colnago---no clovers, no flashy paintjob, etc. I am told they are bikes designed by Colnago and then contracted out to smaller builders and shipped all over the place in order to cash in on the Colnago name. I have seen them with a "Made In Italy" sticker so I don't know if they were made in Mexico, even though I was told mine was but I have no way of knowing that myself.

I paid $125 for my Colnago Sport and it had Gipiemme parts on it too. I like the ride well enough, it is a great all-around beater style bike.

I don't like buying dented frames at all, regardless of the marquee. I'd pass unless it were super super cheap.

02-28-11, 06:59 PM
Senior Member
Join Date: Mar 2010
Posts: 313
Bikes: Surly Long haul Trucker with front and rack Nice Racks, 1984 Colnago Sport, 1983 Raleigh Condor
Mentioned: 0 Post(s)
Tagged: 0 Thread(s)
Quoted: 0 Post(s)
Likes: 0
Liked 0 Times in 0 Posts
Thanks for the advice guys. I think I'm ruling out the Holdsworth based on that damage to the frame, he asked for $200 for the frame, fork, BB, and headset. I definitely think that's too much for a frame damaged in that matter. The Elan is a good frame by the look of it, but again, the damage.

He was asking the same price for the complete Colnago Sport, however I haven't seen it, but my guess is the components are in hard shape. Either way it seems like a better deal and the Colnago seems like a good bike. I'll have to wait and see the bike.

Jet Sanchez, your info helped. Do you have any more pics of the colnago sport before the fixie conversion? I hate seeing what you fixie guys do to nice steel frames! Chop off all the bosses and swap the nice chromo fork for an aluminum one?! Blasphemy! lol

Any body else have any info or advice on buying this bike?

I have another prospect on a bike but the guy has yet to tell me the make or model. Just that it's an older bike, supposedly in good condition and he wants $100 for it. Have to see it when I get back in town.
Thread
Thread Starter
Forum
Replies
Last Post
Classic and Vintage Bicycles: Whats it Worth? Appraisals.

Posting Rules
You may not post new threads
You may not post replies
You may not post attachments
You may not edit your posts
---
HTML code is Off
---