'72 / '73 Schwinn World Voyageur

04-08-11, 10:37 PM
this side up
Join Date: Aug 2008
Posts: 106
Bikes: Nothing.. last bike stolen
Mentioned: 0 Post(s)
Tagged: 0 Thread(s)
Quoted: 0 Post(s)
Likes: 0
Liked 0 Times in 0 Posts
'72 / '73 Schwinn World Voyageur
---
Again, sorry this was my eyes only so I don't have pictures and this isn't coming from a post on Craigslist but I saw a opaque blue Schwinn Voyageur at a bike shop asking $300 for it. The frame is immaculate condition. I didn't see if the components were original or not. I turned it down originally but it was so different I came home and researched it. I went through the Schwinn catalogs looking mainly at the logo on the bikes since I couldn't find a catalog with the Voyageur in it. It looks like it's got to be a 72 or 73 model.

Anyway, of course, I'm curious on the pricing? If I wanted to I could pick it up tomorrow. It sounds like it's top dollar for it so if I could haggle with them what would be a good price?

04-08-11, 10:43 PM
this side up
Join Date: Aug 2008
Posts: 106
Bikes: Nothing.. last bike stolen
Mentioned: 0 Post(s)
Tagged: 0 Thread(s)
Quoted: 0 Post(s)
Likes: 0
Liked 0 Times in 0 Posts
I also wanted to add that I have done my research and looked at all the other threads posted about that model and year range of the Schwinn World Voyageur here on bikeforums and elsewhere. So if you refer me to another thread -- I've already read it.

04-08-11, 11:06 PM
Senior Member
Join Date: Apr 2009
Location: Detroit
Posts: 10,327
Mentioned: 6 Post(s)
Tagged: 0 Thread(s)
Quoted: 13 Post(s)
Likes: 0
Liked 0 Times in 0 Posts
If the components are not original the value is very much diminished. If they ARE original, then I would say $300 is a good price for one in good condition.
They were only made in 1973. This is very much a collectible bike.

I have a nice one in the flipper queue in Kool Orange right now, and I would guess that it would bring $350 or even $400 all cleaned up.
__________________
- Auchen

04-09-11, 08:03 AM
Decrepit Member
Join Date: Aug 2005
Location: Santa Rosa, California
Posts: 10,490
Bikes: Waterford 953 RS-22, several Paramounts
Mentioned: 64 Post(s)
Tagged: 0 Thread(s)
Quoted: 616 Post(s)
Likes: 0
Liked 0 Times in 0 Posts
Nice bikes!
1973 World Voyageur: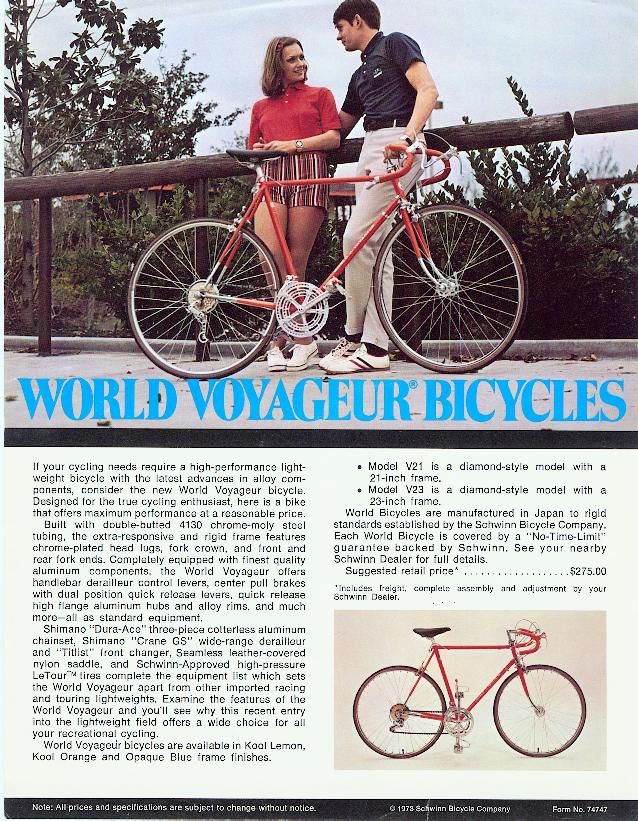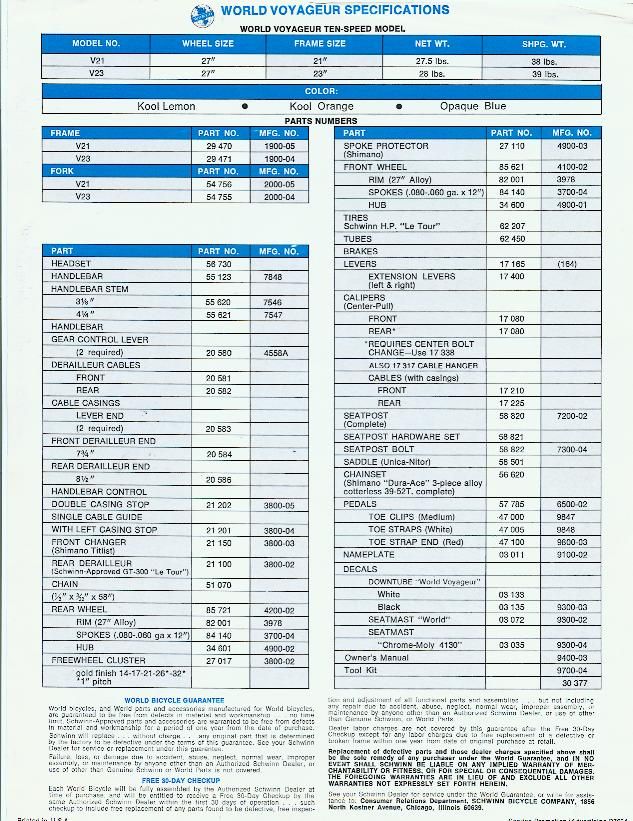 1974 Voyageur II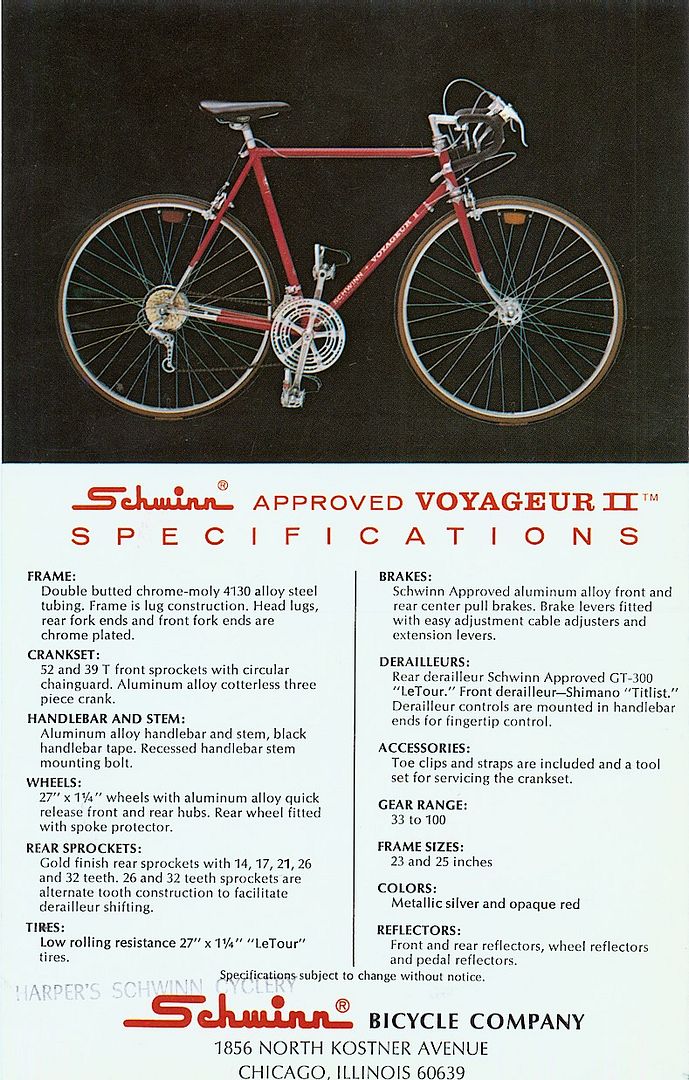 __________________
- Stan
my bikes
Science doesn't care what you believe.


04-09-11, 02:58 PM
Thrifty Bill
Join Date: Jan 2008
Location: Mountains of Western NC
Posts: 22,060
Bikes: 86 Katakura Silk, 87 Prologue X2, 88 Cimarron LE, 1975 Sekai 4000 Professional, 73 Paramount, plus more
Mentioned: 68 Post(s)
Tagged: 0 Thread(s)
Quoted: 671 Post(s)
Likes: 0
I've got a 73 WV as well. Nice bike, all about condition. I'm kind of a sucker for the Schwinnasonics. So depending on condition, I would buy it at that price.
Thread
Thread Starter
Forum
Replies
Last Post
"The 33"-Road Bike Racing

Posting Rules
You may not post new threads
You may not post replies
You may not post attachments
You may not edit your posts
---
HTML code is Off
---