Gitane and Fiorelli Pricing

09-11-12, 07:04 PM
Senior Member
Join Date: Dec 2010
Location: Ventura, Ca
Posts: 77
Mentioned: 1 Post(s)
Tagged: 0 Thread(s)
Quoted: 5 Post(s)
Likes: 0
Liked 0 Times in 0 Posts
Gitane and Fiorelli Pricing
---
Picked up these two a few weeks ago, Gitane Tour De France Professional, and an unknown Fiorelli bike.
Gitane Frameset. I may end up throwing this one up here it seems the BF members appreciate the french frames more then the general public, maybe because they know what they are in for part wise. French frames aren't ones I am very familiar with value wise although this maybe one I end up building up. I think its Reynolds throughout the frame but it may be the main tubes Im pretty sure its a 1973 model.
From what I have read the Fiorelli doesn't seem like it was one of the more quality ones Fausto Coppi rode which were full NR but overall it seems to be a decent ride. The Fiorelli is built up with a mix of parts Nevar cottered cranks, Campy FD, first generation Dura Ace BD, Universal calipers, and Campy high Flange hubs. I figure its not a frame thats highly sought out for but the parts are fair, I will probably part it out, break down the wheels and repaint the frame down the road as another italian steel project. Either way I would love to hear if anyone had anymore info on it, there aren't many threads on them here.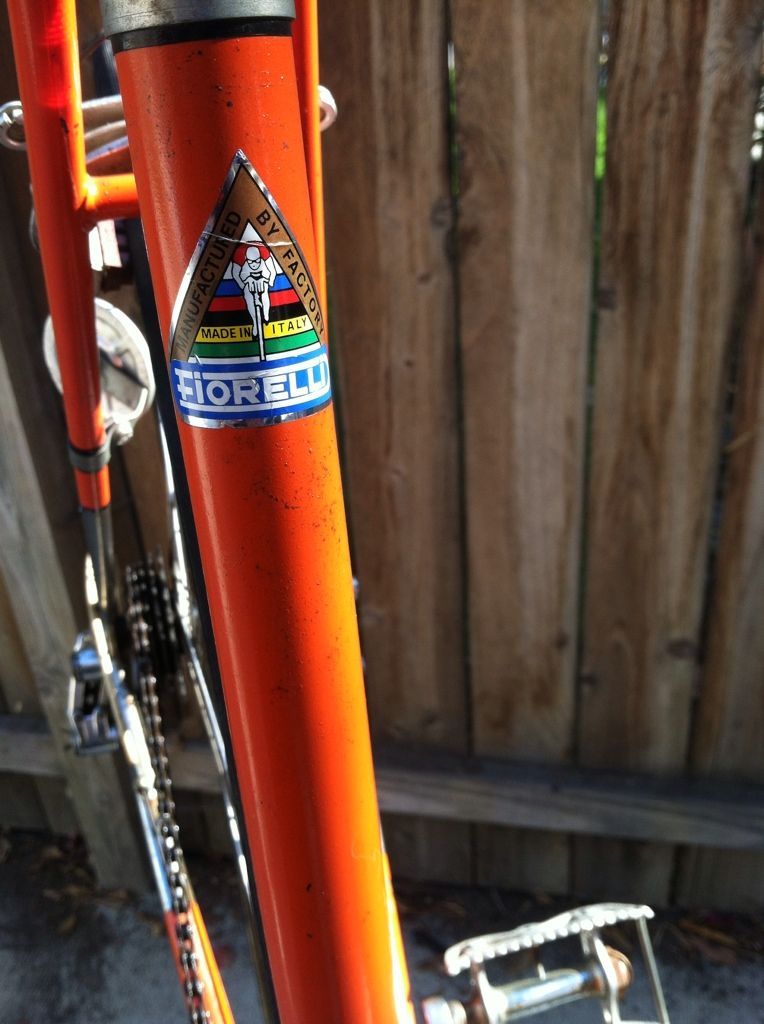 Any comments on value and any other extra info would be greatly appreciated.
Thanks

09-12-12, 07:23 AM
Cat 6
Join Date: Dec 2007
Location: Mountain Brook, AL
Posts: 7,504
Mentioned: 27 Post(s)
Tagged: 0 Thread(s)
Quoted: 496 Post(s)
Bocama (BCM) lugs with the center-pull bridge may put the Gitane at 1972 - not that that's any huge difference. Those would be all 531 butted, whether a '72 or '73. I had one that I think was a '73 - no c-p bridge and the forks legs were a little straighter. The frame's got some paint and decal issues, although the decals are available these days. It looks like the derailleur hanger has been modified, too. The chrome does appear from the pics anyway to be in good shape - that's a plus.

Value? If you threw this up on eBay I could see it going anywhere from $75 to $200 depending on whose out there at the time.
__________________
72 Frejus (for sale), Holdsworth Record (for sale) & special CNC / 74 Italvega NR (for sale) / c80 ?French? / 82 Raleigh Intl MkII (for sale)/ 83 Trek 620 (for sale)/ 84 Bruce Gordon Chinook (for sale)/ 85 Ron Cooper / 87 Centurion IM MV (for sale) / 03 Casati Dardo / 08 BF IRO / 09 Dogma FPX / 10 Vassago Fisticuff







09-12-12, 01:15 PM
Senior Member
Join Date: Dec 2010
Location: Ventura, Ca
Posts: 77
Mentioned: 1 Post(s)
Tagged: 0 Thread(s)
Quoted: 5 Post(s)
Likes: 0
Liked 0 Times in 0 Posts
Thanks thats kinda what I assumed, wasn't sure if there was a big market for Gitanes though. Since I have the seatpost and stem I may just build it up the spindle taper for all french bb is ISO correct? Do you know anything of the Fiorellis?
Thread
Thread Starter
Forum
Replies
Last Post
Classic and Vintage Bicycles: Whats it Worth? Appraisals.
Classic and Vintage Bicycles: Whats it Worth? Appraisals.

Posting Rules
You may not post new threads
You may not post replies
You may not post attachments
You may not edit your posts
---
HTML code is Off
---