Vitus 992

12-07-12, 09:16 PM
Senior Member
Join Date: Jan 2011
Location: Utah
Posts: 838
Mentioned: 9 Post(s)
Tagged: 0 Thread(s)
Quoted: 26 Post(s)
Likes: 0
Vitus 992
---
Hello all, I'd appreciate your help with a valuation. My friend wants to sell this sweet Vitus in order to purchase something more versatile.
It is in excellent condition and everything is working flawlessly. It has a nice, but mixed set of components. I've told him that parting it out might net him the most money, but I think he'd prefer to sell it whole, if possible. A work colleague is interested in it but I don't know what to suggest for a price. If that doesn't work out I think he'd want to sell it locally, but would probably consider shipping. Here is the info he gave me:
Vitus 992 Dural frame and fork - 60cm
3ttt stem and bars
Campagnolo Chorus 8 speed ergos
Campagnolo Mirage brakes
Avocet O2 saddle
Campagnolo Centaur FD
Campagnolo Chorus RD
Campagnolo Chorus 8 Speed rear cassette - 12-25
Campagnolo Hubs
Mavic Open Pro rear rim
Mavic Reflex front rim
Michelin Pro Race tires
Shimano Dura-Ace crankset 53-39
Thanks for your help!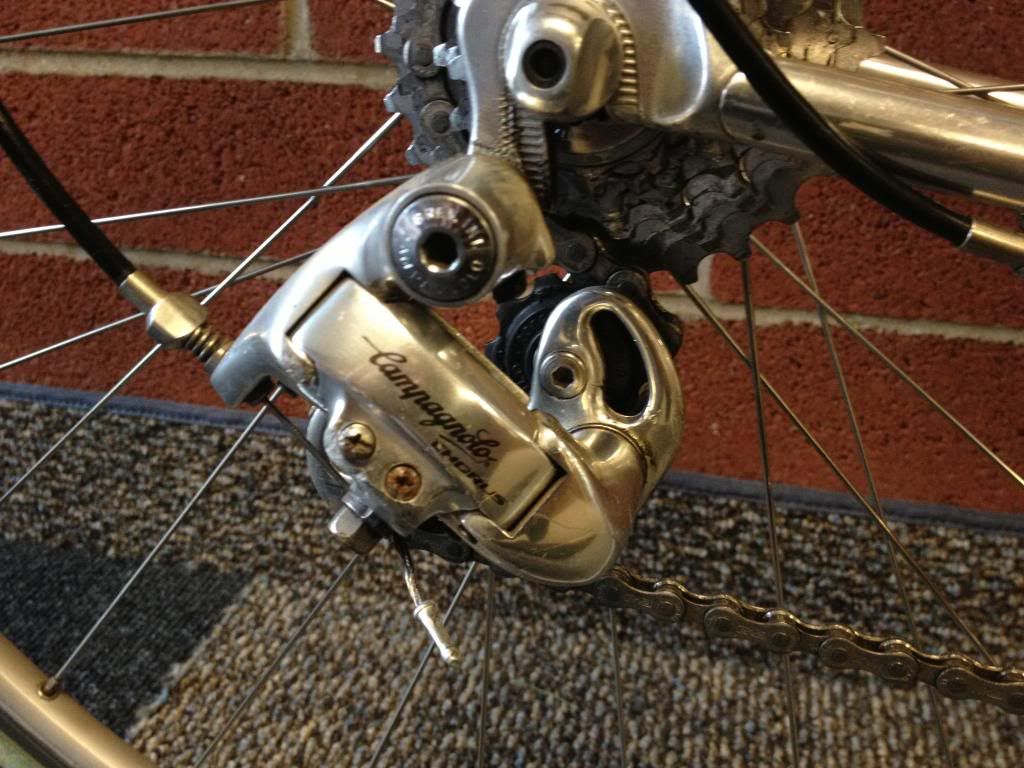 12-07-12, 10:15 PM
Senior Member
Join Date: Aug 2006
Location: Portland OR
Posts: 7,642
Bikes: 61 Bianchi Specialissima 71 Peugeot G50 7? P'geot PX10 74 Raleigh GranSport 75 P'geot UO8 78? Raleigh Team Pro 82 P'geot PSV 86 P'geot PX 91 Bridgestone MB0 92 B'stone XO1 97 Rans VRex 92 Cannondale R1000 94 B'stone MB5 97 Vitus 997
Mentioned: 140 Post(s)
Tagged: 0 Thread(s)
Quoted: 389 Post(s)
Likes: 0
Vitus 992 frames in good condition go on eBay for average $250-300, with the occasional outliers (recently one went for $120 with hints of a headset issue, another that looked very clean for $550, typical eBay unpredictability). This one is on the larger side which reduces value a bit. But the anodizing looks nice and unscuffed, which is good.

The components are a jumble not a group, so I think best to think of them as individual bits. If you stripped the bike and sold every bit individually, I think you'd eventually get over $400.

But that's a lot of hassle, plus eBay and PayPal fees. So I'd discount that $700 by a lot. Whole bikes almost always fetch significantly less than the sum of their bits.

I'd say $400-500 on eBay for that bike. Well presented with good feedback.

Local sale, $300-400.

That's my take, anyway.

Note the 979 is much more common and worth less. The 992 is less common. I watch every Vitus auction on eBay and every Vitus on my local CL. Probably ten 979s for every 992. The rarest 992 is the carbon tubed one. I think I've seen two on (US) eBay in the past year.
Thread
Thread Starter
Forum
Replies
Last Post
Classic and Vintage Bicycles: Whats it Worth? Appraisals.
Classic and Vintage Bicycles: Whats it Worth? Appraisals.

Posting Rules
You may not post new threads
You may not post replies
You may not post attachments
You may not edit your posts
---
HTML code is Off
---