raleigh grand prix

05-29-13, 07:36 AM
Senior Member
Join Date: May 2013
Location: Plano, TX
Posts: 177
Bikes: 87 centurion ironman expert, 86 team fuji, 90 litespeed tachyon, 87 bridgestone rb2
Mentioned: 0 Post(s)
Tagged: 0 Thread(s)
Quoted: 5 Post(s)
Likes: 0
Liked 0 Times in 0 Posts
raleigh grand prix
---
looking at this raleigh grand prix looks to me like a 77 by the little bit of research i did (maybe im wrong) but i was wondering what a fair price would be? i could not find this type of bike going for over 300 anywhere i looked so im kind of hesitant at that price. appreciate the help as i am a complete noob when it comes to vintage bikes.
http://chicago.craigslist.org/chc/bik/3829292039.html

05-29-13, 07:39 AM
Senior Member
hi-tensile steel frame + swaged crank + $335 by a bike flipper who thinks he or she is a good mechanic after a few classes = pass on the bike

The seller may get that price in Chicago but you can do better.

05-29-13, 08:07 AM
Still learning
I bought a tall GP for $60, same color, in much better condition than the Sellers redone bike, and I still overhauled it. That saddle is an @$$ hatchet. If it's ready to ride, that bike is worth 1/2 asking tops.

05-29-13, 05:04 PM
Jack of all trades
Join Date: Nov 2011
Location: Spokane, WA
Posts: 2,351
Bikes: Pug Triathlon&PRN-10 Ventana El Saltamontes Spec Stumpjumper Conversion
Mentioned: 0 Post(s)
Tagged: 0 Thread(s)
Quoted: 2 Post(s)
Likes: 0
Liked 0 Times in 0 Posts
I would guess that the "real" worth of the bike in a good market is about $125, at best. A 29+lb bike like this can't be close to being worth what the seller wants.

05-29-13, 05:24 PM
Senior Member
Join Date: May 2013
Location: Plano, TX
Posts: 177
Bikes: 87 centurion ironman expert, 86 team fuji, 90 litespeed tachyon, 87 bridgestone rb2
Mentioned: 0 Post(s)
Tagged: 0 Thread(s)
Quoted: 5 Post(s)
Likes: 0
Liked 0 Times in 0 Posts
i figured it was way overpriced. Im just trying to find an older road bike that i can have fun with but im not about to overpay for it. I would rather get a motobecane or peugeot but those seem to be hard to come by in chicago in my size. Me being new doesnt help as i have no clue what pawnshops/bike shops in the area might carry the type of bikes im looking for. Ill just keep an eye on craiglist for now...

05-29-13, 05:29 PM
Senior Member
Join Date: Oct 2011
Location: Fairplay Co
Posts: 7,246
Bikes: Current 79 Nishiki Custum Sport, Jeunet 620, notable previous bikes P.K. Ripper loop tail, Kawahara Laser Lite, Paramount Track full chrome, Raliegh Internatioanl, Motobecan Super Mirage. 59 Crown royak 3 speed
Mentioned: 17 Post(s)
Tagged: 1 Thread(s)
Quoted: 278 Post(s)
Likes: 0
I would say no and I really like these bikes the frames where a little rough finish wise but great the Raligh 2020 tubing is well a step above basic high-ten. And the Raliegh branded VX stuff is better than what was on most bikes of this era. That said I sold one for $200 recently in Denver which is a fairly decent market nicely ready to ride rebuilt with good matchinging alloy wheels and tires and felt lucky to get this price.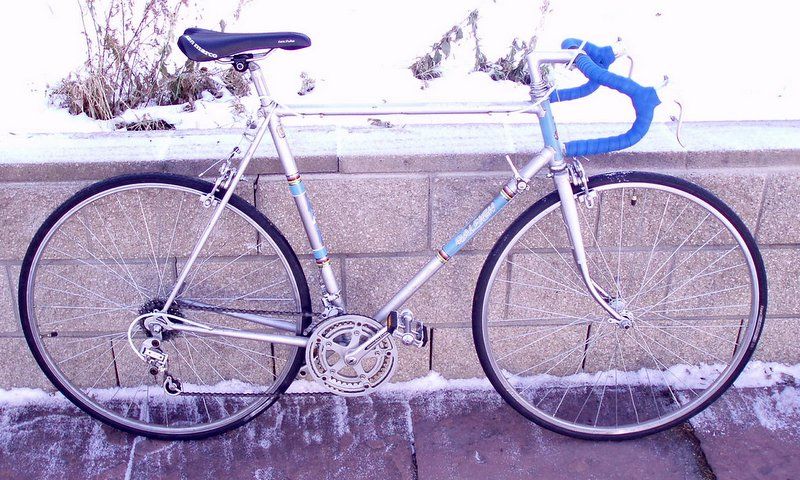 These had some issues the Raliegh specific headset and bottom bracket so if there not right your screwed. Plus the one featured will need some work.
Thread
Thread Starter
Forum
Replies
Last Post

Posting Rules
You may not post new threads
You may not post replies
You may not post attachments
You may not edit your posts
---
HTML code is Off
---