Mercian Olympic valuation

11-27-13, 12:45 PM
Junior Member
Join Date: Nov 2013
Location: Leicestershire, United Kingdom
Posts: 19
Bikes: Cinelli Model B, Mercian Olympic, GT Avalanche
Mentioned: 0 Post(s)
Tagged: 0 Thread(s)
Quoted: 0 Post(s)
Likes: 0
Liked 0 Times in 0 Posts
Mercian Olympic valuation
---

11-27-13, 03:14 PM
Senior Member
Join Date: Jul 2009
Posts: 11,138
Bikes: 1986 Alan Record Carbonio, 1985 Vitus Plus Carbone 7, 1984 Peugeot PSV, 1972 Line Seeker, 1986(est.) Medici Aerodynamic (Project), 1985(est.) Peugeot PY10FC
Mentioned: 21 Post(s)
Tagged: 0 Thread(s)
Quoted: 142 Post(s)
Likes: 0
Nice looking frame, but what tubing was it built with?
The Shimano RX line componentry is middling at best. It will really depend on what the frameset tubing is to make a good enough valuation...... Good to also know what the wheelset on the bike is all about.

11-27-13, 04:09 PM
Bianchi Goddess
Join Date: Apr 2009
Location: Shady Pines Retirement Fort Wayne, In
Posts: 27,328
Bikes: Too many to list here check my signature.
Mentioned: 142 Post(s)
Tagged: 2 Thread(s)
Quoted: 1940 Post(s)
Nice looking bike but I think it is more like a late '80s frame and that RX100 group is more like '91/92. I believe by '98 the frame, being a production bike, would likely have unicrown fork, brazed on housing stopps and very likely a threadless steerer/headset.
I agree a lot more information is needed. If that is a three tube 531 with straight wheels maybe $200ish. If it is full double butted 531 the true value would lay in the frame and may be worth closer to $400(?)
Looks like a nice clean bike are you selling or buying?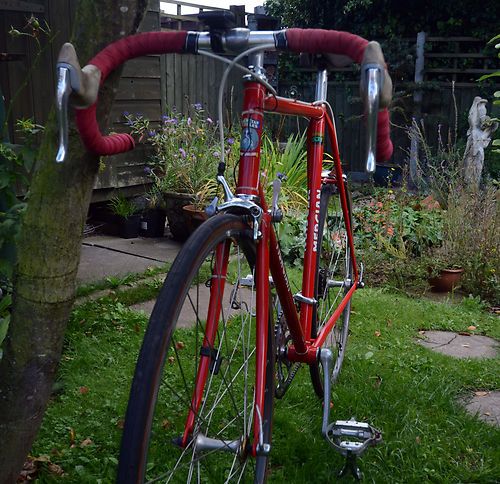 __________________
Bianchis '90 Proto, '90 Campione del Fausto Giamondi Specialisma Italiano Mundo, '91 Boarala 'cross, '93 Project 3, '86 Volpe, '97 Ti Megatube, '93 Reparto Corse SBX

Others but still loved; '80 Batavus Professional, '87 Cornelo, '?? Jane Doe (still on the drawing board), '90ish Haro Escape SLX Bertoni "Speckled Trout"


11-28-13, 08:12 AM
Junior Member
Join Date: Nov 2013
Location: Leicestershire, United Kingdom
Posts: 19
Bikes: Cinelli Model B, Mercian Olympic, GT Avalanche
Mentioned: 0 Post(s)
Tagged: 0 Thread(s)
Quoted: 0 Post(s)
Likes: 0
Liked 0 Times in 0 Posts
How will i know the difference between full double butted 531 & three tube 531?

11-28-13, 09:51 AM
Senior Member
Join Date: Oct 2005
Location: Eugene, OR
Posts: 4,305
Bikes: Mecian
Mentioned: 4 Post(s)
Tagged: 0 Thread(s)
Quoted: 500 Post(s)
Likes: 0
Liked 0 Times in 0 Posts
Bianchigirl, I have a mid 2000's Mercian, that I ordered from the factory, could still get a traditional build with a flat fork crown and threaded steerer then. If I recall it wa in the 700-800 range, so I;d say the OP bike is maybe 400-500 at the most. But it a very nice good looking bike.
Thread
Thread Starter
Forum
Replies
Last Post
Classic and Vintage Bicycles: Whats it Worth? Appraisals.

Posting Rules
You may not post new threads
You may not post replies
You may not post attachments
You may not edit your posts
---
HTML code is Off
---