Pair of Peugeots

09-19-14, 08:50 PM
Newbie
Join Date: Sep 2014
Posts: 3
Mentioned: 0 Post(s)
Tagged: 0 Thread(s)
Quoted: 0 Post(s)
Likes: 0
Liked 0 Times in 0 Posts
Pair of Peugeots
---
First, I'm a brand new member of the forum, so thank you to anyone advance who can help.
I am now the proud owner of 2 Peugeot bicycles that were purchased by my wife's aunt & uncle. They bought them new and either purchased them in the late 60's or early 70's. They think it was around 70 or 71 sometime.
Looking at the photos from this page:
Cycles Rétro-Peugeot
it appears that the photo of the 1966 PX10 matches it with the only exception I can see is that the pedals don't have the little covers that go over your shoes.
What I'm wondering is:
a) What elements should I look at on the bike to try & determine the age/model of the bike?
b) Is there a bike shop in the Atlanta, GA area where I could take these bikes for them to tell me what I have and help me get them into the best condition? I'm tempted to clean them up but I don't want to do anything before I talk to someone who really knows these bikes because I would hate to do something that would potentially damage the bikes or decrease their value.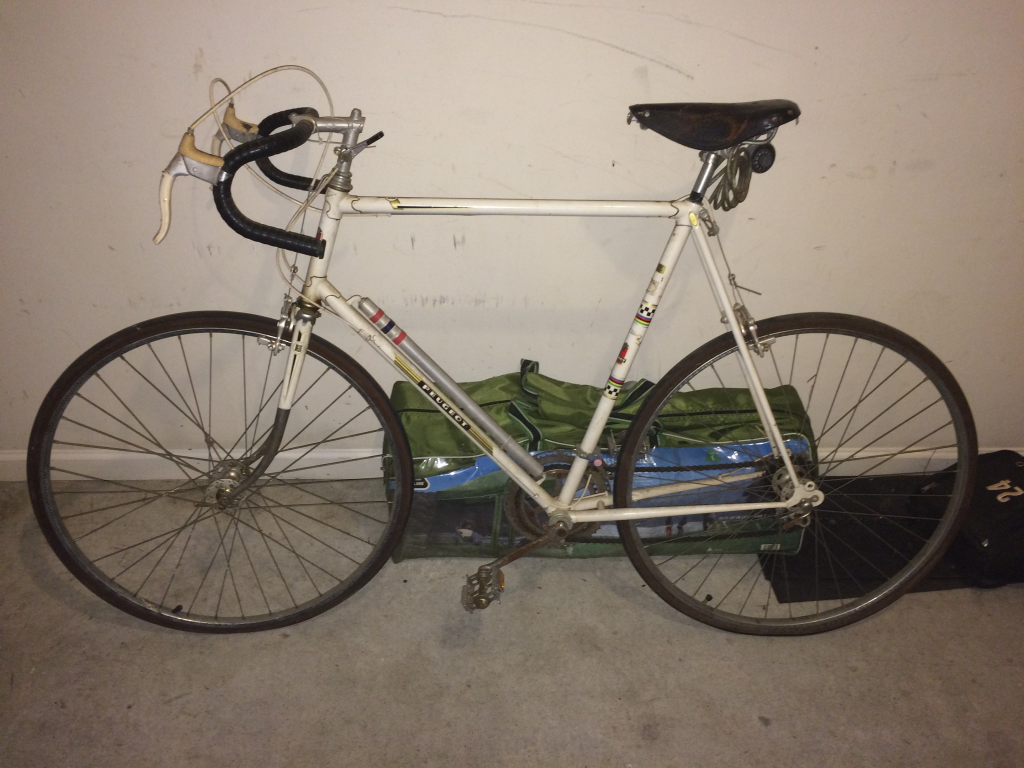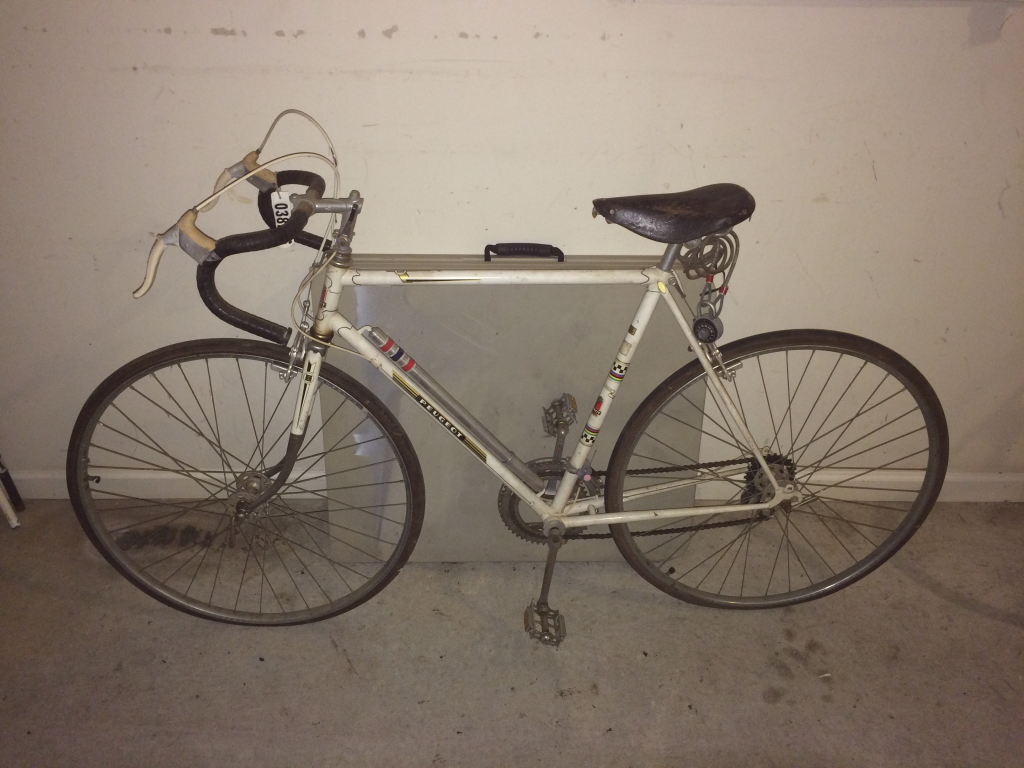 ---
Last edited by rbi; 09-19-14 at

09:08 PM

.

09-19-14, 09:06 PM
Senior Member
Join Date: Apr 2012
Location: Middle Earth (aka IA)
Posts: 17,846
Bikes: A bunch of old bikes and a few new ones
Mentioned: 153 Post(s)
Tagged: 0 Thread(s)
Quoted: 4856 Post(s)
Cool old bikes and it's great to see them with what look to be serviceable leather saddles. They're not PX 10s though but UO 8s. They're not particularly valuable but would make good riders with a fair amount of work if you are interested in them.

09-19-14, 09:13 PM
Decrepit Member
Just a photo etiquette tip: it's always more desirable to photograph bikes from the drive side showing the crank/chainrings, freewheel/cassette, and F and R derailleurs.
__________________
- Stan
my bikes
Science doesn't care what you believe.


09-19-14, 09:21 PM
Aspiring curmudgeon
Join Date: Aug 2014
Location: Saint Louis
Posts: 2,667
Bikes: Guerciotti, Serotta, Gaulzetti
Mentioned: 9 Post(s)
Tagged: 0 Thread(s)
Quoted: 103 Post(s)
Likes: 0
+1 to Scooper's comment. Also, close ups of the drive train and decals, especially ones showing the type of steel tubing, are very helpful to identification.
These could be very nice riders with a little bit of TLC, and the paint looks to be in decent shape. You should be aware that French bikes have a slew of quirks that makes them kind of a headache to work on. The more enlightened among us consider that part of their charm.
For more info, see
Sheldon Brown's article
on French bikes.

09-19-14, 09:24 PM
Bianchi Goddess
Join Date: Apr 2009
Location: Shady Pines Retirement Fort Wayne, In
Posts: 27,314
Bikes: Too many to list here check my signature.
Mentioned: 142 Post(s)
Tagged: 2 Thread(s)
Quoted: 1937 Post(s)
Welcome to the forums. I agree they certainly are not PX10, they would have chromed rear triangles and the shifters on the down tube.

Also you need to look at American catalogs not French ones unless you know for sure they purchased in France and brought to the US when some one moved here.

As they sit you could maybe get around $50. They look like they would need a good overhaul and cleaning plus some new tires and bar tape to bring much more but the problem then arises that you will spend $150 or so to get a bike ready to sell that you can only get 100-120 for.
__________________
Bianchis '90 Proto, '90 Campione del Fausto Giamondi Specialisma Italiano Mundo, '91 Boarala 'cross, '93 Project 3, '86 Volpe, '97 Ti Megatube, '93 Reparto Corse SBX

Others but still loved; '80 Batavus Professional, '87 Cornelo, '?? Jane Doe (still on the drawing board), '90ish Haro Escape SLX Bertoni "Speckled Trout"


09-19-14, 09:32 PM
Senior Member
Join Date: Mar 2013
Location: Southern Ontario, Canada
Posts: 774
Bikes: Too, too many....
Mentioned: 4 Post(s)
Tagged: 0 Thread(s)
Quoted: 86 Post(s)
Likes: 0
The steel Rigida rims mounted on Normandy hubs and the plastic-bodied Simplex derailleurs (and the plastic Simplex levers mounted on the handlebar stem).... and the plain lugs .... do not indicate a high-end Peugeot. These are entry-lever Peugeots. If you look carefully on the rims you may find that there is a little diamond with two digits printed in it on the rim, right after the "Rigida Superchromix" printing, that will indicate the year of manufacture.

Fun to work on & easy to maintain.

Unlike many modern "entry level" bikes, the old steel Peugeots from this era should, with a modicum of care and lubrication, give anywhere from 40 to 70 years of good service.

Those ones look like they have a lot of life left in them... another 50 years or so... Enjoy. They are not worth much money right now but they are scathingly brilliant old bikes.

09-19-14, 10:20 PM
Newbie
Join Date: Sep 2014
Posts: 3
Mentioned: 0 Post(s)
Tagged: 0 Thread(s)
Quoted: 0 Post(s)
Likes: 0
Liked 0 Times in 0 Posts
Awesome. Thank you for the information and advice.
I'm not disappointed in the valuation. To me, they're worth more for sentimental value than any amount we could have gotten for selling them.
Also, thanks for the bike etiquette tip about photographs. I had no idea but will keep that in mind for future reference.

I'll start work tomorrow on cleaning them up and then go get some new tires for them so we can start riding them.

You guys are great. Thanks again for the help.

09-20-14, 03:41 AM
Senior Member
Join Date: Apr 2007
Location: Thunder Bay, Ontario, Canada - burrrrr!
Posts: 10,454
Bikes: 1958 Rabeneick 120D, 1968 Legnano Gran Premio, 196? Torpado Professional, 2000 Marinoni Piuma
Mentioned: 179 Post(s)
Tagged: 0 Thread(s)
Quoted: 985 Post(s)
Likes: 0
Welcome to the Bike Forums rb1.
The bikes look to be early seventies, made in France
Peugeot UO8
models. Entry level and a bit utilitarian in nature, they do, none the less, offer very nice ride quality. Take your time refurbishing and have fun.
If you are new to the vintage bicycle refurbishment interest, you might want to take a look at the
Workshop
and
Finding
pages in MY "TEN SPEEDS". Doing so might save you a lot of time, effort and cash. Hope they help and this old UO8 was found at the local Dump...
__________________
"98% of the bikes I buy are projects".

09-21-14, 03:58 PM
Newbie
Join Date: Sep 2014
Posts: 3
Mentioned: 0 Post(s)
Tagged: 0 Thread(s)
Quoted: 0 Post(s)
Likes: 0
Liked 0 Times in 0 Posts
The cleaning process is coming along nicely but I need to look into buying some replacement tires & tubes for the bikes. Do you guys have any specific 27 X 1.25 tires that you recommend? I've seen them as cheap as $11 and as expensive as $79 per tire.

I would expect that the taller bike will be ridden more than the smaller one (because I'm home more than my wife is...she travels often for work). Most of the time they will be ridden on roads or bike trails, along with the occasional sidewalk where necessary, as an FYI on how the tires will be used.

Also, I'll post some pictures for you guys after I get the first bike cleaned up to show you how they turned out since you guys were so helpful in identifying the bikes.

09-21-14, 04:07 PM
Still learning
Universally recommended by members on this site, $14.83 each plus shraeder tubes at $3-$4 each. Spend $100 and shipping is free.
Panaracer Pasela 27 x 1-1/4 Black/Tan Steel
With $28 remaining, you can get new cables and housing or some brake pads.
Thread
Thread Starter
Forum
Replies
Last Post
Classic and Vintage Bicycles: Whats it Worth? Appraisals.
Classic and Vintage Bicycles: Whats it Worth? Appraisals.
Classic and Vintage Bicycles: Whats it Worth? Appraisals.
Classic and Vintage Bicycles: Whats it Worth? Appraisals.

Posting Rules
You may not post new threads
You may not post replies
You may not post attachments
You may not edit your posts
---
HTML code is Off
---