FS: Short reach 3T and Cinelli stems

05-05-17, 05:45 PM
FS: Short reach 3T and Cinelli stems
---
5 stems, $25 each for 3T, $30 each for Cinelli + shipping. PP friend or add fees. Cinelli stems are 26.4 clamp, 3T are 26.0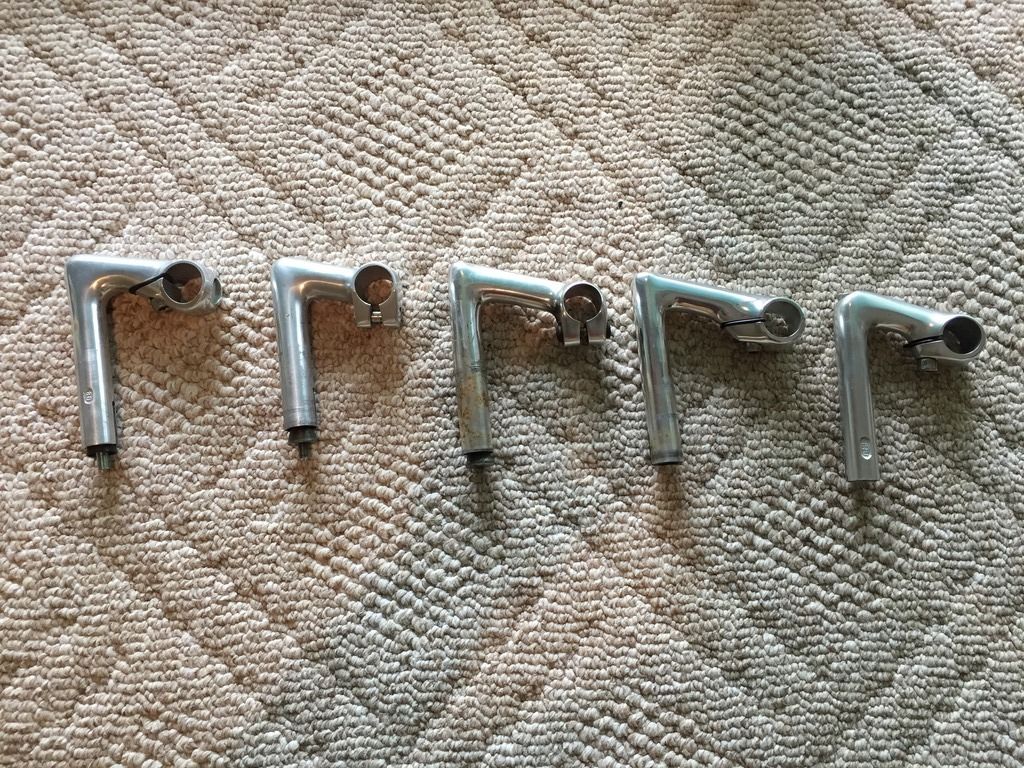 Left to right, subsequent pics, the Cinelli pair are grouped together, 3t trio grouped together.
Cinelli XA 80 mm missing front logo piece -
Sold!
Cinelli 1A 70 mm
3T (1A style) engraved face logo 90 mm
3T (XA style) 100 mm, very nice and shiny
3T (XA style) 80 mm
Sold!
None of the 3t stems have the cap that covers the steerer bolt, if indeed they ever had them. Bolts are all in nice condition. As always, I'm happy to send more pics of individual stems or areas of concern. Send me an email addy though, easier to send that way.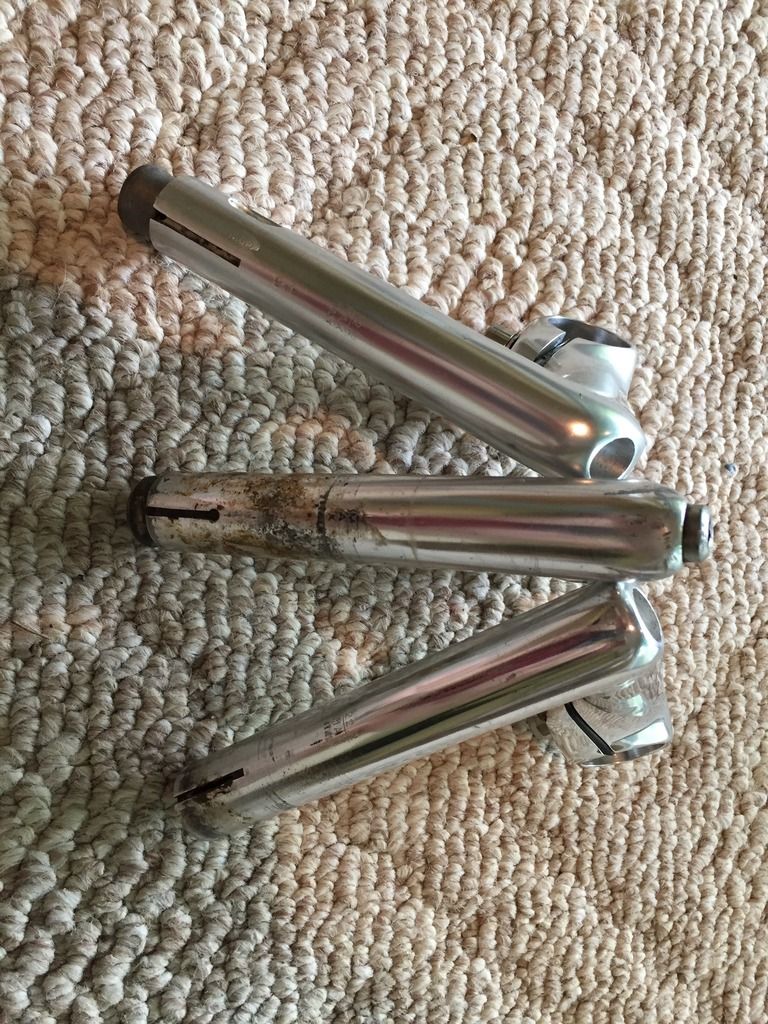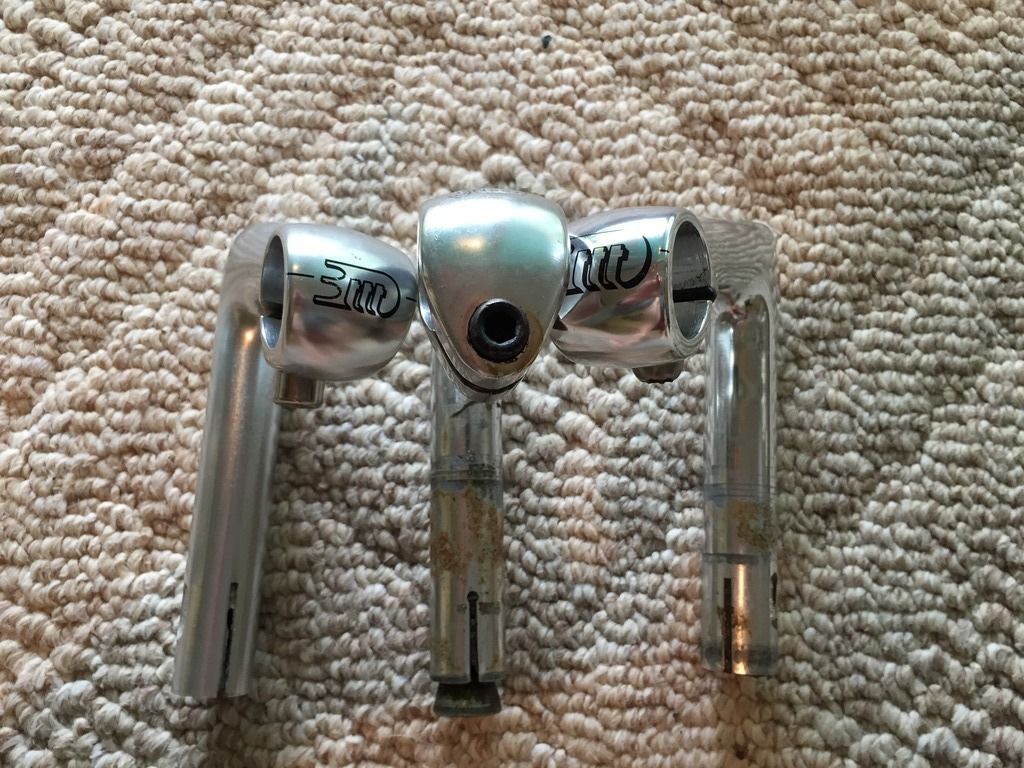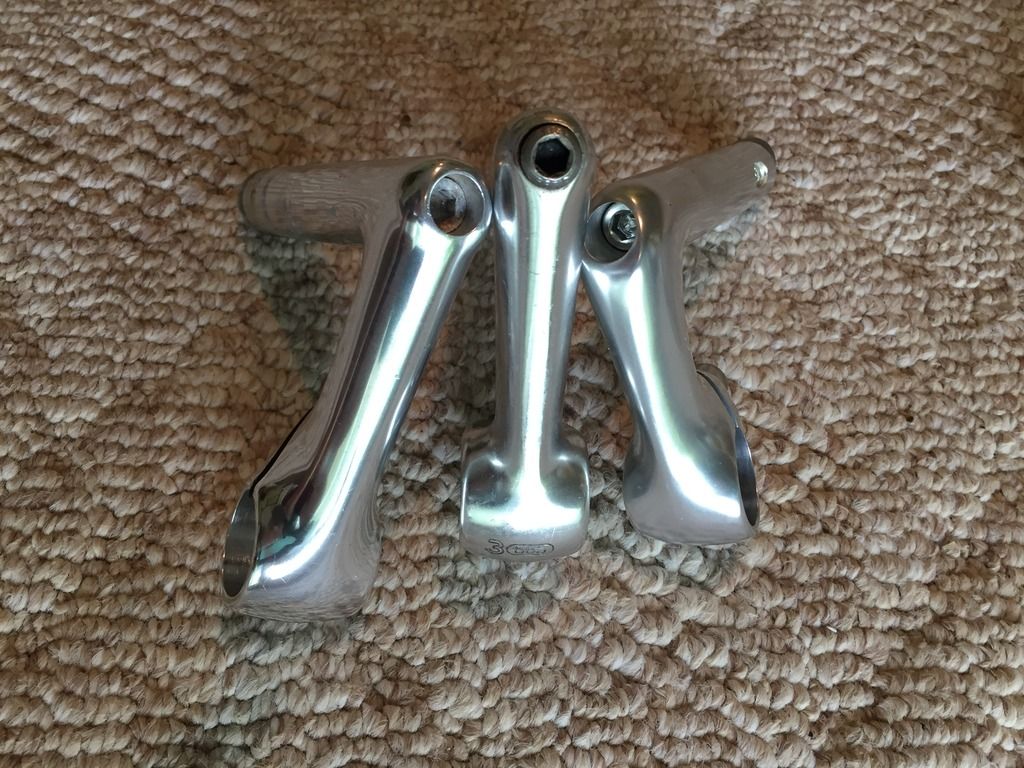 __________________
N = '96 Colnago C40, '04 Wilier Alpe D'Huez, '10 Colnago EPS, '85 Merckx Pro, '89 Merckx Century, '86 Tommasini Professional, '04 Teschner Aero FX Pro, '05 Alan Carbon Cross, '86 De Rosa Professional, '82 Colnago Super, '95 Gios Compact Pro, '95 Carrera Zeus, '84 Basso Gap, '89 Cinelli Supercorsa, '83 Bianchi Specialissima, '85 Pinarello Record, Ritchey Breakaway Steel, '84 Paletti Super Prestige, Heron Randonneur

---
Last edited by Spaghetti Legs; 05-18-17 at

08:30 PM

.

05-11-17, 11:32 AM
Bump - price drop. Don't make me sell these to hipsters on eBay!
__________________
N = '96 Colnago C40, '04 Wilier Alpe D'Huez, '10 Colnago EPS, '85 Merckx Pro, '89 Merckx Century, '86 Tommasini Professional, '04 Teschner Aero FX Pro, '05 Alan Carbon Cross, '86 De Rosa Professional, '82 Colnago Super, '95 Gios Compact Pro, '95 Carrera Zeus, '84 Basso Gap, '89 Cinelli Supercorsa, '83 Bianchi Specialissima, '85 Pinarello Record, Ritchey Breakaway Steel, '84 Paletti Super Prestige, Heron Randonneur


05-13-17, 08:44 PM
Senior Member
Join Date: Sep 2008
Location: Elwood Indiana
Posts: 6,718
Bikes: they change so much I'm tired of updating this
Mentioned: 149 Post(s)
Tagged: 0 Thread(s)
Quoted: 965 Post(s)
Likes: 0
Thread
Thread Starter
Forum
Replies
Last Post
Classic and Vintage Sales
Classic and Vintage Sales
Classic and Vintage Sales
Classic and Vintage Sales

Posting Rules
You may not post new threads
You may not post replies
You may not post attachments
You may not edit your posts
---
HTML code is Off
---