FS - Ciocc Mockba '80 - fully refurbished

08-30-18, 10:53 AM
Senior Member
Join Date: Aug 2015
Location: Parker, Colorado
Posts: 390
Bikes: 1975 Schwinn Paramount, 1976 Gios Record, 1985 Trek 770, 1992 Slim Chance. 1999 Tommasini Sintesi, 2001 Colnago C40
Mentioned: 8 Post(s)
Tagged: 0 Thread(s)
Quoted: 103 Post(s)
Likes: 0
FS - Ciocc Mockba '80 - fully refurbished
---
Testing the waters to see if anyone is interested in my professionally refurbished 1982 Ciocc Mockba '80
56cm ctc
Columbus SL tubing
Had it completely taken apart, soaked, repacked all hubs, new cables and housing and rebuilt in March. Probably have put between 350-450 miles on it since
Rides beautifully
Campagnolo Super Record (first edition with the words 'Super Record' on the back of the rear derailleur
Fully pantographed (stem, fork, brake bridge, brake levers, brake calipers, cranks) A lot of the panto is that of the 'Ten Speed Drive Imports' logo
Original leather Almarc bartape in good condition
Concor Profil saddle in good condition
Only non original equipment (Campagnolo brake hoods, MKS toe clips, Campagnolo Omega 19 wheelset w/ dura ace hubs)
Wheelset is Campagnolo Omega 19 w/ Dura Ace hubs. Rims and hubs were NOS in March when I put them on the bike. Continental Classic Gran Prix tires
I have the original wheelset with Campagnolo hubs that I will include with the sale. They have the original unusable tubulars at the moment
Note - Some minor paint blemishes, Columbus decal is half missing, and some road rash to the right brake lever. Please see pictures
Asking $1250 plus buyer pays actual shipping cost. I will have it professionally packed and shipped via bike flights with insurance. Paypal accepted and encouraged
Offers accepted


08-30-18, 11:02 AM
Senior Member
Join Date: Aug 2015
Location: Parker, Colorado
Posts: 390
Bikes: 1975 Schwinn Paramount, 1976 Gios Record, 1985 Trek 770, 1992 Slim Chance. 1999 Tommasini Sintesi, 2001 Colnago C40
Mentioned: 8 Post(s)
Tagged: 0 Thread(s)
Quoted: 103 Post(s)
Likes: 0
more pics...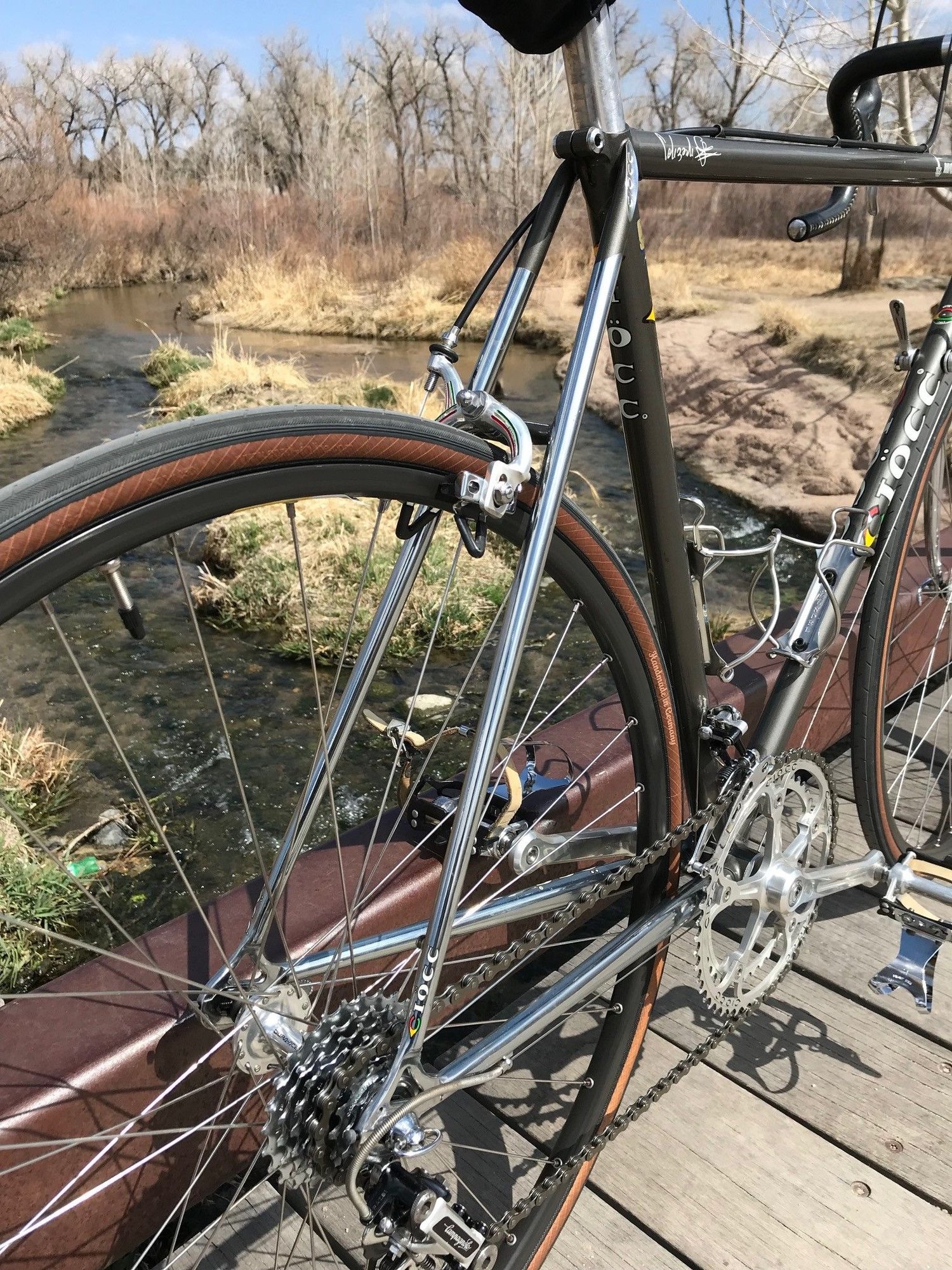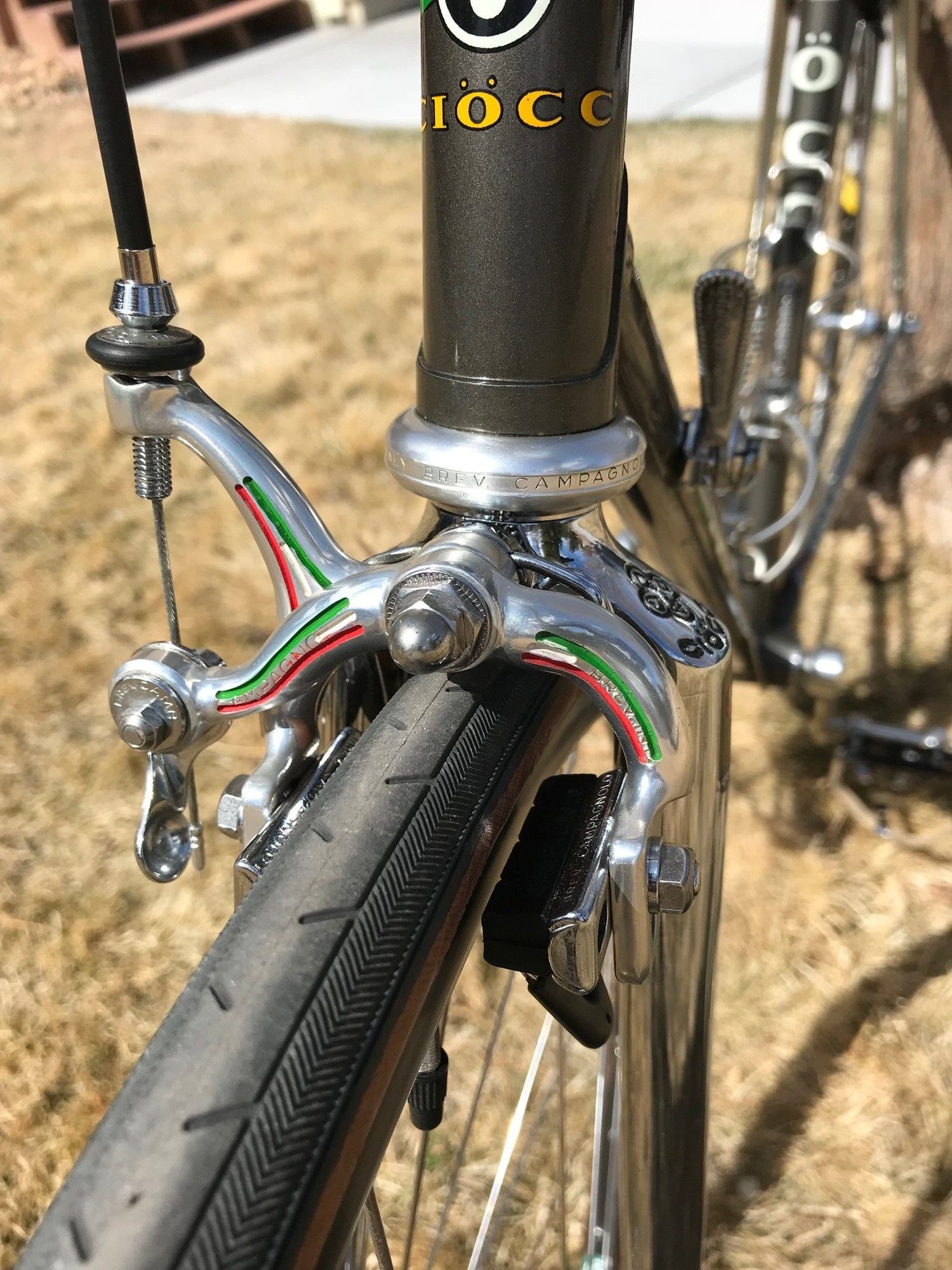 08-30-18, 01:28 PM
Gorgeous! Good price IMO with all those pantographed bits and extra wheels.
FYI (for seller or buyer) I've used these Columbus stickers on a few occasions and have been pleased. Simple way to make the bike look spiffier.
https://www.ebay.com/itm/Columbus-Tu...53.m1438.l2649
__________________
N = '96 Colnago C40, '04 Wilier Alpe D'Huez, '10 Colnago EPS, '85 Merckx Pro, '89 Merckx Century, '86 Tommasini Professional, '04 Teschner Aero FX Pro, '05 Alan Carbon Cross, '86 De Rosa Professional, '82 Colnago Super, '95 Gios Compact Pro, '95 Carrera Zeus, '84 Basso Gap, '89 Cinelli Supercorsa, '83 Bianchi Specialissima, '85 Pinarello Record, Ritchey Breakaway Steel, '84 Paletti Super Prestige, Heron Randonneur



08-30-18, 06:34 PM
Senior Member
Join Date: Nov 2015
Posts: 3,373
Mentioned: 94 Post(s)
Tagged: 0 Thread(s)
Quoted: 1188 Post(s)
Likes: 0
I too suggest the repro Columbus decals if you are not ready to deal with the really super delicate genuine ones.
But if you decide to go with the genuine decals, just a warning I recently bought genuine Columbus SL decals to replace the scrunched up one on my bike and I found out that it's one of those decals that you will need to line up exactly right the first time as the moment it touches the frame tube there's no reposition possible as the microns only thick decal will tear apart. Had to do it over again with another decal (Cost me another 12 bucks!


) and it felt like I was about to defuse a booby trap bomb!

Got it right the second time but had to abort quite a few times before I finally touched the decal on the frame....

The factories must have had some tool or jig to do it straight and perfect all the time.....


08-30-18, 07:55 PM
aka Tom Reingold
Join Date: Jan 2009
Location: High Falls, NY, USA
Posts: 39,843
Bikes: 1962 Rudge Sports, 1971 Raleigh Super Course, 1971 Raleigh Pro Track, 1974 Raleigh International, 1975 Viscount Fixie, 1982 McLean, 1996 Lemond (Ti), 2002 Burley Zydeco tandem
Mentioned: 484 Post(s)
Tagged: 0 Thread(s)
Quoted: 6838 Post(s)
You're breaking my heart!


08-31-18, 08:38 PM
Senior Member
Join Date: Aug 2015
Location: Parker, Colorado
Posts: 390
Bikes: 1975 Schwinn Paramount, 1976 Gios Record, 1985 Trek 770, 1992 Slim Chance. 1999 Tommasini Sintesi, 2001 Colnago C40
Mentioned: 8 Post(s)
Tagged: 0 Thread(s)
Quoted: 103 Post(s)
Likes: 0


09-01-18, 04:26 AM
Senior Member
Join Date: Aug 2015
Location: AZ
Posts: 2,450
Bikes: Yes
Mentioned: 35 Post(s)
Tagged: 0 Thread(s)
Quoted: 457 Post(s)
Nice bike and price. Classy!
__________________


Thread
Thread Starter
Forum
Replies
Last Post
Classic and Vintage Sales
Classic and Vintage Bicycles: Whats it Worth? Appraisals.
Classic and Vintage Sales

Posting Rules
You may not post new threads
You may not post replies
You may not post attachments
You may not edit your posts
---
HTML code is Off
---