FS: Campagnolo Record 8s Group, Delta Brakes, Wheelsets

09-27-19, 11:12 AM
Senior Member
Join Date: Aug 2014
Location: Denver, CO
Posts: 1,109
Bikes: 1987 Centurion Ironman Master, 1989 Centurion Ironman Expert, 1972 Motobecane Grand Jubilee
Mentioned: 60 Post(s)
Tagged: 0 Thread(s)
Quoted: 107 Post(s)
Likes: 0
FS: Campagnolo Record 8s Group, Delta Brakes, Wheelsets
---
SOLD
Selling off some bike jewelry....
Campagnolo Record 8s group with first gen ergopower shiftersSelling the following early 90's Campagnolo Record drivetrain, including the following:
- 172.5mm Record Crankset with 53/39 rings in excellent shape. Rings have very little wear and the finish on the arms is in great shape with some minor heel rub
- English threaded bottom bracket. Overall in great shape, one spot on the spindle has some pitting, but it spins smoothly when packed with grease. Otherwise excellent shape
- Ergopower shifters - Some small scratches and signs of use on the levers, hoods are in good shape and they shift very smoothly.
- Braze-on Record front derailleur - VGC
- 8s Record RD - Some scuffs and a little rash on the lower part of the body but perfectly functional
Asking $250 shipped CONUS for the lot. Would rather not part out currently.
- Record 1" English Threaded headset can be included for an additional $40
I also have two wheelset options I can include with the group
- One has older style 36h Record hubs with English freewheel threading laced to FIR SL45 clincher rims. Rims are true with plenty of life left, hubs are super smooth. Includes original skewers - add $140 including CONUS shipping
- The other features a 28h American Classic front with bladed spokes laced to a Wolber profil tubular and 32h 8s Record cassette hub laced to a Campy Strada Hardox tubular. Rims have almost no wear on the brake track, hubs are smooth. No skewers - add $100 including CONUS shipping
- One pair of later generation Campagnolo Delta brake calipers, complete with all original hardware in excellent, gently used condition. The only minor aesthetic flaw is some light scuffing on the underside of the rear caliper from road debris, otherwise, they are flawless. Internals have been cleaned and they move very smoothly.
Asking $300 shipped CONUS
Purchase the brakes and group together for $525!
More pics
here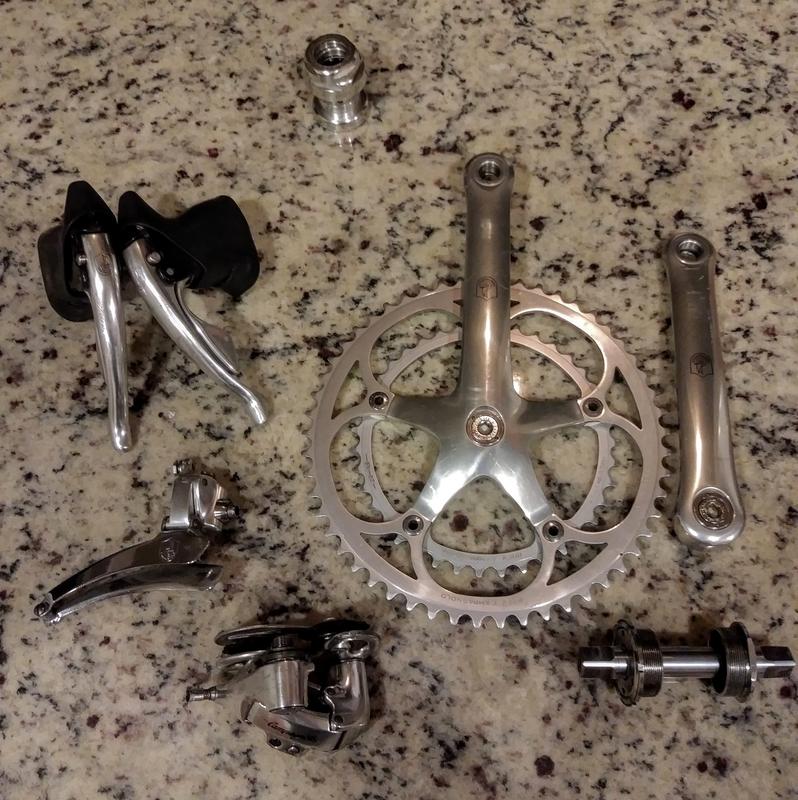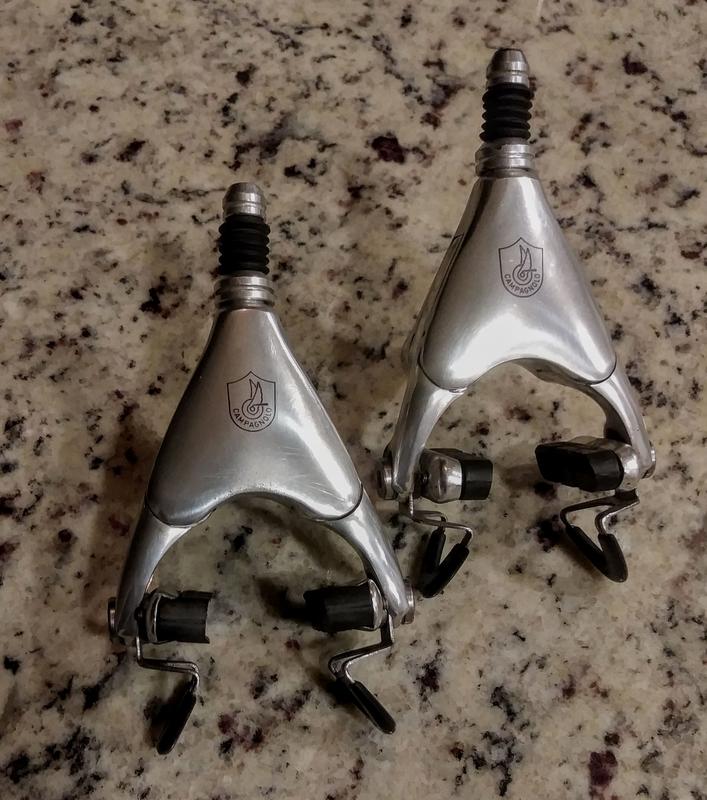 ---
Last edited by Brewsmith; 10-08-19 at

01:59 PM

.

10-01-19, 07:49 AM
Senior Member
Join Date: Aug 2014
Location: Denver, CO
Posts: 1,109
Bikes: 1987 Centurion Ironman Master, 1989 Centurion Ironman Expert, 1972 Motobecane Grand Jubilee
Mentioned: 60 Post(s)
Tagged: 0 Thread(s)
Quoted: 107 Post(s)
Likes: 0
Crickets?

Herring ready to put these on eBay, one last shot here before I do!

10-02-19, 08:38 AM
Senior Member
I would love to see some more pictures from different angles before making an offer on the group.

10-02-19, 09:55 AM
Senior Member
Join Date: Sep 2017
Location: Greenville SC
Posts: 3,773
Bikes: 1977 Schwinn Super Le Tour 12.2 Chrome, 2020 Holdsworth Competition, 2022 Giant Trance 29 3
Mentioned: 41 Post(s)
Tagged: 0 Thread(s)
Quoted: 2951 Post(s)
Oh I would love nothing more than to buy this and throw it on my SLT, but my bank account does not share my enthusiasm

I love the 8 speed Mirage on my Trek 716, I can only imagine that Record would be amazing