FS: Campagnolo Veloce/Racing Triple 3x9 Group in Excellent Condition

05-30-20, 07:28 AM
Senior Member
Join Date: Aug 2014
Location: Denver, CO
Posts: 851
Bikes: 1987 Centurion Ironman Master, 1989 Centurion Ironman Expert, 1972 Motobecane Grand Jubilee
Mentioned: 46 Post(s)
Tagged: 0 Thread(s)
Quoted: 71 Post(s)
Likes: 0
FS: Campagnolo Veloce/Racing Triple 3x9 Group in Excellent Condition
---
SOLD
Rebuilding a frame my wife never rode, I'd guess less than 500 miles (mostly indoor) on the group overall. I usually hesitate to throw the term 'minty' around, but this is darn close. See pics
HERE
for detials with a focus on any flaws. Asking $300 shipped CONUS for the following:
- 170mm Arms with 52/42/30 rings, proper dust cap bolts, and 'gasp!' a UN-72 111mm English BB
- Ergo levers with just a few very slight scrapes, perfect hoods
- Racing T 9s RD
- Racing T FD 32mm clamp
- 12-23 Cassette
- C9 Chain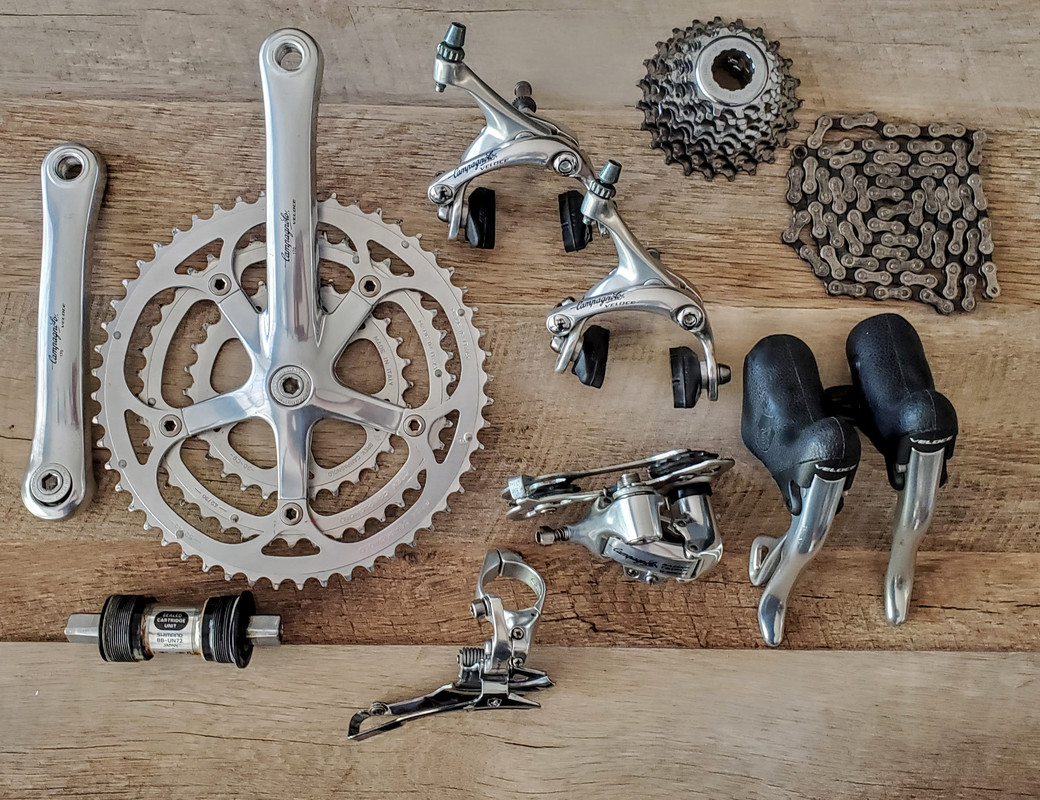 ---
Last edited by Brewsmith; 06-05-20 at

03:45 PM

.


06-03-20, 11:55 AM
Senior Member
Join Date: Aug 2014
Location: Denver, CO
Posts: 851
Bikes: 1987 Centurion Ironman Master, 1989 Centurion Ironman Expert, 1972 Motobecane Grand Jubilee
Mentioned: 46 Post(s)
Tagged: 0 Thread(s)
Quoted: 71 Post(s)
Likes: 0
Bump, now $285 shipped CONUS


06-04-20, 11:41 AM
Senior Member
Join Date: Jan 2008
Location: Beaverton, OR
Posts: 12,495
Bikes: Yes
Mentioned: 323 Post(s)
Tagged: 0 Thread(s)
Quoted: 1927 Post(s)
Originally Posted by
nlerner
Somehow even with the mention I didn't see this until today. As it happens, I've got a NOS Comp Triple group on the shelf that I need to figure out what to do with. I'll have to let Brewsmith's group pass to someone else. It does look very nice though.


06-04-20, 11:49 AM
aka Tom Reingold
Join Date: Jan 2009
Location: High Falls, NY, USA
Posts: 38,971
Bikes: 1962 Rudge Sports, 1971 Raleigh Super Course, 1971 Raleigh Pro Track, 1974 Raleigh International, 1975 Viscount Fixie, 1982 McLean, 1996 Lemond (Ti), 2002 Burley Zydeco tandem
Mentioned: 472 Post(s)
Tagged: 0 Thread(s)
Quoted: 6411 Post(s)
If I had a bike to build, I would use this group right now.


06-05-20, 09:45 AM
Senior Member
Join Date: Aug 2013
Location: NEPA
Posts: 1,082
Bikes: '61 Schwinn Klunker, '68 Hercules Klapprad, '73 Raleigh Super Course, '78 Motobecane Grand Jubile, '79 Motobecane Grand Sprint, '82 Colnago Super, '87 Ironman Expert, '89 Puch Mistral Leader
Mentioned: 15 Post(s)
Tagged: 0 Thread(s)
Quoted: 307 Post(s)


Posting Rules
You may not post new threads
You may not post replies
You may not post attachments
You may not edit your posts
---
HTML code is Off
---