FS: Lugged Desalvo 'Sport-Touring' F/F/HS with Braze-on Paul Racers 58.5cm Top Tube

11-01-21, 04:50 PM
Senior Member
Join Date: Aug 2014
Location: Denver, CO
Posts: 1,070
Bikes: 1987 Centurion Ironman Master, 1989 Centurion Ironman Expert, 1972 Motobecane Grand Jubilee
Mentioned: 58 Post(s)
Tagged: 0 Thread(s)
Quoted: 101 Post(s)
Likes: 0
FS: Lugged Desalvo 'Sport-Touring' F/F/HS with Braze-on Paul Racers 58.5cm Top Tube
---
While not strictly C&V, it definitely fits the spirit, a Keeper of the Flame in CR parlance.
Picked this up about six months ago and had no intentions of moving it along until I picked up another Kirk a few weeks ago. This is pretty much an exact overlap with that one in the stable, so it's up for offer here. Pretty rare to see a lugged Desalvo, but the workmanship is impeccable as are all his other bikes.
The paint has a few earned a few small chips since I purchased it, though none make it through the primer (which is also grey) and it looks really good from 6 ft out. I was able to run 28c tires with fenders and 32c tires without.
I am asking $1500 net to me, shipped and insured within the CONUS for the frame, fork, Chris King headset, Paul Racer brakes and quill stem mount Funky Monkey for the front brake. I have a number of different Cinelli stems, so I can throw one of those in if I have the size you need as well. I had this setup with a 9s Dura Ace group with DT shifters, if anyone is interesting in that as well we can work out a deal.
Please see pics in the album
HERE
for details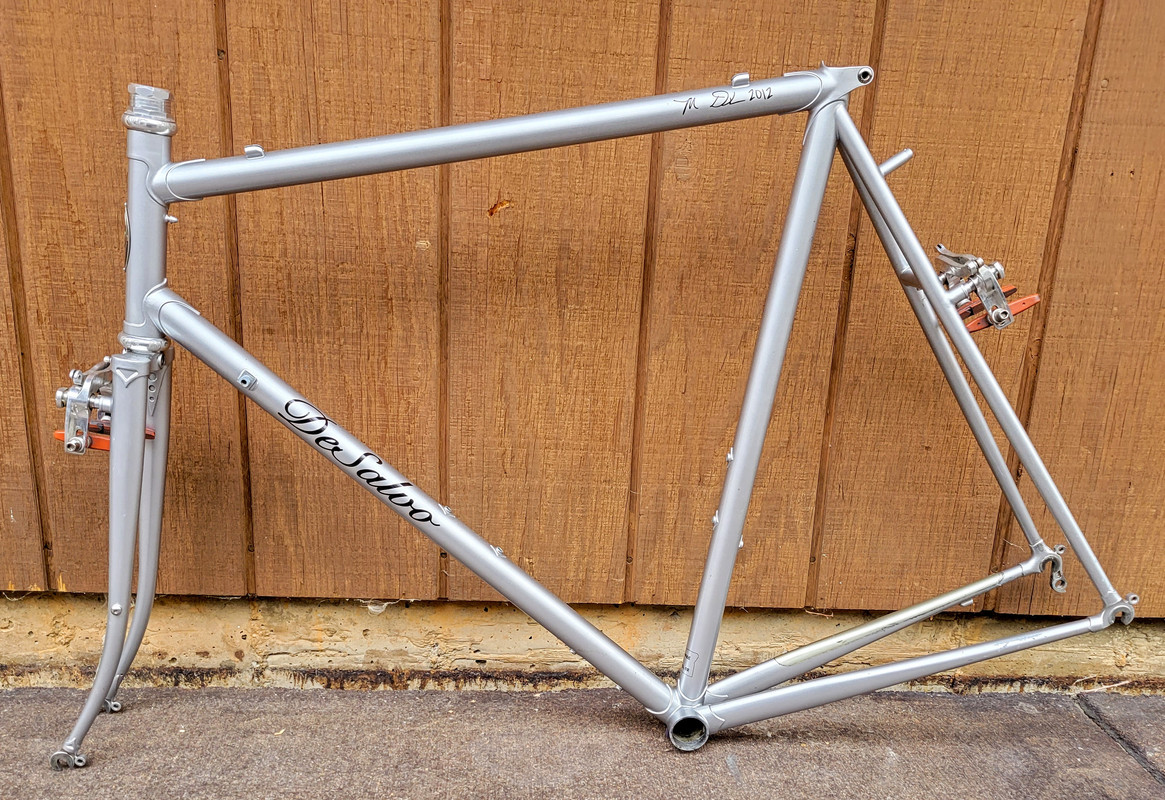 11-01-21, 05:05 PM
Yowza that's nice. Slightly too big for me, otherwise I'd consider selling off something to get this.
__________________
N = '96 Colnago C40, '04 Wilier Alpe D'Huez, '10 Colnago EPS, '85 Merckx Pro, '89 Merckx Century, '86 Tommasini Professional, '04 Teschner Aero FX Pro, '05 Alan Carbon Cross, '86 De Rosa Professional, '82 Colnago Super, '95 Gios Compact Pro, '95 Carrera Zeus, '84 Basso Gap, '89 Cinelli Supercorsa, '83 Bianchi Specialissima, 'VO Randonneur, Ritchey Breakaway Steel, '84 Paletti Super Prestige, Heron Randonneur



11-02-21, 08:38 AM
very cool frame. The extended HT would make getting the bars up higher easier. Lovely socketed dropouts too. (un)lucky for me, it's too big for my legs.

11-12-21, 01:07 PM
Senior Member
Join Date: Aug 2014
Location: Denver, CO
Posts: 1,070
Bikes: 1987 Centurion Ironman Master, 1989 Centurion Ironman Expert, 1972 Motobecane Grand Jubilee
Mentioned: 58 Post(s)
Tagged: 0 Thread(s)
Quoted: 101 Post(s)
Likes: 0
Price reduced to $1350 shipped CONUS

11-13-21, 07:44 PM
Senior Member
Join Date: Feb 2017
Location: Chicago, IL
Posts: 484
Bikes: 2004 Trek 520, resto-modded 1987 Cannondale SR400, rando-modded 1976 AD Vent Noir; 2019 Wabi Classic; 1989? Burley Duet
Mentioned: 7 Post(s)
Tagged: 0 Thread(s)
Quoted: 202 Post(s)
Do you know the approximate size of the person this was built for? Is it lightweight frame with thin tubing, or a little stouter?

11-16-21, 03:53 PM
Senior Member
Join Date: Aug 2014
Location: Denver, CO
Posts: 1,070
Bikes: 1987 Centurion Ironman Master, 1989 Centurion Ironman Expert, 1972 Motobecane Grand Jubilee
Mentioned: 58 Post(s)
Tagged: 0 Thread(s)
Quoted: 101 Post(s)
Likes: 0