FS - 1989 Trek 660 - 60cm - In PDX

06-25-22, 01:55 PM
Newbie, sort of
Join Date: Jun 2009
Location: Portland, OR
Posts: 39
Bikes: 1991 Paramount OS, 1989 Trek 660, 2000 Stumpjumper Comp M2
Mentioned: 0 Post(s)
Tagged: 0 Thread(s)
Quoted: 1 Post(s)
Likes: 0
FS - 1989 Trek 660 - 60cm - In PDX
---
*** EDIT - Bike has been sold ***
We're moving and I'm finally getting around to making a sincere effort to sell off lots of things. Most of those things have zero emotional value, but this one does. My wife says "put it on Craigslist, or FB Marketplace". I say "No, if I'm going to give anybody a first shot at it, it's gonna be someone from the C&V forum. Someone for whom these sorts of things matter."
I bought this from Alan at the Turin Bike Shop in Denver in 1989, and raced with it there for 4 or 5 years. Managed to never crash it. Geometry targeted toward crit racing. Trek's True Temper tubing. Still have the original receipt and I think the Trek brochure.
Haven't ridden it in years. A few pieces and parts were swapped out from the original. Ultegra 600 drivetrain (with 172.5mm cranks). Ultegra pedals. Cinelli bars and stem. Campy seat post. Headset needs work. Trek Matrix 32 sp wheels. Tires probably shouldn't be ridden on.
Putting a $100 price tag on it just because. Not trying to get rich, and don't need the money. It just pains me too much to have it go to Goodwill or similar.
I also have some other wheels and come older DA 7400 components that I'll be listing here separately.
Am in the Portland, Oregon area, and ideally, I'd find someone reasonably local. I don't have any interest in having to ship this somewhere. If you want to come take a look at it, send me a PM. I'm around pretty much all day, every day.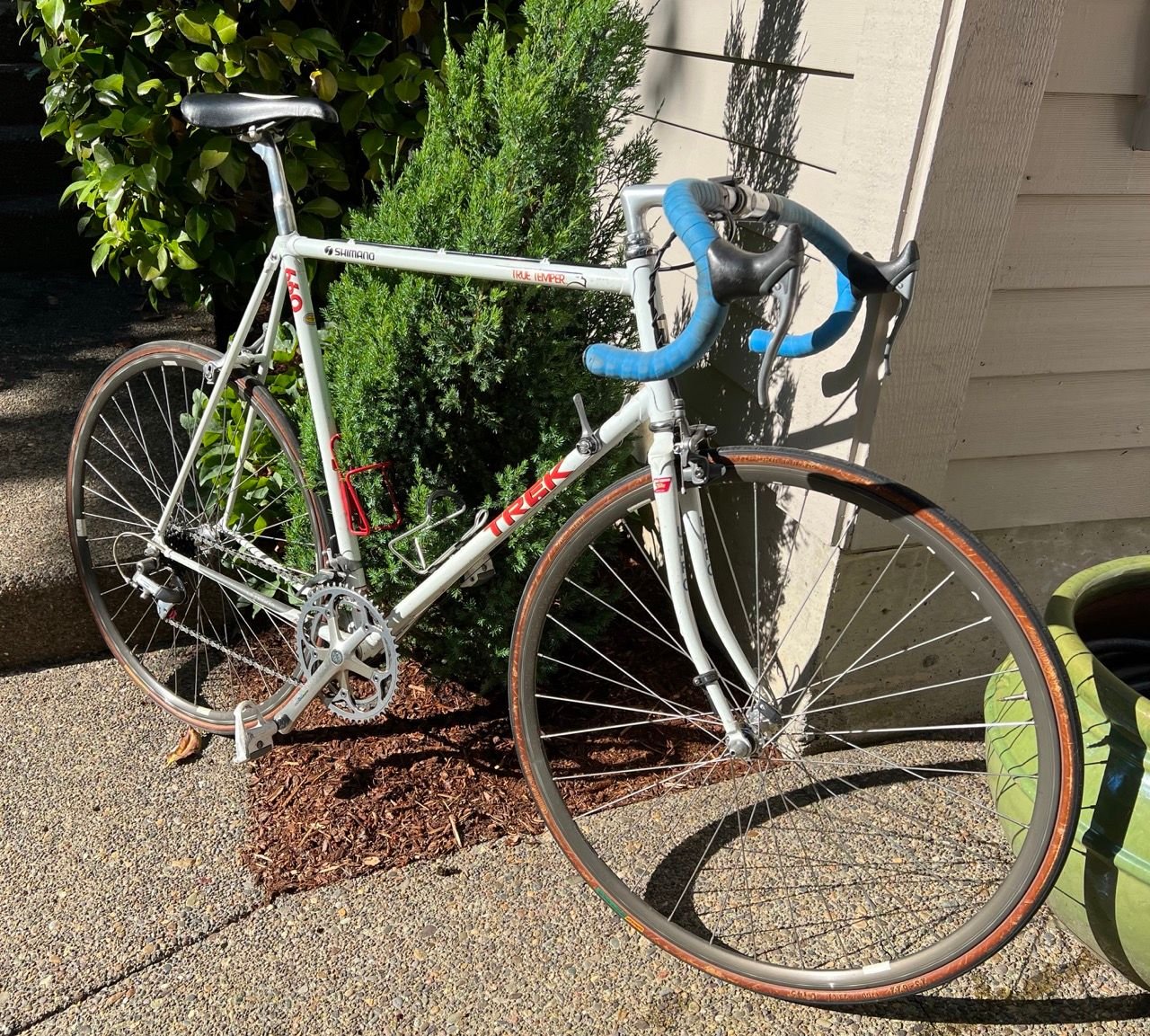 ---
Last edited by Oreamnos; 06-25-22 at

07:46 PM

. Reason: Updated to indicate bike has been sold

06-25-22, 02:23 PM
Senior Member
Join Date: Mar 2021
Location: Beaverton, OR
Posts: 866
Bikes: You had me at rusty and Italian!!
Mentioned: 14 Post(s)
Tagged: 0 Thread(s)
Quoted: 336 Post(s)

06-25-22, 02:24 PM
Senior Member
Join Date: Sep 2005
Location: Oakland, CA
Posts: 3,071
Bikes: '82 Univega Competizione, '72 Motobecane Grand Record, '83 Mercian KOM Touring, '85 Univega Alpina Uno, '76 Eisentraut Limited
Mentioned: 54 Post(s)
Tagged: 0 Thread(s)
Quoted: 1005 Post(s)
Beautiful bike -- someone here will give it a worthy home, no doubt. (I am too short and too far away, so it won't be me.) Great story, and thanks for posting...

06-25-22, 07:45 PM
Newbie, sort of
Join Date: Jun 2009
Location: Portland, OR
Posts: 39
Bikes: 1991 Paramount OS, 1989 Trek 660, 2000 Stumpjumper Comp M2
Mentioned: 0 Post(s)
Tagged: 0 Thread(s)
Quoted: 1 Post(s)
Likes: 0

06-25-22, 09:57 PM
Full Member
Join Date: Aug 2019
Location: Arizona
Posts: 416
Bikes: Many!
Mentioned: 3 Post(s)
Tagged: 0 Thread(s)
Quoted: 173 Post(s)
Well that didn't take long. Nice bike!