Origin 8 Tiki bar questions

03-31-15, 08:53 AM
Senior Member
Origin 8 Tiki bar comments...
---
My '84 Bridgestone 400 has drops and I added cross levers on it for braking ease in urban riding a few years ago. Now I'm thinking of swapping the drops for the Tiki moustache style to get a little more upright position. I haven't found a pair locally so I have a couple of questions before I order one from the LBS.

My questions:
1. Has anyone tried the Tiki or other M'bars flipped up and if so what kind of issues did you encounter and did/do you like them up? I am thinking it may get me more height but I am not opposed to having them drop like normal.

2. How much width is there between the bends? I'm asking because I would like to use an old Cannondale Trestle handlebar bag and I would need about 10 1/2 to 11 inches for it to fit.

Any other good or bad comments on the bars would be appreciated. I plan to use either the normal aero road brake levers or my cross levers - which ever feel more comfortable and easier to grab. I also have bar end shifters to swap over to Tiki bars.

Also if anyone knows of a similar bar that is narrower than the Tiki (51 cm) let me know. That is part of the reason I am looking at the Tiki vs. other wider varieties and also the cost is less.

Thanks -
__________________
Nothing compares to the simple pleasure of a bike ride - JFK
---
Last edited by badger_biker; 04-07-15 at

07:15 AM

. Reason: title

04-06-15, 12:04 PM
Senior Member
Comments on Origin 8 Tiki bars
---
For anyone considering a transition to these or similar bars I found the Tiki bars for only $20 so I bought a silver one and got it installed. Since I had the additional cross levers on the bike I needed to replace my brake cable housing which added a little bit to the task but I got the bars and stem swapped out fairly quickly and here are my impressions:
1. First of all these are not expensive bars and the finish shows that. The silver is kind of a textured finish that seems sprayed on and mars fairly easily. Also the bar is very crude looking in the front of the bend with what looks like ripples in the surface. Not really an issue since I wrapped the bars anyway but it would be a consideration if you intend to used grips on the ends only.
2. My OEM road stem was not tall or long enough to get the upright position I was looking for so I threw on an adjustable stem that I had laying around. Not the most elegant but it will do at least until I get my position dialed in.
3. Unlike what I have read regarding other mustache style bars the reach to the brake levers really isn't much farther than I had with the road bars when I was on the hoods. Also the width at 51 cm does not seem bad at all.
4. I tried the bars in the upside down position but the brake action did not have a good feel with an upward motion to the levers so I went with the standard orientation.
5. The bike came with quite narrow 39 cm road bars and the control was so much better with these wider bars. With that said the bike still had a nice stable feel when I pulled one hand off and had the other anywhere from right off the stem to the outer edge.
I took the bike out for about a 15 mile ride and was immediately loving these bars! The more upright position felt great on this bike and the brake position was super handy and the leverage with the horizontal position was nicely increased. The bar end shifting felt as comfortable as on drops and although the hand positions were fewer I think they will be adequate for longer rides even though I probably would not be doing much over 40 miles with this bike anyway.
The only downer with the switch is that at least while I'm using the adjustable stem I'm not able to use my Cannondale handle bar bag because the wire hanger won't work. with a regular stem I don't know if it would extend out quite far enough to clear the bar bends.
Thus far I am very pleased I went with this change and my old 'Stone should get a few more miles on it now.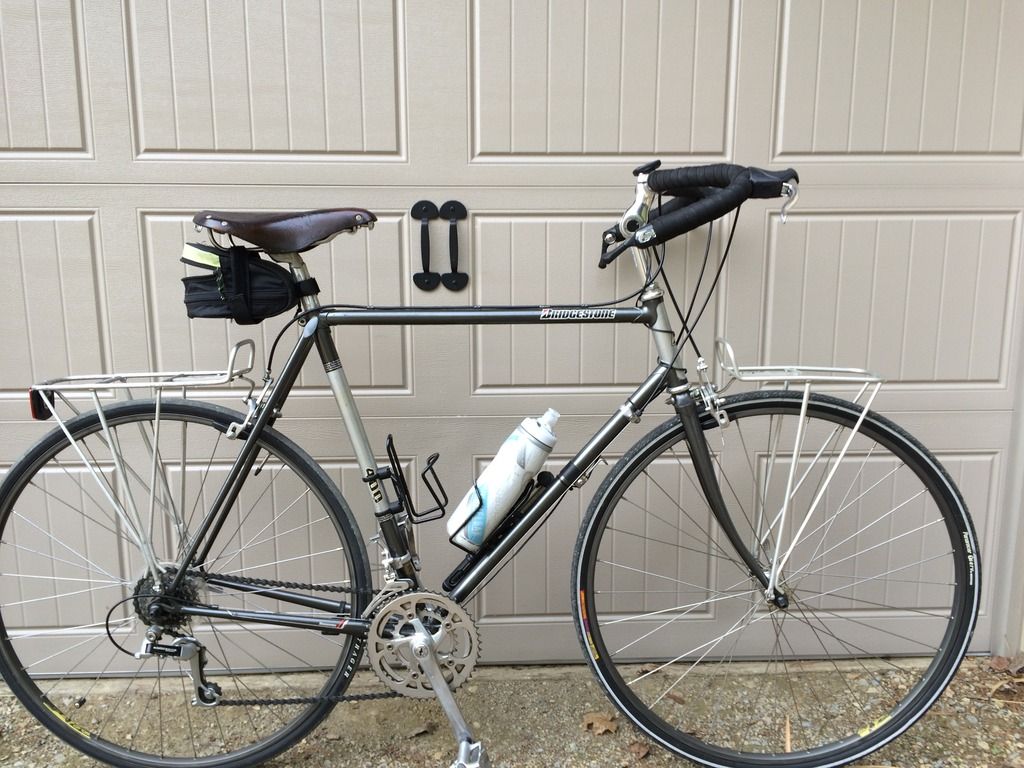 ---
Last edited by badger_biker; 04-07-15 at

07:16 AM

. Reason: Added pics and title
Thread
Thread Starter
Forum
Replies
Last Post
Classic and Vintage Bicycles: Whats it Worth? Appraisals.

Posting Rules
You may not post new threads
You may not post replies
You may not post attachments
You may not edit your posts
---
HTML code is Off
---