1985 Diamondback Apex! CL Score and build thread

05-14-15, 10:32 AM
Hows your Apex project coming PUREBIKES? A couple weeks ago I acquired the same bike. I have been keeping an eye out for an Apex at a good price for a couple years, since I sold my '87 that was a bit small for me.
Seems to be all original except tires. As found: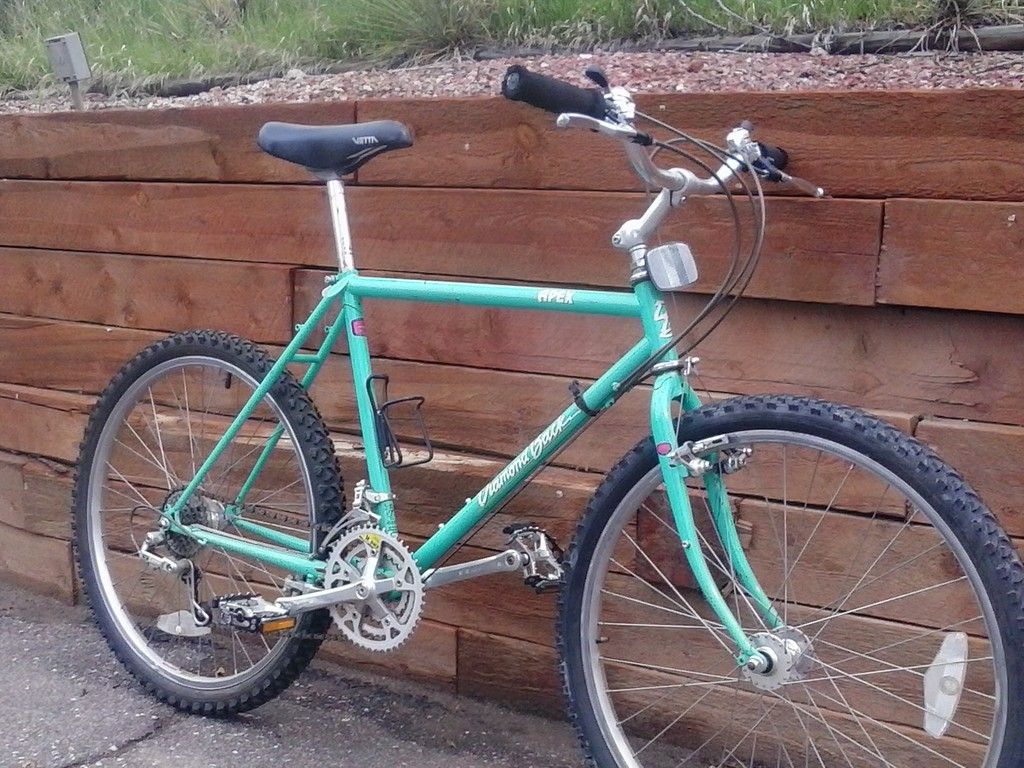 Here is the one I sold awhile back. It was a couple inches small for me but I rode it a few thousand miles, mostly as a commuter bike, but I also did some trail riding on it: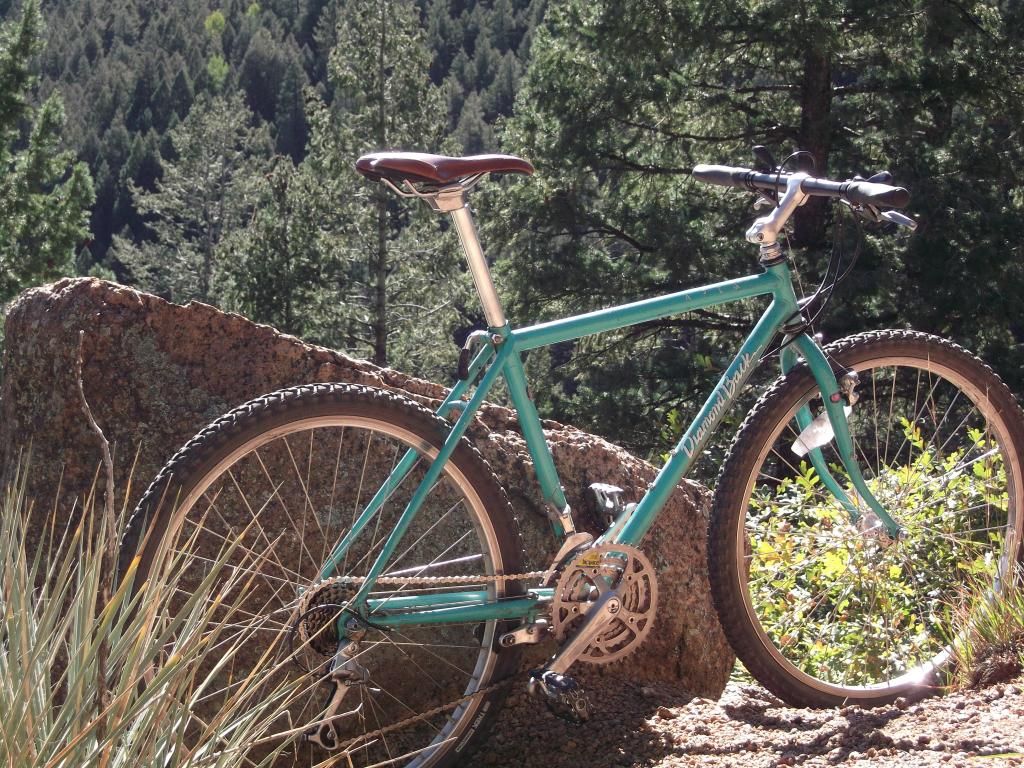 06-09-15, 09:50 PM
Originally Posted by
frantik
Very nice. I have one of those, it's my daily rider. Here's an old pic of mine.. it's basically the same as in this pic but some parts have been upgraded since it was taken. I wish I could find a second frame in my size i would do a drop bar conversion on the second frame
There was a review in the
March/April 1986 issue
of Mountain Bike for the Adventure magazine (more issues here:
1986 - CB Klunkers
)
btw i'm not 100% sure but I think the model year is 1986
Here's a 22" that I am trying to document. Seems its an early 1986 judging by Number 6 on serial code and datable components ranging from February to March of 1986, the first catalog mention was May of 1986. Any information on this bike is appreciated. Differences with the more popular 1987 are full XC in '86 vs Shimano in '87; not rear rack fittings on rear dropout; and RD guide on spacer at rear Roller can brake boss. Although, a 22" unlike the Apex the two water bottle bosses are one on each tube.
Thanks

06-10-15, 05:23 AM
Full Member
Hows your Apex project coming PUREBIKES?
Sadly I have not been able to work on it yet. It still sits as found. Hopefully I can build it up this weekend but you know how that goes with a house renovation in progress. I have been trying to get a day to wrench on bikes for about 6 months it seems...
__________________
Bikes are cool, even the dumb ones.

09-30-16, 09:29 PM
Junior Member
Join Date: Jun 2011
Posts: 5
Mentioned: 0 Post(s)
Tagged: 0 Thread(s)
Quoted: 1 Post(s)
Likes: 0
Liked 0 Times in 0 Posts
I'll answer for him.
---
How's it coming? I'll tell you. He f***ed it up. You wouldn't recognize it now. Was a beautiful Apex. Was a great buy. Back when. Back then. Not now.

09-30-16, 11:05 PM
Senior Member
Join Date: Jun 2007
Location: Atlanta, GA
Posts: 102
Mentioned: 0 Post(s)
Tagged: 0 Thread(s)
Quoted: 27 Post(s)
Likes: 0
Liked 0 Times in 0 Posts
I saw it for sale in the CV for sale thread a while ago (see link below) and saw that he did a drop bar conversion with bar end shifters (friction, I think?) but kept the deerhead bits. I was actually kinda bummed cause it is my size and, I've always wanted a older mtn dropbar conversion but don't have the budget for another bike at this time. I'm not quite a noob but, I have very little wrenching experience. Where, in your opinion, did he go wrong?
https://www.bikeforums.net/classic-vi...er-20-ctt.html
---
Last edited by QStorm; 10-01-16 at

01:06 AM

. Reason: fix a typo and add a link

10-01-16, 07:57 AM
Senior Member
Join Date: Aug 2007
Location: WI
Posts: 912
Mentioned: 0 Post(s)
Tagged: 0 Thread(s)
Quoted: 2 Post(s)
Likes: 0
That Apex is very similar an 88 Scott Boulder. Same chain stay spoke holders. This is one of my favorite bikes right now:

10-01-16, 04:49 PM
Senior Member
Join Date: Jan 2013
Location: Norman, Oklahoma
Posts: 5,224
Bikes: Too many to list
Mentioned: 36 Post(s)
Tagged: 0 Thread(s)
Quoted: 1710 Post(s)
These early MTB's can be fun ---- we have a couple of Diamondback threads floating around here,
but I like sharing pics anyway ----- a pair of seldom used Fleet Streaks , - I can only guess was a his n hers combo at some point
Anyway - great condition , --- the red one I left alone but the blue one I treated to a BMX inspired spruce up just for fun - in homage to DB's BMX roots
--- Its been ridden once - LOL -- but looks cool
I have space in the Bat Cave for a Sand Streak if one ever comes along , but if not, these will do fine for some fun time cruisin'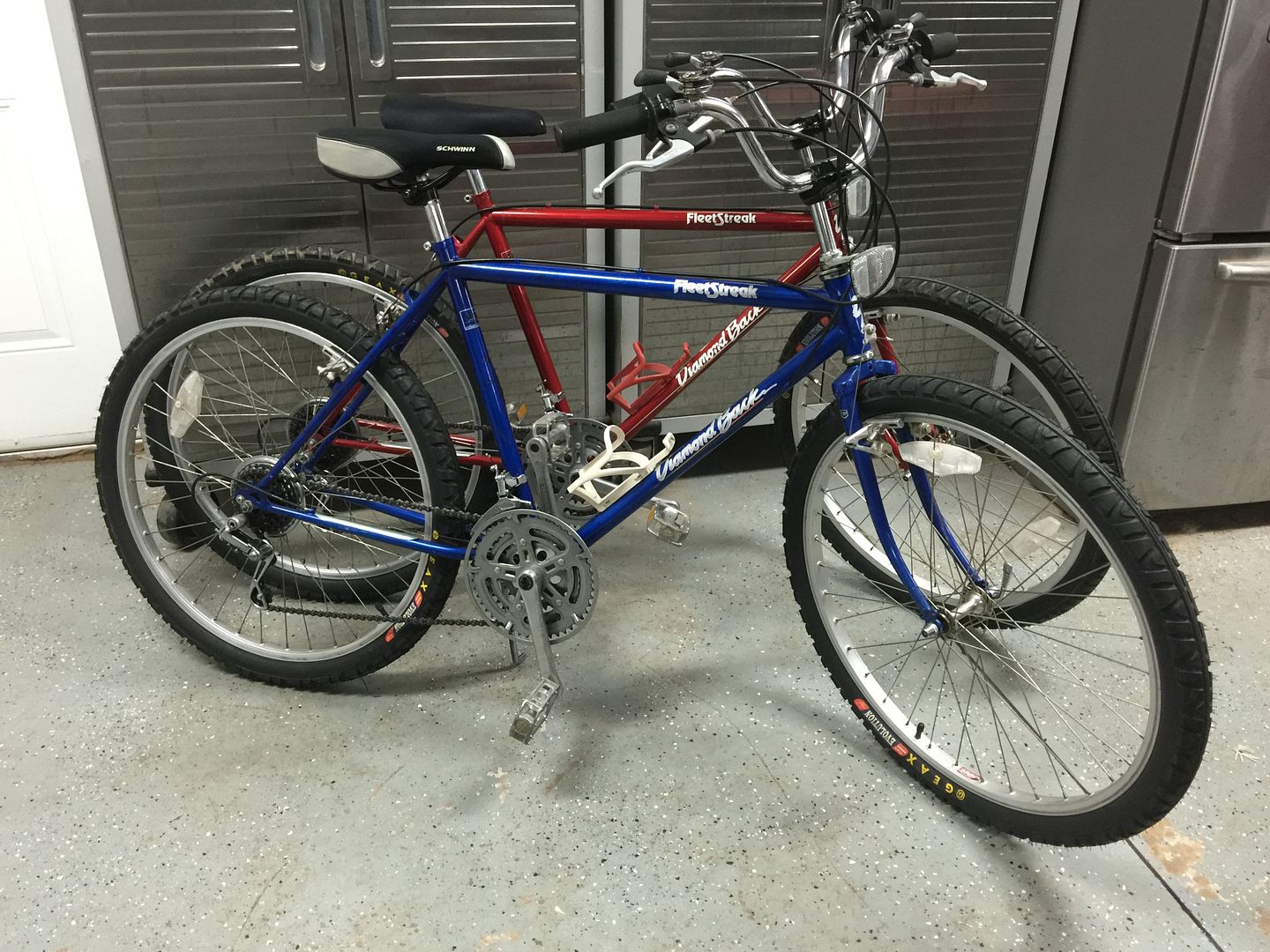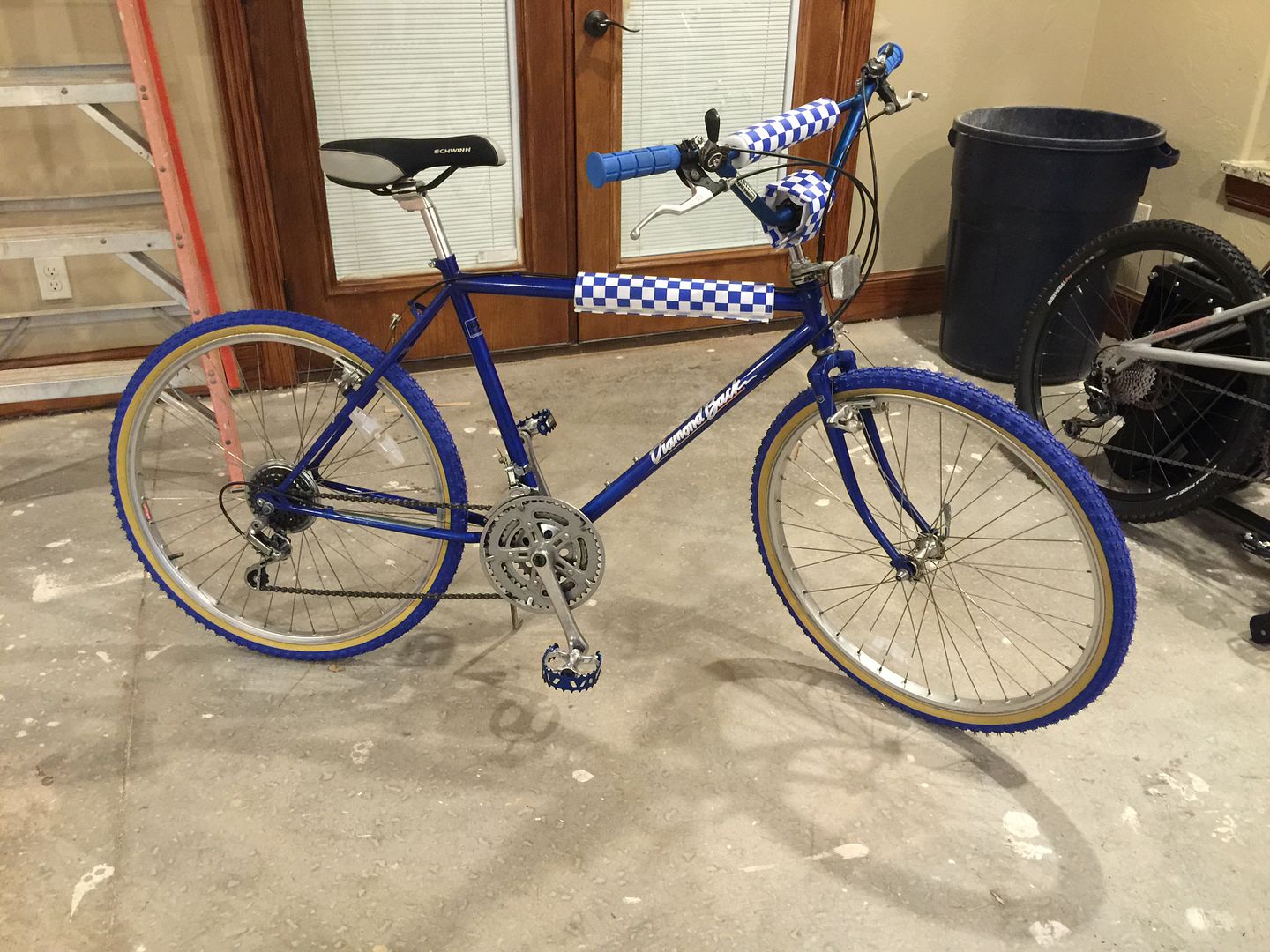 03-27-21, 11:48 AM
Newbie
Join Date: Mar 2021
Posts: 1
Mentioned: 0 Post(s)
Tagged: 0 Thread(s)
Quoted: 1 Post(s)
Likes: 0
Liked 0 Times in 0 Posts
I need to replace the fork on this very bike!!
---
Stumbled across this post on the forum, saw the photo and said, "hey, that's my bike!!" I've been trying to find a replacement for the fork for this bike, or at least one that will work as a replacement. If I could find the specs on it, I could probably find a replacement, but 36 years might too far down the line to find any specs for this online. Anyone out there able to help me out?

08-16-21, 10:24 PM
Built to Ride Leisurely
Join Date: Apr 2021
Location: So. Oregon
Posts: 5
Bikes: Schwinns and a GT
Mentioned: 0 Post(s)
Tagged: 0 Thread(s)
Quoted: 1 Post(s)
Likes: 0
Liked 0 Times in 0 Posts
I'm reading up on this discussion of Apex versus Ascent this evening, as I have both but still gathering information on which to keep in my stable. I have a Schwinn Klunker build, a Stingray build, and a morphing GT BMX cruiser project...but none are suited for much road-centric riding. I've used some Tange 26" BMX forks on my Schwinn, a piece that I purchased an honest 40 years ago and were destined for my teenage-owned Schwinn stolen in 1983.
Which forks were you seeking?

08-17-21, 04:48 PM
Senior Member
Join Date: Nov 2014
Location: Saratoga calif.
Posts: 923
Bikes: Miyata 610(66cm), GT Vantara Hybrid (64cm), Nishiki International (64cm), Peugeot rat rod (62 cm), Trek 800 Burning Man helicopter bike, Bob Jackson frame (to be restored?) plus a never ending stream of neglected waifs from the Bike exchange.
Mentioned: 15 Post(s)
Tagged: 0 Thread(s)
Quoted: 298 Post(s)
Likes: 0
Those are sweet bikes. You have the makings of a great adventure touring bike there. I recently rehabbed a yellow one . One thing I would highly recommend is to strip down the bike and rub out the paint with white polishing compound. That will remove a lot of marks and blemishes in the paint. Often what looks like a scratch is really on top of the paint and the polishing compound will remove them without harming the finish. After that use a good carnauba wax on it. Alternatively get some Rustoleum Automotive clear and clear coat it. I have posted a number of times with tips and instructions how to do this. It will make the paint look like new. My yellow one had fork braze on's for panniers along with the extra bottle cage under the down tube. I am told that one was for carrying camp fuel.

08-17-21, 08:10 PM
cycles per second
Join Date: Oct 2003
Location: Minnesota
Posts: 1,930
Bikes: Early 1980's Ishiwata 022 steel sport/touring, 1986 Vitus 979, 1988 DiamondBack Apex, 1997 Softride PowerWing 700, 2001 Trek OCLV 110
Mentioned: 0 Post(s)
Tagged: 0 Thread(s)
Quoted: 44 Post(s)
Originally Posted by
frantik
hah I LOVE the ping sound my frame makes. I've wondered how the non-infinity frames feel, if any different. I wish I could find another one in my size with all of the original bits

btw, are you sure production moved to Taiwan in 87? I have an 88 Ascent EX which was made in japan, I assume the Apex would be made in japan as well. I had an 89 Apex and it was made in Taiwan
Here's my 1988 Apex. It has a "MADE IN JAPAN. DESIGNED IN USA" decal on the seat tube just above the bottom bracket.

08-18-21, 02:42 PM
Senior Member
As far as i know, it depends on the model, the higher end models were Japan and the others were Taiwan...
__________________
Thread
Thread Starter
Forum
Replies
Last Post
Classic and Vintage Sales
Classic and Vintage Sales

Posting Rules
You may not post new threads
You may not post replies
You may not post attachments
You may not edit your posts
---
HTML code is Off
---