what does it do?

09-01-15, 12:22 PM
smelling the roses
Join Date: Nov 2010
Location: Tixkokob, Yucatán, México
Posts: 12,704
Bikes: 72 Schwinn World Voyageur, 78 Schwinn World(upright town bike), 79 Trek 930, 80 Trek 414, 84 Schwinn Letour Luxe (coupled), 88 Centurion Ironman Expert,92 Schwinn Paramount PDG 5
Mentioned: 102 Post(s)
Tagged: 1 Thread(s)
Quoted: 5462 Post(s)
what does it do?
---
__________________
one general tip for when the exact hub cone is not readily available. discovered that the curvature of the bearing surface on the shimano 600 was a pretty good "skeleton key" for many applications. it would sometimes require a small change in ball size to make everything come out correctly.

09-01-15, 12:28 PM
1/2 as far in 2x the time
Join Date: Nov 2013
Location: Northern Bergen County, NJ
Posts: 1,448
Mentioned: 13 Post(s)
Tagged: 0 Thread(s)
Quoted: 348 Post(s)
Looks like centerpull brake bridge, (with an adjuster?)
but I think it must be something odder for you to post it.
i'll be back to find out.
Cheers, Eric

09-01-15, 07:52 PM
Banned.
Join Date: May 2011
Location: on the beach
Posts: 4,859
Bikes: '73 falcon sr, '76 grand record, '84 davidson
Mentioned: 0 Post(s)
Tagged: 0 Thread(s)
Quoted: 59 Post(s)
Likes: 0
what does it do?
it just sits there, under the interrogation light, remaining silent. and you yell, "we know where you were during the accident, cable! you're looking at major time here! talk, damn you, talk!"

09-01-15, 07:56 PM
What??? Only 2 wheels?
Join Date: Apr 2010
Location: Boston-ish, MA
Posts: 13,243
Bikes: 73 Raleigh Carlton Gran Sport, 72 Peugeot UO-8, 82 Peugeot TH8, 87 Bianchi Brava, 76? Masi Grand Criterium, 87 Centurion Ironman Expert, 74 Motobecane Champion Team, 86 & 77 Gazelle champion mondial, 81? Grandis, 82? Tommasini, 83 Peugeot PFN10
Mentioned: 177 Post(s)
Tagged: 0 Thread(s)
Quoted: 1141 Post(s)
Have you fed it recently?
__________________
Real cyclists use toe clips.
With great bikes comes great responsibility.
jimmuller

09-01-15, 07:59 PM
Senior Member
Join Date: Aug 2009
Location: Berkeley, CA
Posts: 6,452
Bikes: '72 Cilo Pacer, '72 Peugeot PX10, '73 Speedwell Ti, '74 Nishiki Competition, '74 Peugeot UE-8, '85 De Rosa Pro, '86 Look Equipe 753, '86 Look KG86, '89 Parkpre Team, '90 Parkpre Team MTB, '90 Merlin
Mentioned: 63 Post(s)
Tagged: 0 Thread(s)
Quoted: 438 Post(s)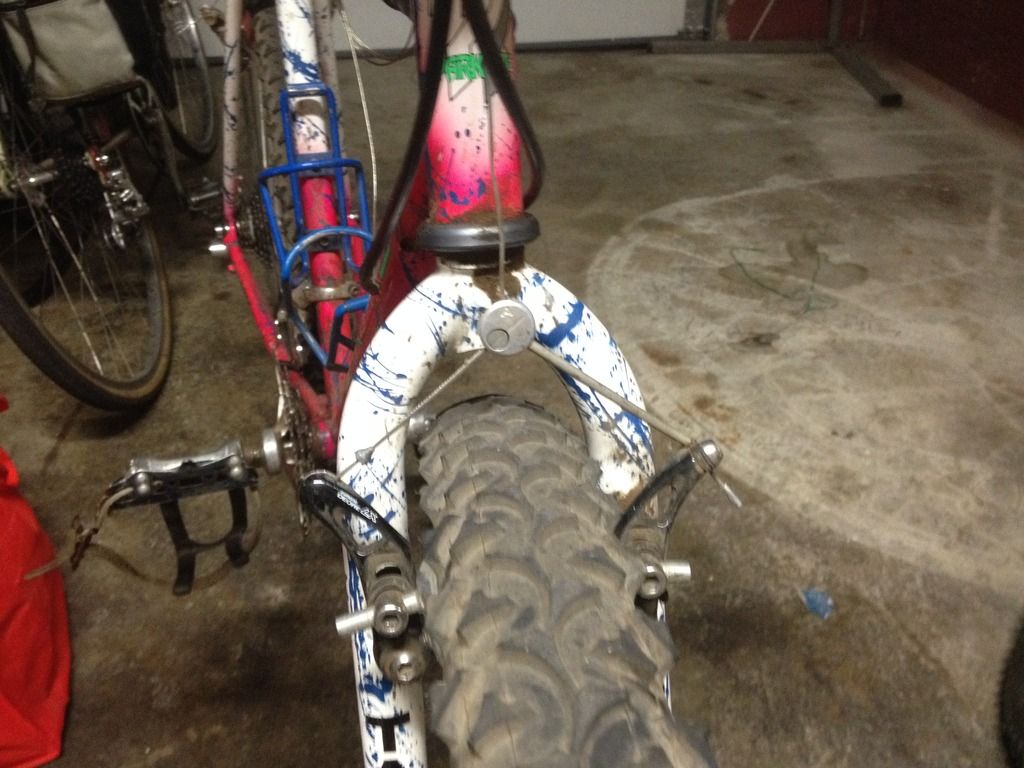 The cable from the lever goes to the pinch bolt on the right. A liner has been cut to match the length of the straddle cable so that everything lines up evenly.
---
Last edited by gaucho777; 09-01-15 at

08:19 PM

.

09-01-15, 08:27 PM
Disco Infiltrator
__________________
Genesis 49:16-17
Thread
Thread Starter
Forum
Replies
Last Post
Cyclocross and Gravelbiking (Recreational)

Posting Rules
You may not post new threads
You may not post replies
You may not post attachments
You may not edit your posts
---
HTML code is Off
---