Schwinn bike identification

09-02-15, 08:28 AM
Newbie
Join Date: Sep 2015
Posts: 4
Mentioned: 0 Post(s)
Tagged: 0 Thread(s)
Quoted: 0 Post(s)
Likes: 0
Liked 0 Times in 0 Posts
Schwinn bike identification
---
I know this is a Schwinn Moab, but have no clue as to the year. I bought it somewhere around '96-'97....I need to replace/repair some items, but would like to know where to start. As of right now, the shifters are stuck and it makes a clicking sound. I cannot change gears at all. It seems like there is no tension on the cable, or something in not making contact inside the housing. Any help would be greatly appreciated.

09-02-15, 09:19 AM
From the picture I am not able to see what shifters you have. If you have Shimano rapid fire what you describe is a common problem. Search your problem on you tube. It is an easy fix and there are a number of vids showing how.

09-02-15, 09:42 AM
Still learning
Squirt generous amounts of WD-40 inside the shifter housing to give the old grease a chance to dissolve. Adjust the cable tension by removing slack at the derailleur binder bolt with the chain on the smallest sprocket and the shifter on position 1. Work the shifters back and forth a bit and you should be good to go.

09-02-15, 09:48 AM
Thrifty Bill
Exact year has no bearing on replacement parts. Schwinn's last production facility closed about 1991. If you are committed to finding exact year, head to either bikepedia or just look up component codes.

Google Schwinn Moab SS and the first listing gives you the year.
---
Last edited by wrk101; 09-02-15 at

09:52 AM

.

09-02-15, 11:26 AM
Decrepit Member
Join Date: Aug 2005
Location: Santa Rosa, California
Posts: 10,472
Bikes: Waterford 953 RS-22, several Paramounts
Mentioned: 67 Post(s)
Tagged: 0 Thread(s)
Quoted: 619 Post(s)
Likes: 0
It appears to be a 1994 Moab SS. The catalog was probably published in late 1993 (the year Schwinn was purchased from the bankruptcy court), and the new owners of Schwinn were just getting their act together.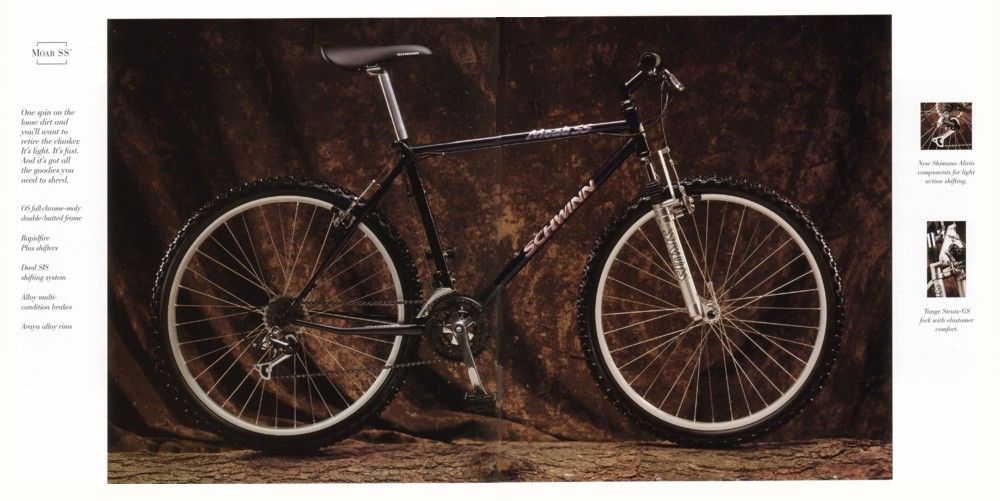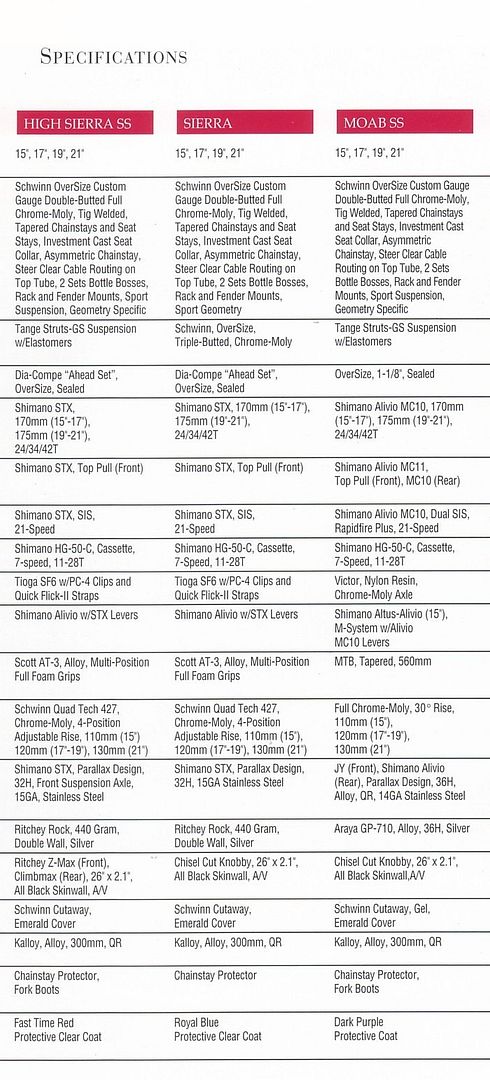 __________________
- Stan
my bikes
Science doesn't care what you believe.

Thread
Thread Starter
Forum
Replies
Last Post
General Cycling Discussion

Posting Rules
You may not post new threads
You may not post replies
You may not post attachments
You may not edit your posts
---
HTML code is Off
---