Trying to cure back wheel wobble (sturmy archer).

06-19-16, 03:05 PM
Trying to cure back wheel wobble (sturmy archer).
---
Hi.

I have a Raleigh Chiltern 1990 with a Sturmy Archer hub. I'm pretty new to bikes but I like to learn so I instead of taking my bike to a shop for any maintenance I have been doing it myself.

Recently I put on a new back tyre and inner tube. After putting the back wheel back on I noticed that the back wheel wobbled ever so slightly if I push it. There is a few mm of play but everything seems tight around the hub. I can't remember if it was like this when I first got the bike. Also, when I ride the bike I can feel a slight knock/judder every revolution.

I have been looking on the Internet and it could be loose cones.

Do you think this could be the culprit or could it be something else?

Thanks.

06-19-16, 03:26 PM
Senior Member
Are you looking at the tire or metal rim to determine whether or not it's wobbling? It may be your tire isn't seated all the way and looks like it's wobbling (if you're looking at the tire for reference).

06-20-16, 03:24 AM
multimodal commuter
Join Date: Nov 2006
Location: NJ, NYC, LI
Posts: 19,848
Bikes: 1940s Fothergill, 1959 Allegro Special, 1963? Claud Butler Olympic Sprint, Lambert 'Clubman', 1974 Fuji "the Ace", 1976 Holdsworth 650b conversion rando bike, 1983 Trek 720 tourer, 1984 Counterpoint Opus II, 1993 Basso Gap, 2010 Downtube 8h, and...
Mentioned: 578 Post(s)
Tagged: 0 Thread(s)
Quoted: 1904 Post(s)
The Sturmey Archer hub is supposed to have a small amount of play at the rim. It's a matter of adjusting the hub cones just right: a little too tight and there's too much friction inside the hub, but too loose there's play like you describe.

If the hub is shifting right, not slipping or skipping, and the tire isn't rubbing the frame, you're probably okay. If any if those problems arise, you'll need to read up on hub adjustment.
__________________
www.rhmsaddles.com.

06-21-16, 05:19 AM
Hi.
Right I had a play around with the left cone. I read in a Sturmey Archer manual that the right cone should only be disturbed after 'major service intervals'. Taking my back wheel off to change the tyre wouldn't be a 'major service interval' would it? I mean it would have moved the right cone in anyway would it?
So I had a gander at the left cone. I have a 1990 Sturmey Archer hub and I am wondering if I have something missing. It looks like I may not have a lock/tab washer on the left cone but I am not sure if some models do not have this. I have one on the right side.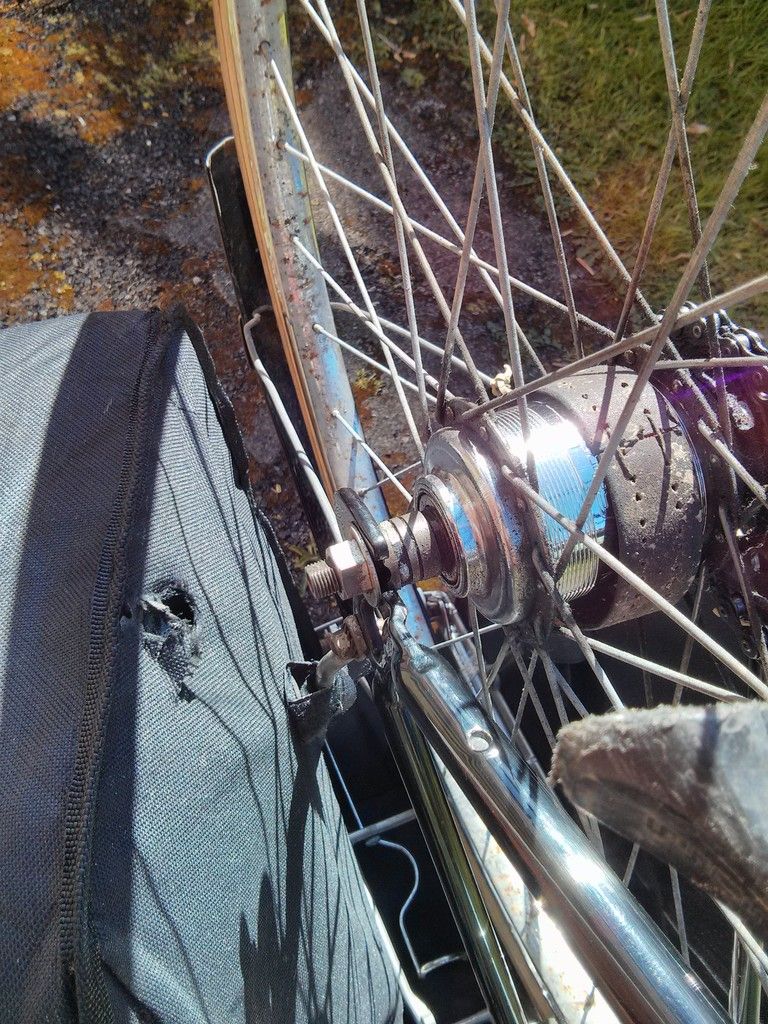 So when I went to loosen the lock nut it just turned the cone. Is this normal behaviour? I would have thought that you loosen the lock nut and then adjust the cone. The back wheel was still on the bike but the axle nuts were loose.
So I tightened up the left cone a bit and the knocking is still noticeable on the right hand side every revolution. Maybe the right hand cone needs tightening?
I like my chain loose it couldn't be this could it?
It is just strange this has happened since I last took my back wheel off. Anyway its all learning for me at the end of the day, which is good.
---
Last edited by Wozza2014; 06-21-16 at

05:35 AM

.

06-21-16, 07:53 AM
Senior Member
Join Date: Mar 2005
Location: Pinole, CA, USA
Posts: 17,414
Mentioned: 24 Post(s)
Tagged: 0 Thread(s)
Quoted: 443 Post(s)
Likes: 0
Thread
Thread Starter
Forum
Replies
Last Post

Posting Rules
You may not post new threads
You may not post replies
You may not post attachments
You may not edit your posts
---
HTML code is Off
---