I Salute You, Steel Sticker Guy

07-08-16, 05:42 PM
I Salute You, Steel Sticker Guy
---
I don't know who the dude was, or when it happened, but I got to thinking, "Man, that dude that came up with putting that little tubing material sticker on the bike frame, he's a genius". I'm pretty certain, though I'm too lazy and to ill equipped in the art of fact investigation to make my case 113% accurate, that whomever came up with the idea didn't patented it, so, his/her/their names may be lost to the great inventors of the past. Like the guy who first used a rock as a derailleur adjustment tool, or the inventor of handlebar streamers. So, I salute you, steel sticker guy. We all owe you, for the 124,143,023 (and growing) individual posts related to your brilliance. And yes, I did count them all. That said, stepping down from my soapbox, anyone know it's origin?
---
Last edited by uncle uncle; 07-08-16 at

09:55 PM

.

07-08-16, 06:15 PM
Decrepit Member
Join Date: Aug 2005
Location: Santa Rosa, California
Posts: 10,491
Bikes: Waterford 953 RS-22, several Paramounts
Mentioned: 64 Post(s)
Tagged: 0 Thread(s)
Quoted: 616 Post(s)
Likes: 0
Liked 0 Times in 0 Posts
I haven't a clue which tubing company first started the tubing decal thing, but Reynolds invented the process for butting steel tubing in 1897 and began supplying framebuilders with a decal reading "Guaranteed Built With Reynolds' High Manganese Butted Tubes" in the 1920s. The "High Manganese" alloy preceded 531 by a decade or so.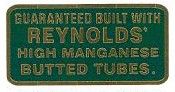 My guess is that Reynolds started it.
__________________
- Stan
my bikes
Science doesn't care what you believe.


07-09-16, 08:47 AM
It works for sure. It's a great help in identifying make, model, and which bikes not to buy when it comes to some of the decals.


07-09-16, 09:01 AM

07-09-16, 09:37 AM
Senior Member
Join Date: Oct 2014
Location: Northern San Diego
Posts: 1,857
Bikes: mid 1980s De Rosa SL, 1985 Tommasini Super Prestige all Campy SR, 1992 Paramount PDG Series 7, 1997 Lemond Zurich, 1998 Trek Y-foil, 2006 Schwinn Super Sport GS, 2006 Specialized Hardrock Sport
Mentioned: 2 Post(s)
Tagged: 0 Thread(s)
Quoted: 58 Post(s)
Likes: 0
Liked 0 Times in 0 Posts
Thread
Thread Starter
Forum
Replies
Last Post

Posting Rules
You may not post new threads
You may not post replies
You may not post attachments
You may not edit your posts
---
HTML code is Off
---