Schwinn Paramount (?) EDIT: It is a Raleigh International

07-17-16, 12:15 AM
Senior Member
Join Date: Nov 2009
Location: Roseburg, OR
Posts: 82
Bikes: Surly LHT, 74 Schwinn
Mentioned: 0 Post(s)
Tagged: 0 Thread(s)
Quoted: 0 Post(s)
Likes: 0
Liked 0 Times in 0 Posts
Schwinn Paramount (?) EDIT: It is a Raleigh International
---
Hi forum,
I recently acquired what I think is a Schwinn Paramount? The frame needs a loooot of love and attention which I am looking to give. Would like the forums help in figuring out what the bike is and what it will need in restoring it to it's original glory. Looking to update the 27 1/4 wheels to 700c. The serial number as I read it is: WE4000896
paramount.jpg
paramount2.jpg
paramount3.jpg
paramount4.jpg
paramount5.jpg

07-17-16, 03:56 AM
Lots of potential you have there.
I love these id my bike threads.
The people on this forum are amazing when it comes to taking small details and turning them into an id.
I think your bike might not be a paramount but perhaps a Raleigh International.
Nervex lugs like an Paramount yes........ but serial number like a Raleigh.
From Sheldon Brown:
1974 - 1980's
In 1974, an entirely different numbering system was introduced for the higher end (531 and subsequently 753) Raleighs. Serial numbers should begin with a "W", which stands for Worksop, the facility that produced theses frames. This is followed by another alphabet. This alphabet indicates the fortnight in which the frame was built (i.e. A = 1st fortnight, B = 2nd, etc.). The third character is always a numeral. It indicates the year of manufacture, the decade being assumed (i.e. "4" could be '74 or '84; it is up to the interpretor to know enough to tell if the frame is from the 70's or 80's). What then follows is a series of numbers. At


I am sure others with way more knowledge will weigh in shortly.
One suggestion. your pics are from a fair distance.
Close ups of the lugs, brake bridge, fork crown etc sometimes add information.
Just a thought.
Good luck.

07-17-16, 03:57 AM
Freewheel Medic
One detail I believe I'm seeing, and the Serial Number says it is not a Paramount.

Is there a double rear brake cable guide near the front of the top tube (right hand side)? If so, this is a feature that Paramount never used.

The serial number does not match the Paramount norm. In the 1970s it would have had one letter, A-M (skipping I so as not to be confused with 1) for the month of the year, two digits for the year, i.e. "71," and then a two or three digit frame number. Thus "C7134" would have been the 34th frame made in March 1971.

Hope this is helpful and best of luck in your identification.
__________________
Bob
Dreaming about riding in NH's summertime!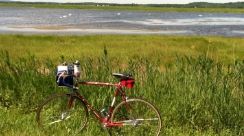 Visit my websites:
FreeWheelSpa.com
or
pastorbobnlnh.com

07-17-16, 04:53 AM
Senior Member
Join Date: Feb 2005
Location: Sweden, but moving soon to Toledo, OH
Posts: 2,371
Bikes: '77 Centurion "Pro Tour"; '67 Carlton "The Flyer"; 1984 Ross MTB (in USA)
Mentioned: 6 Post(s)
Tagged: 0 Thread(s)
Quoted: 91 Post(s)
Likes: 0
The cable routing is the same as on my Carlton, so I would have to guess Raleigh International. Nice bike!

07-17-16, 04:57 AM
don't try this at home.
Join Date: Jan 2006
Location: N. KY
Posts: 5,050
Mentioned: 10 Post(s)
Tagged: 0 Thread(s)
Quoted: 611 Post(s)
Likes: 0
Oh yeah, the frame looks like my mid-70s International.
For inspiration, check out the Retro Raleighs web site:
International
Aside from the re-paint, your components look much more original than my bike, which had all its Campagnolo components replaced long ago. You still have the centerpull brakes. (700c wheels are a little smaller than 27 inch, so make sure your brake pads will reach the rims.)
Definitely worth fixing up!
See the doubled brake cable bosses, and the fork crown:
---
Last edited by rm -rf; 07-17-16 at

05:03 AM

.

07-17-16, 05:12 AM
Still learning
Join Date: May 2012
Location: North of Canada, Adirondacks, NNJ
Posts: 11,571
Bikes: Too many
Mentioned: 87 Post(s)
Tagged: 2 Thread(s)
Quoted: 820 Post(s)
Likes: 0
Also the 3 headbadge rivet holes are a dead giveaway for a Raleigh badge.

07-17-16, 06:23 AM

07-17-16, 08:03 AM
Senior Member
Join Date: Feb 2008
Location: Peoria, IL
Posts: 1,596
Mentioned: 48 Post(s)
Tagged: 0 Thread(s)
Quoted: 503 Post(s)
Likes: 0
Liked 0 Times in 0 Posts
the thing I looked for was the cable hangar for the rear centerpull brake. Raleigh used a fairly thin wire loop that was attached to the seat stays for this purpose.
note: this International belongs to a fellow named Weigle... he seems fond of them.
If the frame is in good shape, it should be a nice ride.
Steve in Peoria