Very strange looking Suntour Derailleur...HELP

08-23-16, 05:12 PM
Newbie
Join Date: May 2010
Posts: 4
Mentioned: 0 Post(s)
Tagged: 0 Thread(s)
Quoted: 0 Post(s)
Likes: 0
Liked 0 Times in 0 Posts
Very strange looking Suntour Derailleur...HELP
---
I just found this old Suntour rear changer today and can't find any info on it. Has anyone seen one of these before and what is it?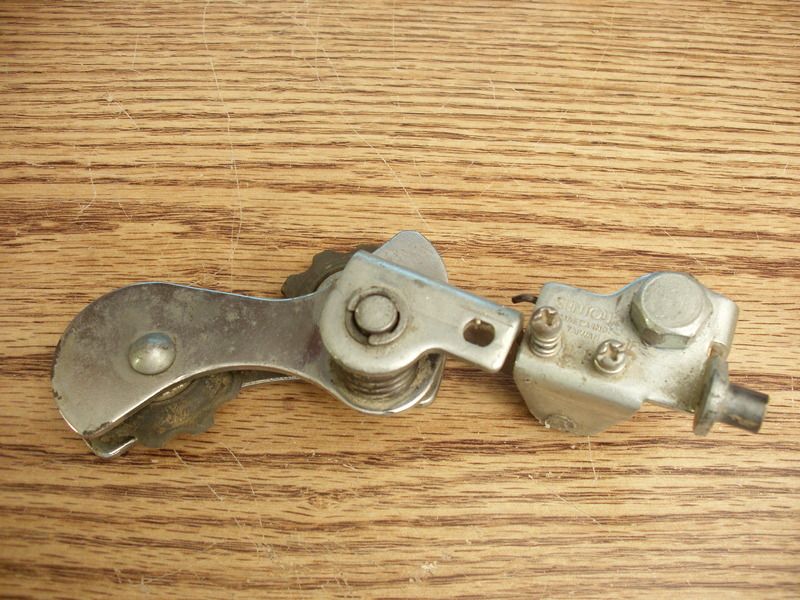 08-23-16, 05:23 PM
Senior Member

08-23-16, 05:27 PM
The Infractionator
Join Date: Mar 2016
Location: Rochester, NY
Posts: 2,202
Bikes: Classic road bikes: 1986 Cannondale, 1978 Trek
Mentioned: 9 Post(s)
Tagged: 1 Thread(s)
Quoted: 875 Post(s)
Likes: 0
Wow, now THAT'S old....post a pic of the backside, please.

08-23-16, 05:48 PM
Newbie
Join Date: May 2010
Posts: 4
Mentioned: 0 Post(s)
Tagged: 0 Thread(s)
Quoted: 0 Post(s)
Likes: 0
Liked 0 Times in 0 Posts
I don't thinks it's a pull chain. You can see where the cable housing goes into it. You can also see the hole where the cable clamp is missing. Someone said it might be an early version of the Holeshot which is a two speed BMX derailleur.

08-23-16, 06:01 PM
Senior Member
Join Date: Sep 2005
Location: Oakland, CA
Posts: 3,290
Bikes: '82 Univega Competizione, '72 Motobecane Grand Record, '83 Mercian KOM Touring, '85 Univega Alpina Uno, '76 Eisentraut Limited
Mentioned: 57 Post(s)
Tagged: 0 Thread(s)
Quoted: 1087 Post(s)
I'm not certain, but does your first pic at the top show the word "Taiwan" a couple of lines below "Suntour"?

08-23-16, 06:14 PM
Stop reading my posts!
Join Date: Sep 2004
Posts: 12,625
Mentioned: 88 Post(s)
Tagged: 0 Thread(s)
Quoted: 1288 Post(s)
I think so, too, plus the SunTour logo looks pretty modern as do the plastic pulleys.
I like the really basic simplicity, reminds me of the Huret Svelto (?) but too bad they riveted the cage together, it's not serviceable (except by drill-out).

08-23-16, 06:15 PM
Bikes are okay, I guess.
Join Date: Jan 2015
Location: Richmond, Virginia
Posts: 9,000
Bikes: Waterford Paramount Touring, Giant CFM-2, Raleigh Sports 3-speeds in M23 & L23, Schwinn Cimarron oddball build, Marin Palisades Trail dropbar conversion, Nishiki Cresta GT
Mentioned: 67 Post(s)
Tagged: 0 Thread(s)
Quoted: 2611 Post(s)

08-23-16, 06:52 PM
Senior Member
Well, I was basically trying to get the OP to check out the website I linked to and investigate for themselves.

08-23-16, 08:35 PM
feros ferio
Join Date: Jul 2000
Location: www.ci.encinitas.ca.us
Posts: 21,554
Bikes: 1959 Capo Modell Campagnolo; 1960 Capo Sieger (2); 1962 Carlton Franco Suisse; 1970 Peugeot UO-8; 1982 Bianchi Campione d'Italia; 1988 Schwinn Project KOM-10;
Mentioned: 44 Post(s)
Tagged: 0 Thread(s)
Quoted: 1321 Post(s)
I guess beauty is in the eye of the beholder, but that thing is even uglier than my Campag. 980.

In contrast, I love the look of a Cyclone II.
__________________
"Far and away the best prize that life offers is the chance to work hard at work worth doing." --Theodore Roosevelt
Capo: 1959 Modell Campagnolo, S/N 40324; 1960 Sieger (2), S/N 42624, 42597
Carlton: 1962 Franco Suisse, S/N K7911
Peugeot: 1970 UO-8, S/N 0010468
Bianchi: 1982 Campione d'Italia, S/N 1.M9914
Schwinn: 1988 Project KOM-10, S/N F804069


08-24-16, 08:02 AM
Senior Member
Join Date: Nov 2004
Posts: 23,233
Mentioned: 649 Post(s)
Tagged: 1 Thread(s)
Quoted: 4715 Post(s)
Likes: 0
This is a very curious piece. There is no parallelogram, nor is it piston style. The cage mounts directly to a right angle bend on the single, pivoted arm. Consequently the cage would not remain parallel to the freewheel cogs but swing in a horizontal arc. This suggests it is for a very narrow freewheels, either 2 or 3 speed. It also looks like it may be designed to be located forward of the axle on the chain stay, in the style of the Nivex and Cyclo Standard.

I was also wondering if it might be just a chain tension device for a front derailleur used in conjunction with an internally geared hub. The swing arm would allow you set the chain line. Yet it has a spring on the pivot arm and stops for a cable, whuich would not be required on such a device. It obviously has missing parts and if these were present they would undoubtedly provide more more insight.

A chain stay mount would seem to suggest something very old, yet the pivot bracket appears to say "MAEDA IND". The company was known originally as Maeda Iron Works, changing to Maeda Industries sometime during 1966-1970, based on literature in my files. Maeda did seem to have a penchant for locating the derailleur body forward of the axle, under the chain stay. They would do it with the Holeshot, Luxury, S-1 and SX-100.

08-24-16, 11:14 AM
Shifting is fun!
Join Date: Aug 2009
Location: South Holland, NL
Posts: 10,712
Bikes: Yes, please.
Mentioned: 268 Post(s)
Tagged: 0 Thread(s)
Quoted: 2077 Post(s)
The great thing about this forum is that you see something new almost every day. Thanks for posting that derailer (or should that be 'railer'?).

08-24-16, 02:52 PM
Member
Join Date: Jul 2014
Posts: 35
Mentioned: 0 Post(s)
Tagged: 0 Thread(s)
Quoted: 0 Post(s)
Likes: 0
I forwarded some of these photos to Michael Sweatman at Disraeli Gears. It turns out that he has one basically identical to this (and his doesn't seem to have any pieces that this one doesn't have - some I'm not sure anything's missing). He doesn't have a model name for it though, because he has not been able to find it in any of their catalogs. It does say Suntour and Taiwan - which would put it likely in the early 90s when Suntour was merged with SR and moved to Taiwan. It also has a date code on it which would indicate about '93. He says that it mounts ahead of the dropout, below the chain stay -- somewhat like the S-1. SR/Suntour also makes backwards-facing Neos models for Dahon folding bikes, so it seems possible that it would be for folders. It's likely to be only for 2 or 3 gears, and Sweatman said he believed it was for children's bikes, and possibly some really cheap folding bikes. He has a really cheap, plastic 2-position shift lever that goes with his, so that would seem to confirm the gearing limitation.

My guess is that - given the really cheap and crude stamped construction, this was not meant to be exported outside of their home market. But clearly, a few got out there. Heck, who would import something like this? In any case - it is a curious find.
Thread
Thread Starter
Forum
Replies
Last Post

Posting Rules
You may not post new threads
You may not post replies
You may not post attachments
You may not edit your posts
---
HTML code is Off
---