New User searching for info on an old bike

10-27-16, 12:42 PM
Newbie
Join Date: Oct 2016
Posts: 3
Mentioned: 0 Post(s)
Tagged: 0 Thread(s)
Quoted: 0 Post(s)
Likes: 0
Liked 0 Times in 0 Posts
New User searching for info on an old bike
---
Hey there I'm NCDK! I've been cycling for about a year after not being on a bicycle for over a decade. Originally needed to cycle to commute to work but I never realized how much I enjoyed it!
I was hoping to find information regarding an old Cilo bicycle bought by my folks sometime in 1970s-80s era Lausanne, Switzerland. It's been sitting in a pitch-black crawlspace in North Carolina since 1998 and only a month ago has finally been pulled out. Will need a lot of tlc but I've been fascinated by its features and wanted to see if it was worth repairing.
[IMG]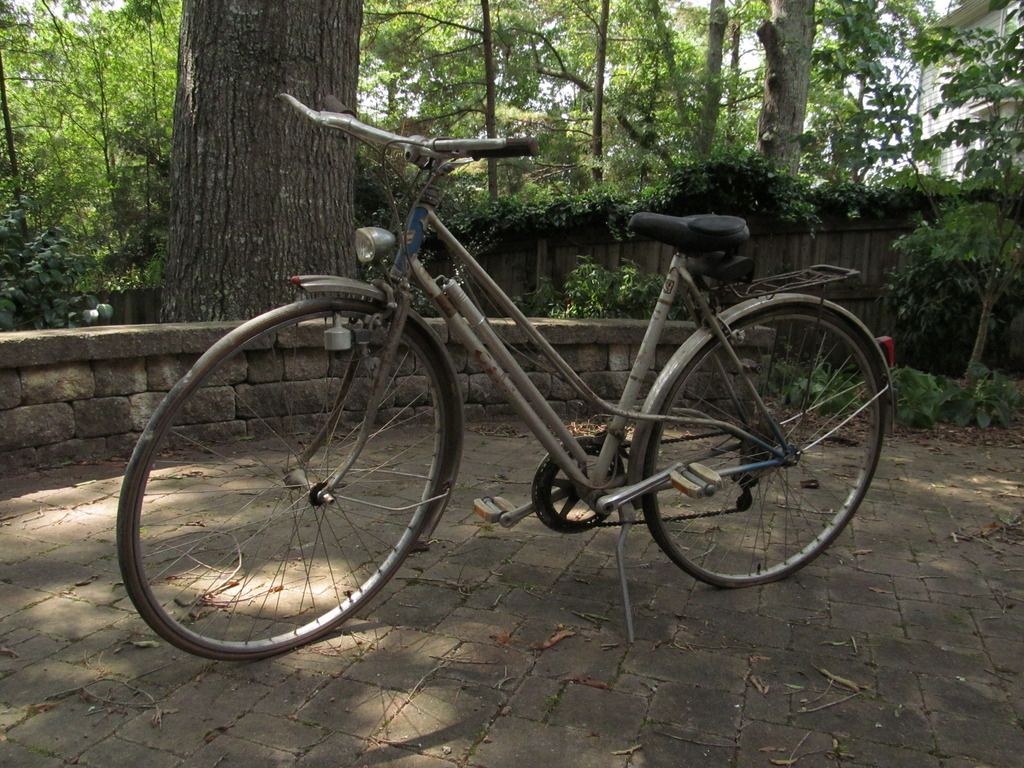 [/IMG]
[IMG]
[/IMG]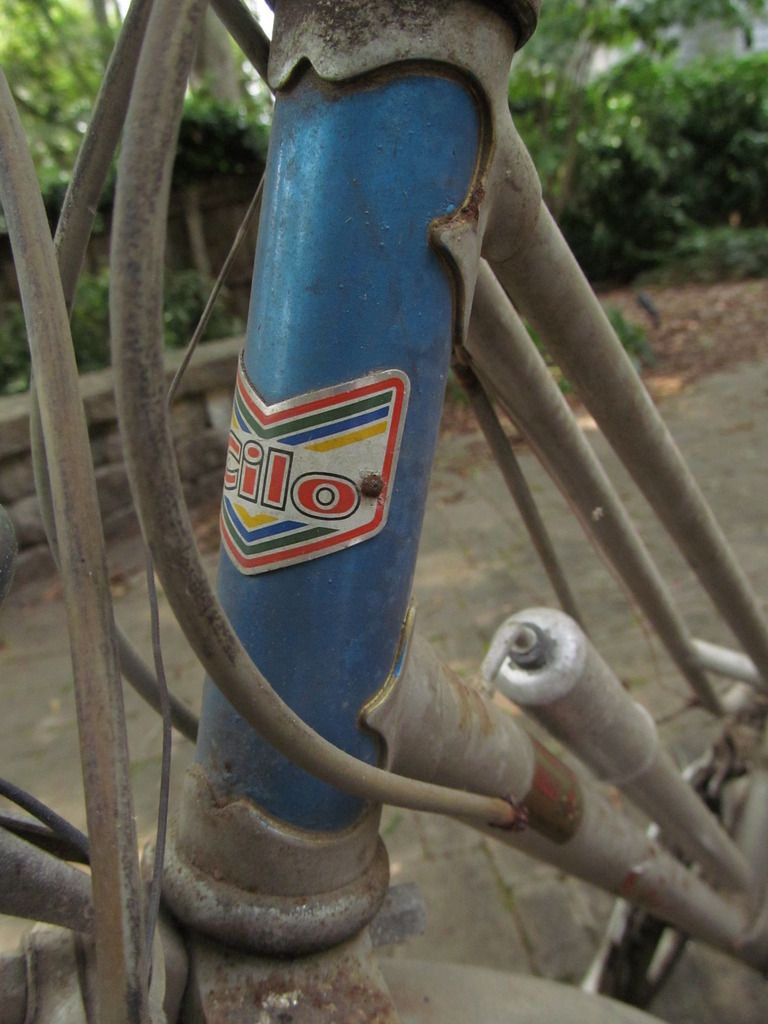 [IMG]
[/IMG]
[IMG]
[/IMG]
[IMG]
[/IMG]
Thanks for your help!

10-27-16, 02:55 PM
Senior Member
Join Date: Jun 2013
Location: SW Fl.
Posts: 5,373
Bikes: Day6 Semi Recumbent "FIREBALL", 1981 Custom Touring Paramount, 1983 Road Paramount, 2013 Giant Propel Advanced SL3, 2018 Specialized Red Roubaix Expert mech., 2002 Magna 7sp hybrid, 1976 Bassett Racing 45sp Cruiser
Mentioned: 17 Post(s)
Tagged: 0 Thread(s)
Quoted: 976 Post(s)
I see an unusual mixte styled frame bicycle that looks like it would be a nice ride on a sunny day. Your money, your pleasure in riding or not.

Repair, ride and enjoy.

10-27-16, 03:26 PM
glorified 5954
I think that any money that you invest into it will not come back in a sale but it is a nice looking older women's Cilo. If you do it right, it could come out looking really nice, but it will take a lot of work and quite some time. This depends on how far you want to restore it.

10-27-16, 03:52 PM
On the crow's wings
Join Date: Mar 2016
Location: South Italy
Posts: 700
Bikes: Whistle Roadbike 2008; Cannondale Trail 2021 ; Robur 1956 ; Tomasini 1976 ; Chiorda Condorino 1974 ; Frejus/Rola 1937 ; Specialized RockHopper 1990
Mentioned: 10 Post(s)
Tagged: 0 Thread(s)
Quoted: 170 Post(s)
Repairing is always worted if you enjoy to do it (as i do).

10-27-16, 04:07 PM
Life is good
Join Date: Jan 2001
Location: Not far from the Withlacoochee Trail. 🚴🏻
Posts: 18,210
Bikes: 2018 Lynskey Helix Pro
Mentioned: 13 Post(s)
Tagged: 0 Thread(s)
Quoted: 522 Post(s)
Likes: 0
The folks in the Classic & Vintage forum can give you lots of info about your bike. Enjoy.
__________________
The Lord is merciful and gracious, slow to anger and abounding in steadfast love. - Psalm 103:8
I am a cyclist. I am not the fastest or the fittest. But I will get to where I'm going with a smile on my face.

10-27-16, 04:46 PM
Bikes are okay, I guess.
Join Date: Jan 2015
Location: Richmond, Virginia
Posts: 8,246
Bikes: Waterford Paramount Touring, Giant CFM-2, Raleigh Sports 3-speeds in M23 & L23, Schwinn Cimarron oddball build, Marin Palisades Trail dropbar conversion, Nishiki Cresta GT
Mentioned: 59 Post(s)
Tagged: 0 Thread(s)
Quoted: 2374 Post(s)
It's more neglected and dirty than damaged, from the looks of it. Nothing fancy, but the Berceau-style mixte frame is certainly unusual in the U.S. I have a Chiroda mixte with those curved lateral tubes. Nice little bike once you clean it up and keeping it in the family would be great. I've seen a few Cilo bikes over the years but they were never sold here in great numbers, that I know of.

10-27-16, 07:49 PM
Forum Moderator
Join Date: Jul 2007
Location: Kalamazoo MI
Posts: 20,435
Bikes: Fuji SL2.1 Carbon Di2 Cannondale Synapse Alloy 4 Trek Checkpoint ALR gravel Viscount Aerospace Pro Schwinn Paramount PDG 5 Colnago Classic Rabobank
Mentioned: 53 Post(s)
Tagged: 0 Thread(s)
Quoted: 2764 Post(s)
Thread moved from General to Classic & Vintage with three day forwarding.

10-27-16, 08:06 PM
Senior Member
Join Date: Feb 2013
Location: Alta California
Posts: 11,923
Mentioned: 331 Post(s)
Tagged: 1 Thread(s)
Quoted: 2890 Post(s)
------
Hello NCDK,
Welcome to the forum and thank you for sharing this interesting mount.

Can you tell us how read the transfers at the front of the downtube and top of the seat tube?
Does anyone have any ideas as to the purpose for the small hole/dimple in the lower end of the head tube facing forward? Cannot recall previously seeing this feature. Wonder if it could be for lighting wiring.
--------
---
Last edited by juvela; 10-27-16 at

08:18 PM

. Reason: addition

10-28-16, 09:44 PM
Newbie
Join Date: Oct 2016
Posts: 3
Mentioned: 0 Post(s)
Tagged: 0 Thread(s)
Quoted: 0 Post(s)
Likes: 0
Liked 0 Times in 0 Posts
Thanks for the input, everyone! I actually hope to get it fixed up for my mother as a present since it's still a keeper.
Apart from the mere dusting off and rust removal, all the lines for the brakes and shifters and the rear tire will have to be replaced. The electrical wiring from the alternator motor will probably be replaced too, but the bulbs in both the front and rear lights are intact and were very well sealed off in their lamps. The air pump works excellent too.
Curiously I did find another similar Cilo as a reference:
BUY MY VELO
Here's a couple more photos:
[IMG]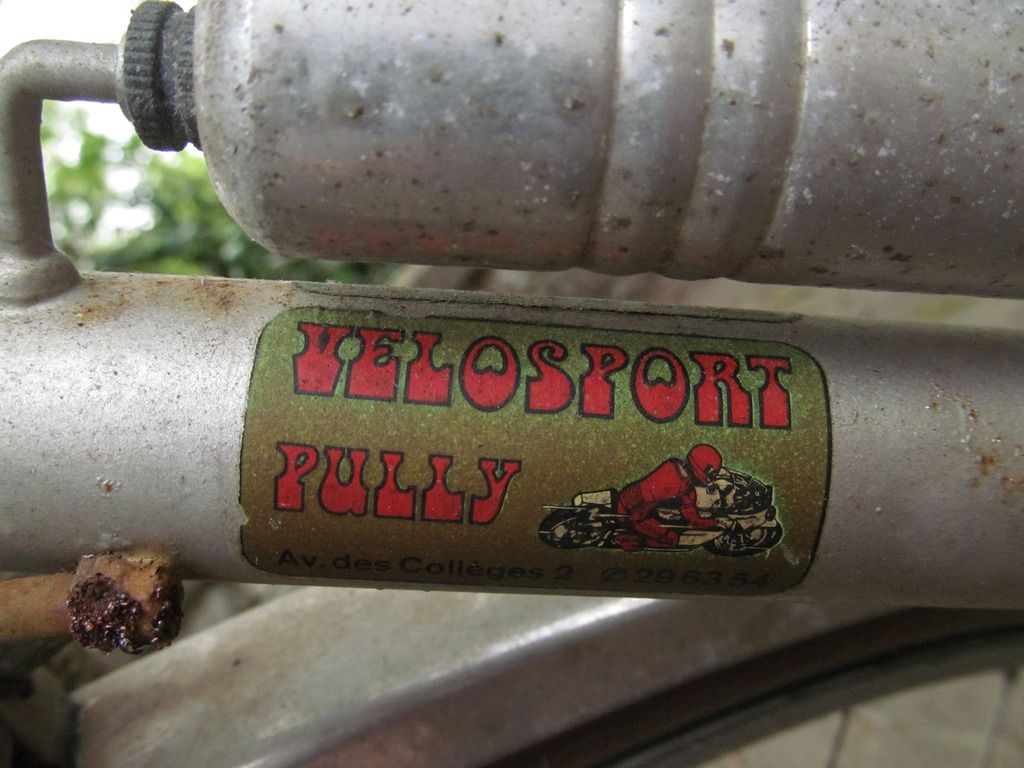 [/IMG]
[IMG]
[/IMG]

10-29-16, 07:13 AM
Senior Member
Join Date: Feb 2007
Posts: 1,157
Mentioned: 0 Post(s)
Tagged: 0 Thread(s)
Quoted: 7 Post(s)
Likes: 0
I like it & it reminded me of a couple of European " Crescent " bikes that I once had . Great quality , general purpose bikes. ONE THING ; They had a very odd tire size . I could not even find it online, but Schwalbe tires came thru for me & got them from Europe.

11-02-16, 07:00 PM
Newbie
Join Date: Oct 2016
Posts: 3
Mentioned: 0 Post(s)
Tagged: 0 Thread(s)
Quoted: 0 Post(s)
Likes: 0
Liked 0 Times in 0 Posts
Further updates: very luckily, my folks found a spare Cilo tire in their basement in excellent condition! Almost like new even. So I won't have to worry about finding a replacement.
Thread
Thread Starter
Forum
Replies
Last Post
Classic and Vintage Bicycles: Whats it Worth? Appraisals.

Posting Rules
You may not post new threads
You may not post replies
You may not post attachments
You may not edit your posts
---
HTML code is Off
---