My Winter Project

11-08-18, 10:17 AM
My Winter Project
---
When I was 16, I truly wanted a "real" 10 speed. Back then 10 speed was what we called any bike with 5 gears in the back and 2 gears in the front. I had a bike with foam hanlebar covers and shifters on the headset but I wanted skinny tires and shifters on the downtube. I enjoyed visiting the bike shops to look at all the eye candy but the prices for these bikes were well out of reaxh for my teenage budget.
I worked a job early that summer for my father in a place across from a Schwinn Bicycle shop. Walking in I fell in love with a beautiful Schwinn Super Sport, It was on sale and after talking to the owner in the shop, he said he woukd hold it for me for a small deposit and I could pick it up at the end of the summer. I was determined to work my butr off and save up my money to get that bike.
The end of the summer came and I walked into the shop with hard earned money in hand on the way in and a brand new Schwinn Super Sport in my hands on the way out. I put many many miles on that bike over the next 5 years.
When I turned 22, I had a chance to move to Florida (from Boston) with some friends. My vehicle had recently died and my cousin offered to trade his old Renault reliance for my Schwinn. His dad always said his son got the better deal.
So the trade was made and off to Florida I went all my belongings packed into the back of that old beast of a vehicle.
Anyways fast forward to thus past summer. My cousin was cleaning out his garage and asked if I wanted that old bike back as he had not ridden it in years. So I said for sure. He had it packed up and shipped back to me and this will be my winter project for this year.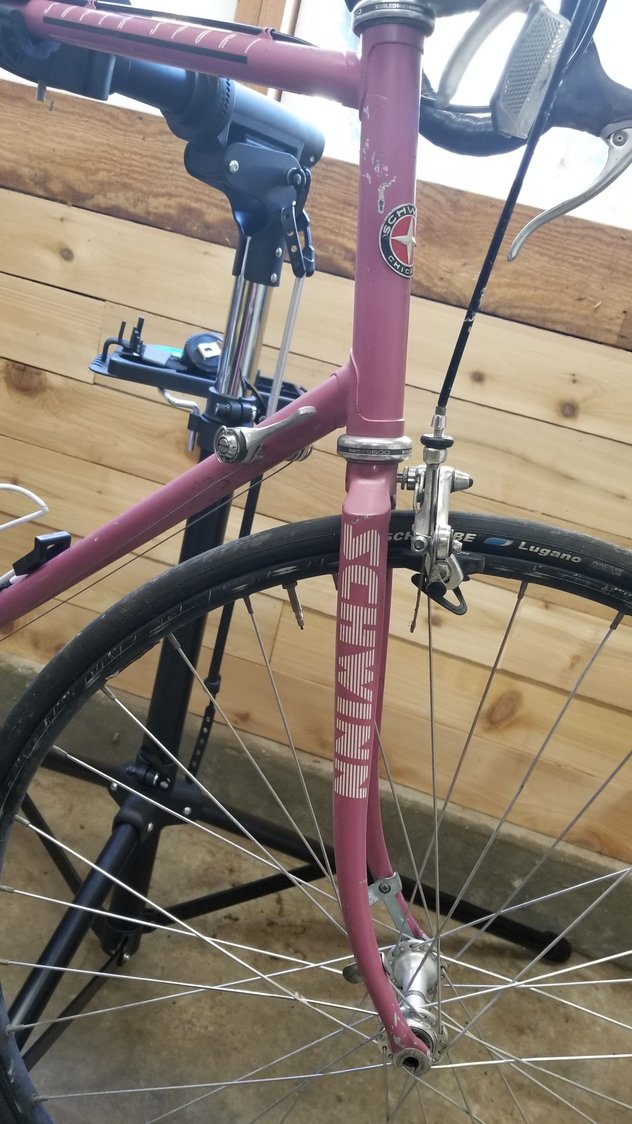 ---
Last edited by Wilmingtech; 11-08-18 at

12:07 PM

.

11-08-18, 10:36 AM
Senior Member
Join Date: Oct 2010
Location: Jacksonville, NC
Posts: 7,271
Bikes: A few
Mentioned: 92 Post(s)
Tagged: 0 Thread(s)
Quoted: 1240 Post(s)
Likes: 0
Cool Schwinn! The early 87 model. I have the later red, white frame they replaced it with. Regardless of the colour, it rides great! Kudos for your cousin thinking of you when it was time to let the Schwinn go!

great winter project.

11-08-18, 10:46 AM
ambulatory senior
Join Date: Dec 2016
Location: Peoria Il
Posts: 2,646
Bikes: Bob Jackson World Tour, 81 miyata 912 and 86 miyata 312.
Mentioned: 35 Post(s)
Tagged: 0 Thread(s)
Quoted: 817 Post(s)
Likes: 0
Very cool! Bet that's an excellent ride.

11-08-18, 12:05 PM
Strip Down & Paint
---
So 1st thing to do is strip this baby down and fix up the paint. This type of work is all new to me, so any direction here is welcome for sure.

A couple questions if anyone can help -
1. Is there any way to get these Schwinn Decals? Either custom made or does someone somewhere have a box of old Schwinn factory decals sitting in an attic somewhere?

2. How should I approach the paint job? I'd like to keep the color as close to original as possible. Should I touch up with a filler, sand and touch up the paint where needed or should I just strip the bike down and paint from scratch trying to color match?

Thanks Guys.

-Sean

11-08-18, 02:12 PM
Senior Member
I was picturing the earlier SS model. This one is really nice, not even close to "worn out". Agree with 3speedslow. That paint is only original once. Don't repaint unless condition is really poor, and yours isn't. Clean, touch up as best you can, polish everything and you will be glad with the result. Don

11-08-18, 04:50 PM
Senior Member
Join Date: Sep 2005
Location: Oakland, CA
Posts: 1,179
Bikes: '04 Felt SR91, '82 Univega Competizione, '72 Motobecane Grand Record, '72 Puch Bergmeister
Mentioned: 30 Post(s)
Tagged: 0 Thread(s)
Quoted: 314 Post(s)
Likes: 0
I agree with the folks above -- there is a lot of information on this forum available for research, so I would start there and figure out the best approach to polish the original paint and touch up the small chips/scrapes/dings. Beautiful bike and a great story.

11-08-18, 04:56 PM
Member
Join Date: Jun 2018
Posts: 27
Mentioned: 0 Post(s)
Tagged: 0 Thread(s)
Quoted: 6 Post(s)
Likes: 0
Liked 0 Times in 0 Posts
Nice bike and great story, i love the idea of the reunion with your old beloved bike.
concurring with previous replies, that paint is in pretty good condition, not only it's a lot of work to strip reprime and repaint, then sourcing and buying the decals, it will be difficult to achieve as good a finish, and you'd lose the original paint.
After a good clean and a polish see what the damage it and retouch it. You might be surprised how good the paint can look after a bit of TLC and a buff and polish.

11-08-18, 05:29 PM
Senior Member
Join Date: Mar 2014
Location: Weird Coast City of the Angeles
Posts: 1,988
Bikes: Paramounts, PX-10s, Mondias, Motobecane Grand Record, Specialized Allez Carbon, and Nishiki Tri-A
Mentioned: 21 Post(s)
Tagged: 1 Thread(s)
Quoted: 324 Post(s)
Likes: 0
OP,
Your bike does not look too bad cosmetically, I agree not to strip the paint, it has survived this long and any paint that you would apply would not be as good as the original applied by Schwinn. I would use nail polish to touch up the paint, a trip to target will give you a lot of possibilities color wise...I think you will have to buy a few bottles to use as a mix and match in order to blend the color that matches your existing paint.
I use a fine artist paint brush because the brushes included in the nail polish are too thick and leave globs of paint, if you use the finer brush you will have better control on the amount of paint that you apply.
You might also want to thin the paint if it goes on too thick.
Great that you got your old bike back a few on this forum regret losing their 1st "real" bike...I am lucky in that I still have mine, a 1973 yellow Paramount and blue PX-10.
Enjoy the build.
Best, Ben
__________________
Paramount, Mondia, Px-10, Moto

11-09-18, 01:42 AM
Senior Member
Paint looks good to me too. I'd probably make an effort to touch up the pink a bit (one or more shades of pink nail polish -- there are hundreds!) But other than that, I'd re-lube and ride it.

__________________
● 1971 Grandis SL ● 1972 Lambert Grand Prix frankenbike ● 1972 Raleigh Super Course fixie ● 1973 Nishiki Semi-Pro ● 1980 Apollo "Legnano" ● 1981 Miyata 1000 ● 1984 Bianchi Limited ● 1984 Nishiki Landau ● 1984 Peugeot Vagabond ● 1985 Trek 600 ● 1985 Shogun Prairie Breaker ● 1986 Univega Nuovo Sport ● 1986 Merckx Super Corsa ● 1987 Schwinn Tempo ● 1988 Schwinn Voyageur ● 1989 Trek 400 ● 1990 Cannondale ST600 ● 1993 Technium RT600 ● 1996 Kona Lava Dome ● And a Bike to Be Named Later ●

11-09-18, 07:51 AM
Senior Member
Join Date: Jul 2008
Location: 25 miles northwest of Boston
Posts: 22,899
Bikes: Bottecchia Sprint, GT Timberline 29r
Mentioned: 87 Post(s)
Tagged: 0 Thread(s)
Quoted: 3034 Post(s)
wow, what a heartwarming story! don't even remember what happened to my old 10-speed. the 1st, that my grandfather bought for me was stolen, the 2nd I paid for myself & we never told him the 1st was stolen. but when I moved to Boston from NY I just don't have recollection of happened to the bike. enjoy your 1st love all over again.

11-09-18, 08:23 AM
Senior Member
Join Date: Apr 2007
Location: Thunder Bay, Ontario, Canada - burrrrr!
Posts: 9,151
Bikes: 1958 Rabeneick 120D, 1968 Legnano Gran Premio, Rocky Mountain Cardiac
Mentioned: 144 Post(s)
Tagged: 0 Thread(s)
Quoted: 598 Post(s)
Likes: 0
How should I approach the paint job?
Before painting the bicycle, you should take the time to understand the ramifications involved. I paint only as a last resort and for several good reasons. Those reasons and a better understanding of the question
Should I Paint My Bicycle?
are worth considering, before spending, doing and, perhaps, regretting it later.
That said, in my opinion it would be costly and unwise to paint that lovely old road bike. A bit of careful touch-up would suffice and, done correctly, be close to invisible.
__________________
Learn how to find, restore and maintain vintage road bicycles at...
MY "TEN SPEEDS"

11-09-18, 09:10 AM
My brain hurts!
Join Date: Apr 2014
Location: Memphis, TN
Posts: 807
Bikes: A ridiculous number
Mentioned: 15 Post(s)
Tagged: 0 Thread(s)
Quoted: 274 Post(s)
Likes: 0
If you're handy with an airbrush it's amazing how well you can hide the little scrapes, being able to fade from the new paint to the old makes a huge difference. I have a couple here I've done that to and you have to get to within a couple of feet to spot any discrepancy, if you can.

11-09-18, 11:49 AM
Thanks All -

Looks like I got some reading to do. Thank you for all the feedback. I'll take a shot at keeping the original paint. I love the original color. I think I'll just have to spend some time and patience with filling and color match.

-Sean
Thread
Thread Starter
Forum
Replies
Last Post

Posting Rules
You may not post new threads
You may not post replies
You may not post attachments
You may not edit your posts
---
HTML code is Off
---