1972 Chrome Paramount P13

01-10-19, 01:28 PM
Senior Member
Join Date: Aug 2015
Location: Parker, Colorado
Posts: 385
Bikes: 1975 Schwinn Paramount, 1976 Gios Record, 1985 Trek 770, 1992 Slim Chance. 1999 Tommasini Sintesi, 2001 Colnago C40
Mentioned: 8 Post(s)
Tagged: 0 Thread(s)
Quoted: 103 Post(s)
Likes: 0
1972 Chrome Paramount P13
---
1972 chrome Paramount P13
Non original drivetrain and rims. Still contemplating what I'm gonna do with this one as the front triple is a bit wonky shifting and I don't think I need a 24 tooth ring. Leaning towards keeping the rear Sachs Huret eco duopar derailleur and maybe just replacing the cranks with the standard Nuovo Record that came with it. Thoughts?

01-10-19, 01:38 PM
Senior Member
Join Date: Aug 2015
Location: Parker, Colorado
Posts: 385
Bikes: 1975 Schwinn Paramount, 1976 Gios Record, 1985 Trek 770, 1992 Slim Chance. 1999 Tommasini Sintesi, 2001 Colnago C40
Mentioned: 8 Post(s)
Tagged: 0 Thread(s)
Quoted: 103 Post(s)
Likes: 0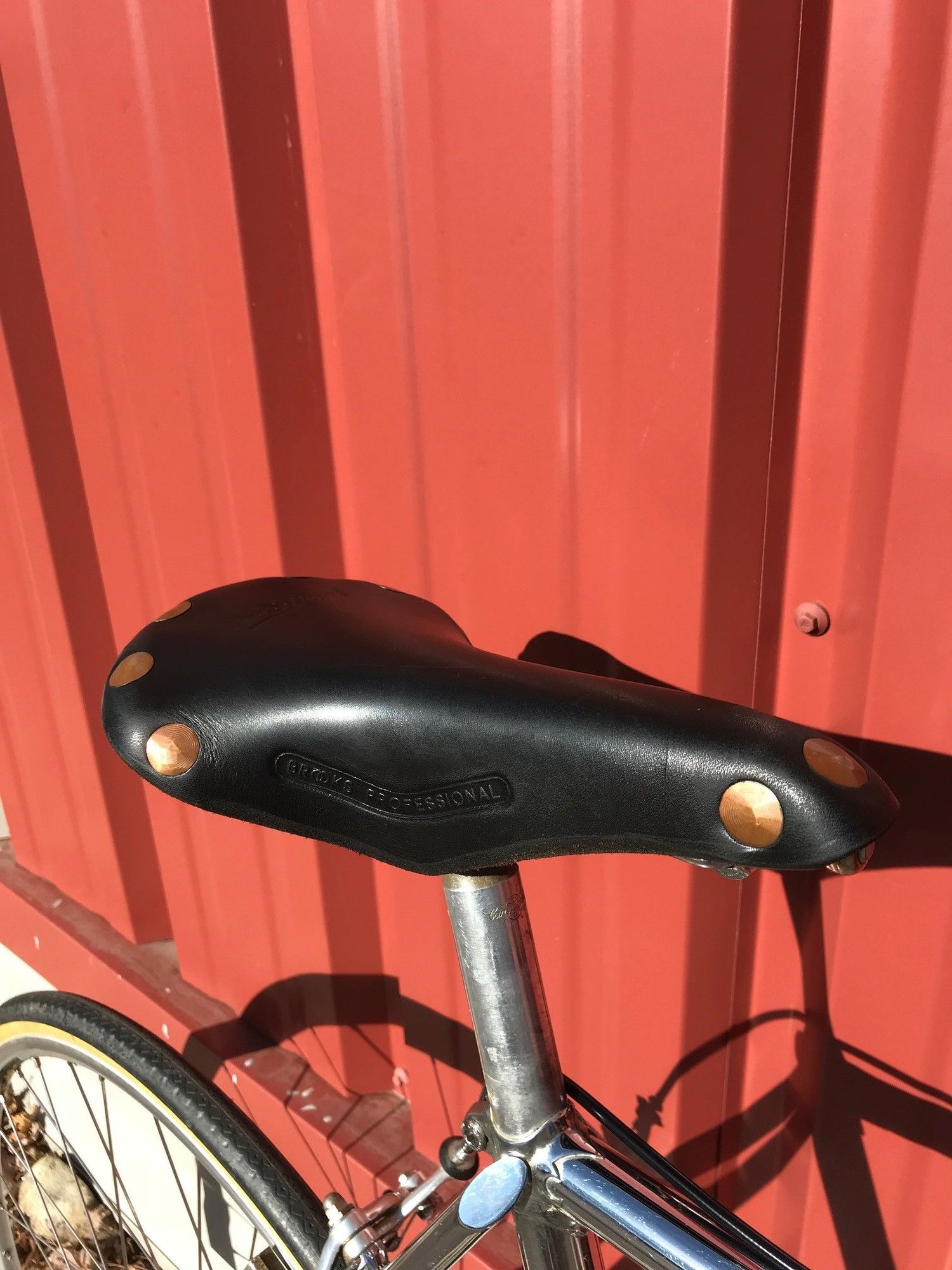 01-10-19, 07:15 PM
Inoxidable Moderator
Join Date: Jul 2007
Location: Kalamazoo MI
Posts: 17,906
Bikes: Fuji SL 2.1, Schwinn Voyageur, Cannondale Synapse, Raleigh C50, Trek 710, Raleigh Granada, Legnano Pista, Viscount Aerospace Pro
Mentioned: 39 Post(s)
Tagged: 0 Thread(s)
Quoted: 1867 Post(s)

01-10-19, 10:06 PM
My brain hurts!
Nice! Maybe also a Nuovo Record front derailleur to go with the appropriate crank set. Your plans sound good. Welcome to the chrome Paramount club!

01-11-19, 05:57 AM
ambulatory senior
Join Date: Dec 2016
Location: Peoria Il
Posts: 3,366
Bikes: Bob Jackson World Tour, Falcon and 98 Bianchi Volpe
Mentioned: 41 Post(s)
Tagged: 0 Thread(s)
Quoted: 1046 Post(s)
Lots of room for tires and fenders. Id be tempted to keep the 24. But i am weak.

01-11-19, 07:18 AM
Freewheel Medic
Beautiful find! Great for you and for one more chrome Paramount being loved, enjoyed and ridden into its coming 50th birthday.

I'd say you have a good plan unless you need a lower gear than the 42T NR double will allow. It looks as if the rear freewheel is a 13 or 14T-30T (maybe a 31T or 32T) 5 speed Regina Oro. Suntour made a 34T and 38T sprocket which fits on a Perfect, ProCompe, New Winner, Winner and Winner Pro bodies, which could help if you just run the NR double. The Suntour freewheels can also be found in Ultra 6 speed spacing which helps when you run such a low gear. The Huret Eco Duopar can handle the 38T if you decide to go that low.
__________________
Bob
Dreaming about riding in NH's summertime!
Visit my websites:
FreeWheelSpa.com
or
pastorbobnlnh.com
Thread
Thread Starter
Forum
Replies
Last Post
Classic and Vintage Bicycles: Whats it Worth? Appraisals.

Posting Rules
You may not post new threads
You may not post replies
You may not post attachments
You may not edit your posts
---
HTML code is Off
---