1973 Schwinn P15-9 Touring Paramount - Cinelli Bottom Bracket?

04-15-19, 04:59 AM
Freewheel Medic
Join Date: Oct 2005
Location: Ascending or Descending the NH Mountains NW of Concord!
Posts: 11,103
Bikes: Snazzy* Schwinns, Classy Cannondales, & a Lonely '83 Santana Tandem (* Ed.)
Mentioned: 80 Post(s)
Tagged: 0 Thread(s)
Quoted: 430 Post(s)
Really sweet! If the hoods don't last, maybe I could make you a set of red leather hoods.
__________________
Bob
Dreaming about riding in NH's summertime!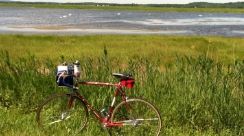 Visit my websites:
FreeWheelSpa.com
or
pastorbobnlnh.com

04-16-19, 12:07 PM
Senior Member
Join Date: Jul 2013
Location: So Cal, for now
Posts: 898
Bikes: 1975 Bob Jackson - Nuovo Record, Brooks Pro, Clips & Straps
Mentioned: 9 Post(s)
Tagged: 0 Thread(s)
Quoted: 261 Post(s)
Oil rots rubber (latex).

That is a nice looking bike, you did a great job.