Need some info on atom drum brakes

05-15-19, 11:46 PM
Newbie
Join Date: May 2019
Posts: 1
Mentioned: 0 Post(s)
Tagged: 0 Thread(s)
Quoted: 0 Post(s)
Likes: 0
Liked 0 Times in 0 Posts
Need some info on atom drum brakes
---
Hello, I just picked up a 1980 schwinn cruiser 5 speed. I'm looking at restoring it with my son and was working on the getting the rear drum brake to work. At some point in it's life a rear rim brake was added and the drum brake was disconnected. I was looking for close up pictures of the brackets and levers on the drum if possible. Also, is there a source for parts for these? I know that last part may be impossible, I'm used to classic car restorations so am confident I can make the brackets/levers if I have to and have a good reference.
Thank you

05-16-19, 07:19 AM
Old fart
I have an Atom drum brake on my Gitane tandem. They're not complicated, but I doubt replacement brake shoes are readily available. Sheldon Brown has a good article (actually, John Allen on Brown's web site):
https://www.sheldonbrown.com/drum-brakes.html
And Google images brings up some pictures: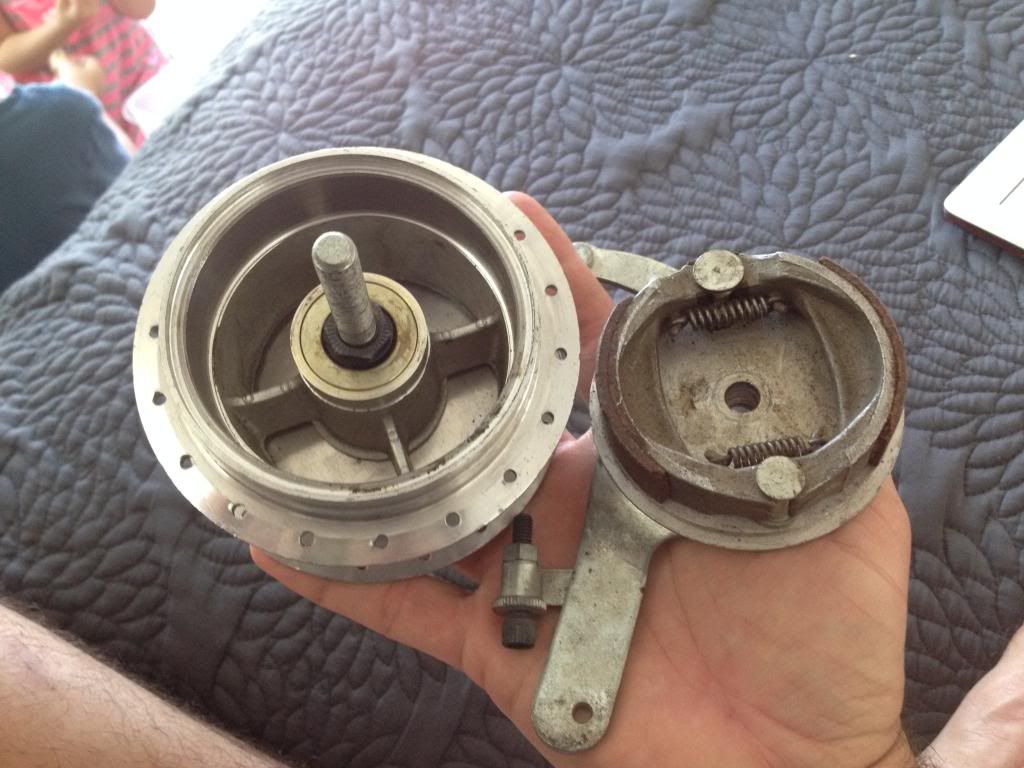 https://www.google.com/search?q=atom...w=1366&bih=640

05-16-19, 10:03 AM
Here is the drum brake in a frame.
__________________
Keeping Seattle's bike shops in business since 1978

05-16-19, 10:13 AM
experienced
Join Date: Jun 2009
Location: Bainbridge Island, WA
Posts: 73
Bikes: Sachs, Alex Singer, Serotta, Raleigh Pro, Hetchins
Mentioned: 6 Post(s)
Tagged: 0 Thread(s)
Quoted: 39 Post(s)
Likes: 0
Liked 0 Times in 0 Posts
with respect to the Original Poster (OP) in the vintage Porsche world there are shops that can replace brake linings on drum brake shows so as to "preserve originality". Such a shop might be able to restore the Atom brake shoes as shown.

Look in Pano or post a request on Pelican Parts.

Mark Petry
Bainbridge Island, WA USA