Winter Musings

02-03-20, 04:31 PM
Senior Member
Join Date: Feb 2015
Location: Great White North (VT)
Posts: 485
Bikes: Falcon SR 76, Romic, Trek 660, GT Talera, Shogun 500 Touring
Mentioned: 9 Post(s)
Tagged: 0 Thread(s)
Quoted: 94 Post(s)
Likes: 0
Winter Musings
---
I have been away from this forum and off my bikes for a couple of years, as life has thrown us a bunch of curveballs... loss of parents and close friends, sales of houses, including our home of 32 years and a move to a new, downsized home.
I know TMI and boo-hoo, poor me.
Anyway, our new area is suburban / urban... as much as Central New Hampshire can be urban. There are fewer quiet country roads for road biking, but other choices like gravel and rail trails. I am considering converting one of my dwindled fleet to something appropriate for pavement, gravel, rail trail, but nothing like single track or extreme off road. My candidates are a Shogun touring bike and a GT MTB: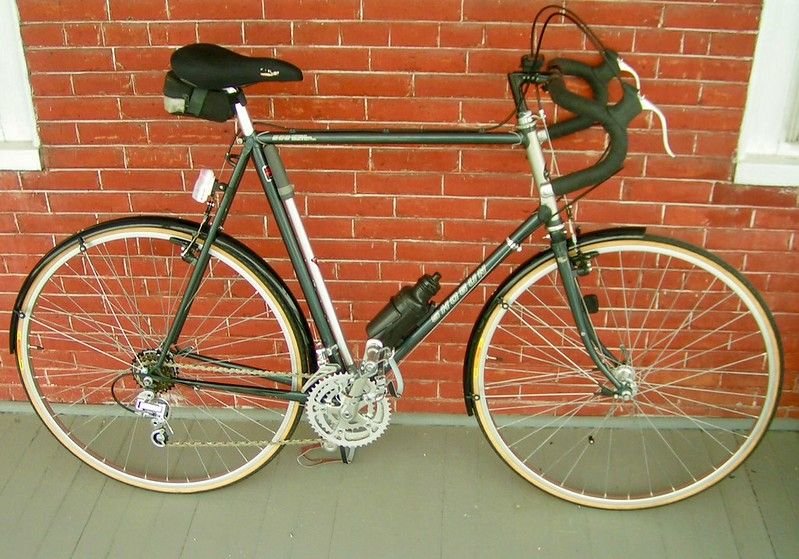 27" and 26" wheels respectively. Which I think limits my tire choices. The tourer has 27 x 1 1/8 road tires and the GT has some pretty aggressive tires.
I have some 700c road wheels that might work with the Shogun, but the rims are narrow, probably around 20mm, but solid 14G 4X with Arraya hard anodized rims. Probably limits how wide I can go. GT can take a a wide tire, but I'm not sure I can hack flat bars, might have to consider a drop bar conversion.
I'd appreciate any feedback, suggestions, ideas. TIA
This might be a topic for Gravel forum, but I thought I'd start here as I've always got good advice here.
Cheers and Thanks
__________________
https://tinyurl.com/VTchucksBikes
---
Last edited by vtchuck; 02-03-20 at

04:54 PM

.

02-03-20, 04:39 PM
Senior Member
Join Date: Apr 2012
Location: Middle Earth (aka IA)
Posts: 16,832
Bikes: A bunch of old bikes and a few new ones
Mentioned: 138 Post(s)
Tagged: 0 Thread(s)
Quoted: 4443 Post(s)
The MTB gives you better tire choices. It's a great platform for riding mixed surfaces. The flat bars are a drag on a longer ride. A drop bar conversion is better. A trekking bar is cheap and does the job.

02-03-20, 05:52 PM
Senior Member
Just started riding my old GT and am loving it! Sidewalks, greenways, dirt paths are all new and exciting possibilities now. I canít see going back to my road only bike except for special rides.

02-03-20, 06:25 PM
Veteran/Pacifist/Resister
Join Date: Dec 2004
Location: Seattle area
Posts: 9,827
Bikes: Bikes??? Thought this was social media?!?
Mentioned: 216 Post(s)
Tagged: 0 Thread(s)
Quoted: 2276 Post(s)
Mountain bike when the surface gets soft. Presently has a narrow front tire, cuz the suspended one goes even harder off-road
700X33 knobbies fit on 2 of my roadie frames for most of my off-pavement rides.