1984 Sekai 5000 pedal & bar tape suggestions

09-20-20, 05:13 PM
Senior Member
Join Date: Aug 2016
Location: Chesterton, Indiana
Posts: 294
Bikes: 1984 Sekai 5000 Superbe, 1987 Raleigh Seneca Mountain Tour, 1984 Schwinn World Sport, 1978 Raleigh Grand Prix, 2021 Handsome She Devil, Mystery Vintage purple road bike
Mentioned: 2 Post(s)
Tagged: 0 Thread(s)
Quoted: 97 Post(s)
1984 Sekai 5000 pedal & bar tape suggestions
---
Can I get some pedal suggestions and bar tape color ideas for my newest acquisition, a 1984 Sekai 5000 racing bike. I took off the old tape it looked like a white or cream color but it was so dirty. The frame color is like a Chocolate brown.
I want to put regular pedals on the bike as I wonít be using it for long distance or racing and right now it has the extenders on it for some kind of racing clips or something like that. I donít know what the correct term is for what they are but I want to take these off and put some lightweight pedals on it.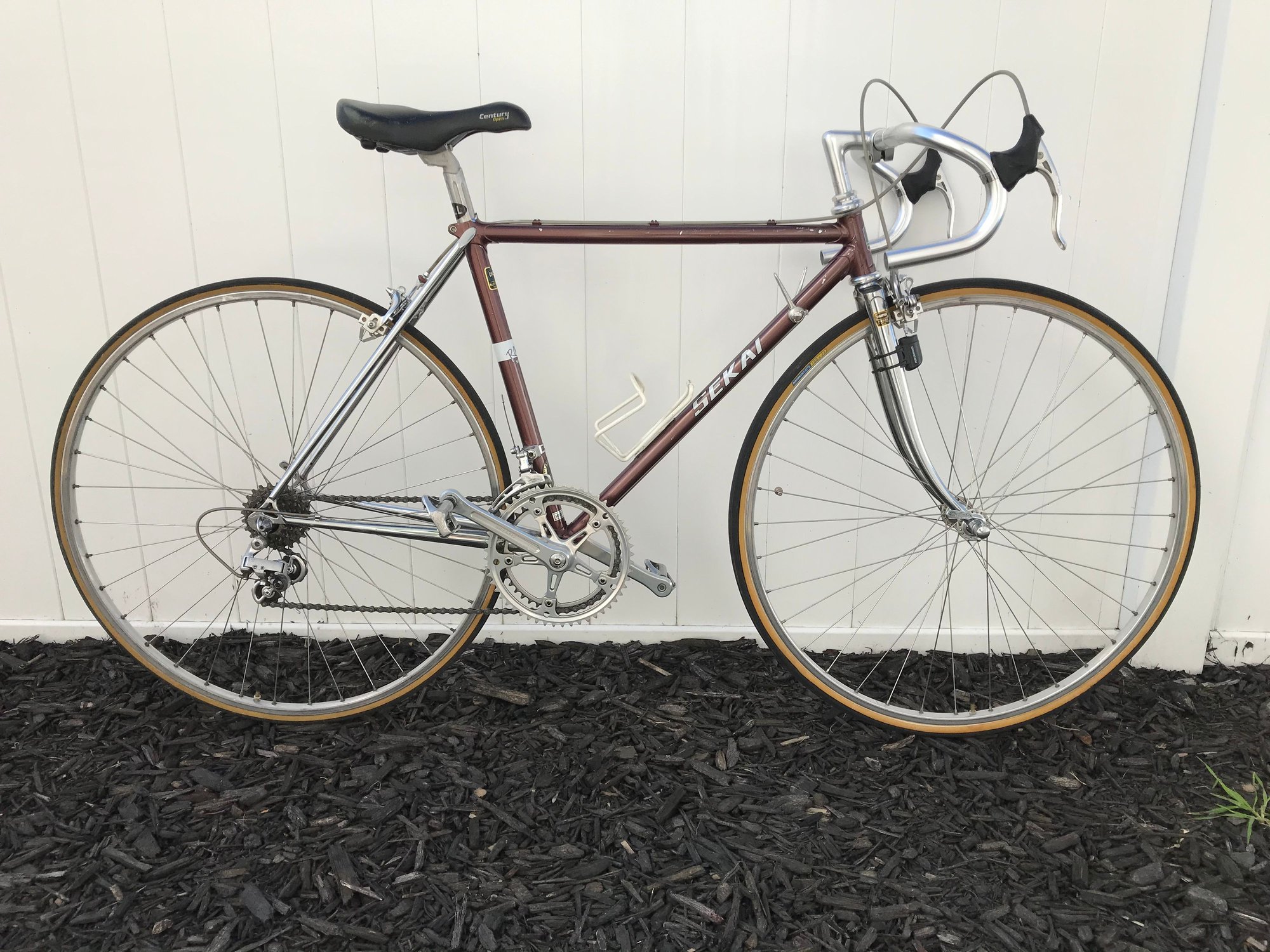 09-20-20, 05:33 PM
Bianchi Goddess
Join Date: Apr 2009
Location: Shady Pines Retirement Fort Wayne, In
Posts: 27,353
Bikes: Too many to list here check my signature.
Mentioned: 145 Post(s)
Tagged: 2 Thread(s)
Quoted: 1947 Post(s)
I think the taper has to be white or black.

the pedals should come off just like any other pedal, I would however separate the pedal and the spacer BEFORE removing them from the bike
__________________
Bianchis '90 Proto, '90 Campione del Fausto Giamondi Specialisma Italiano Mundo, '91 Boarala 'cross, '93 Project 3, '86 Volpe, '97 Ti Megatube, '93 Reparto Corse SBX

Others but still loved; '80 Batavus Professional, '87 Cornelo, '?? Jane Doe (still on the drawing board), '90ish Haro Escape SLX Bertoni "Speckled Trout"


09-20-20, 05:37 PM
Senior Member
Itís a sharp looking frame with those chrome features. I would probably put the focus on that and go with black tape. But I have seen people use turquoise with root beer and itís pretty striking.
MKS makes good low cost pedals.
Your cables will look better if you route them both behind the handlebars. At least to my eyes.

09-20-20, 05:51 PM
Senior Member
Join Date: Aug 2013
Posts: 1,581
Mentioned: 22 Post(s)
Tagged: 0 Thread(s)
Quoted: 471 Post(s)
White would look great. Fizik Performance tape is excellent, and stays white much longer than cork or cotton.

09-20-20, 05:55 PM
I vote for brown tape. Brown velvet tape was a thing on Japanese bikes in the 80s. Too bad you can't find it anymore. I'd settle for brown cotton. I feel like James May today.

Maybe swap out the housing for some Ti colored translucent braided stuff for a bit more zing.

The pedals on there are SPD clipless pedals (+ extenders it looks like). They are an early road version. They don't look like Shimano Ultegra or DA, could be Wellgo maybe. Being SPD you could use those with walkable cycling shoes. Just sayin. If you want regular pedals use whatever you prefer. I'd be inclined to put quill pedals with toe clips and straps. You could use modern platforms if that's your preference. In my view something like an MKS "Sylvan" Touring pedals are a better choice. Can be used with or without toe clips. Appropriately styled for a vintage bike. Not expensive.

09-20-20, 08:07 PM
SeŮor Member
Join Date: Dec 2018
Location: Pac NW
Posts: 4,075
Bikes: Old school lightweights
Mentioned: 55 Post(s)
Tagged: 0 Thread(s)
Quoted: 1657 Post(s)
Black Newbaum's cotton tape, KKT Top Run pedals with clips and leather straps, and a black Turbo saddle.

09-20-20, 11:06 PM
Ride.Smile.Repeat
Join Date: May 2011
Location: Seattle WA
Posts: 2,863
Bikes: 2009 Handsome Devil, 1987 Trek 520 Cirrus, 1978 Motobecane Grand Touring, 1987 Nishiki Cresta GT, 1989 Specialized Allez Former bikes; 1986 Miyata Trail Runner, 1979 Miyata 912, 2011 VO Rando, 1999 Cannondale R800, 1986 Schwinn Passage
Mentioned: 72 Post(s)
Tagged: 0 Thread(s)
Quoted: 787 Post(s)
I love the MKS Sneaker or
RMX
pedals and have them on 2 bikes I think black tape would be good - white is very tough to keep clean

If you haven't removed pedals view this

09-21-20, 12:16 PM
Senior Member
Join Date: Aug 2016
Location: Chesterton, Indiana
Posts: 294
Bikes: 1984 Sekai 5000 Superbe, 1987 Raleigh Seneca Mountain Tour, 1984 Schwinn World Sport, 1978 Raleigh Grand Prix, 2021 Handsome She Devil, Mystery Vintage purple road bike
Mentioned: 2 Post(s)
Tagged: 0 Thread(s)
Quoted: 97 Post(s)

09-21-20, 01:02 PM
They would match as the bike appears to be Superbe equipped.

09-21-20, 01:18 PM
Senior Member
Join Date: Aug 2016
Location: Chesterton, Indiana
Posts: 294
Bikes: 1984 Sekai 5000 Superbe, 1987 Raleigh Seneca Mountain Tour, 1984 Schwinn World Sport, 1978 Raleigh Grand Prix, 2021 Handsome She Devil, Mystery Vintage purple road bike
Mentioned: 2 Post(s)
Tagged: 0 Thread(s)
Quoted: 97 Post(s)