Have I got a Mystery for ya: MauriceMoss, DougFattic...

01-16-21, 01:35 PM
Stop reading my posts!
Join Date: Sep 2004
Posts: 11,824
Mentioned: 73 Post(s)
Tagged: 0 Thread(s)
Quoted: 954 Post(s)
Have I got a Mystery for ya: MauriceMoss, DougFattic...
---
This one has never been solved (maybe one reason is my very poor photos!) but I teased this to 2 of the Champion sleuths in another thread (and of course that mystery DID get solved).
I tried to nail the builder in the past (and can dredge up the old thread) but since neither Maurice or Doug was active back then this will be a chance for some fresh eyes to take a new look.
Background story: bought the frameset from a seller who advertised it here on C&V and picked it up on a drive to SoCal (for Christmas) at the seller's in Ventura, CA area. The seller did not know any details but said he got it in Santa Barbara (area) and that is had been built there (or nearby) according to his seller.
I had plans to make an Xmas gift of the frame to a relative, which never panned out.
One big reason was there was a hidden defect: the blind ("Dutch style") pinchbolt thru the fastback seat stays had broken and the remaining shaft was stuck in the LH stay and very inaccessible. Made even MORE so due to the unique (never seen before by me) "trick" feature that the gap between stays was "filled" by a brazed-in cylinder with only a small gap down the centerline. Very trick but made a really tough extraction job even more excruciating. Sadly I got right into trying to extract that broken stub without taking any pix, so.no visual record of what it looked like before "many surgeries", I kicked myself often for that!
Had to re-jigger the seat cluster to be more conventional (as pix will show) but it works now.
Frame and fork has no serial numbers, only mark I ever saw is the very faint Columbus Dove stamp on the head tube which is positioned to be a "head badge" but only when the light hits it just so.
BSC (British/ISO) BB threading and 27.2 seat post, very nicely thinned lugs and "frenched" internal brake routing in TT. The way the seat stays merge into the seat lug is slightly less refined (to my eye) then the rest of the high craftsmanship elsewhere. But will let the experts decide.
With no further dithering, here are what I have for pix (but HAPPY to try for better and answer any questions, still have this frameset and the ride is quick and "sharp", has tight clearances)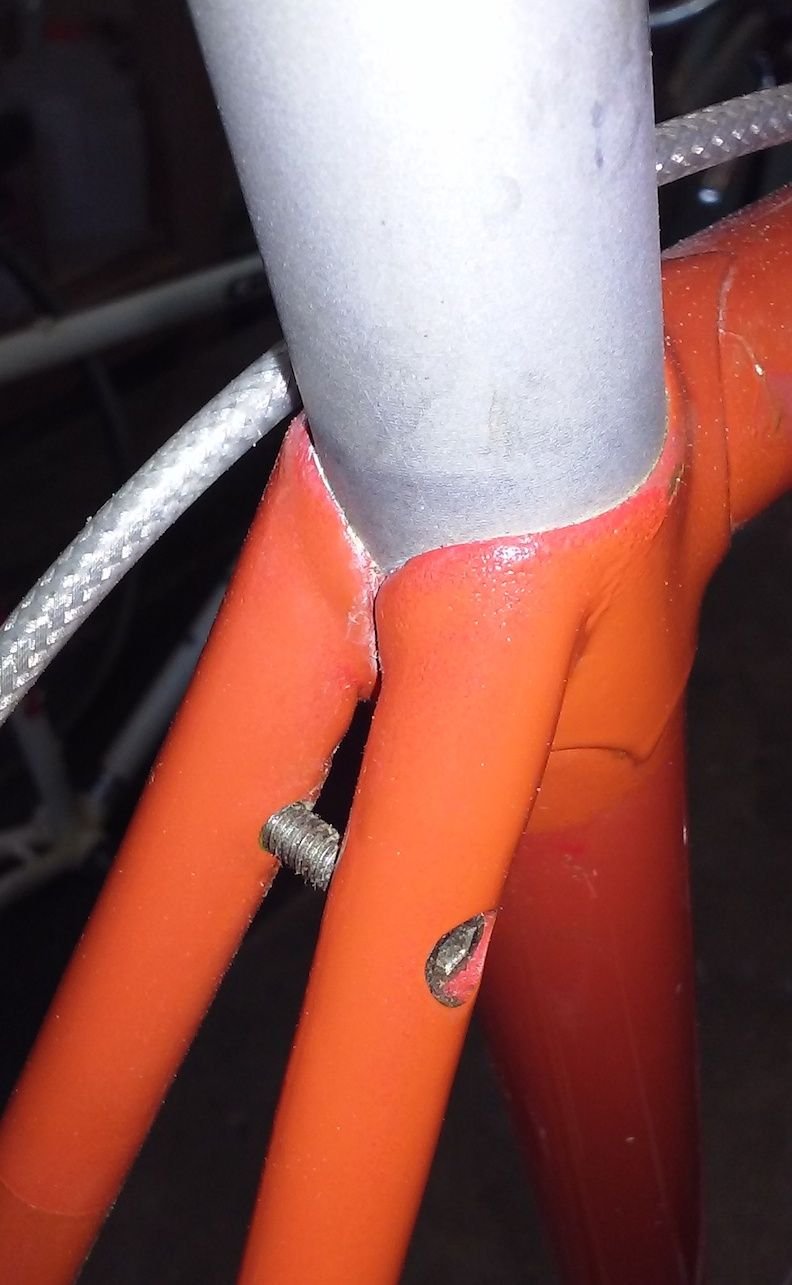 01-16-21, 01:38 PM
Stop reading my posts!
Join Date: Sep 2004
Posts: 11,824
Mentioned: 73 Post(s)
Tagged: 0 Thread(s)
Quoted: 954 Post(s)
So as not to exceed the pix limit per post, here are some more: Columbus Dove stamp is very had to shoot, but it's there.
I think the paint is original and Imron (or similar "2-Pack" urethane)

01-16-21, 01:42 PM
Stop reading my posts!
Join Date: Sep 2004
Posts: 11,824
Mentioned: 73 Post(s)
Tagged: 0 Thread(s)
Quoted: 954 Post(s)
And these are the rest, all I have at present (but happy to try for better).The build is just "parts bin" with what I had on hand in order to get it ride-able. I'm sure it deserves better!

01-16-21, 02:02 PM
Stop reading my posts!
Join Date: Sep 2004
Posts: 11,824
Mentioned: 73 Post(s)
Tagged: 0 Thread(s)
Quoted: 954 Post(s)
I had a plan to take this bike to a guy in Santa Rosa who had first-hand contacts with Chris Pauley and I was pretty sure he could confirm/deny any "Pauley connection", but then this massive wildfire interfered (and then another fire!) so I lost any working contact with him (and have to dig around for his name, since I lost the part of my mind that remembers that).

01-16-21, 04:43 PM
I just went to the Class Rendezvous site and clicked on Chris Pauley and up came pictures of a frame he made with that blind binder bolt treatment. That is an unusual treatment and not popular with many builders because of its complexity to make and the likely possibility that if it breaks, it is difficult to repair. I only remember seeing them from CA builders. That means your frame is most likely one of his. The drawback to that suggestion is that Chris had a marvelous seat/head tube decal so I would think he would want to put those on every frame he made. The difficulty of making that seat stay treatment would mostly rule out an early frame of his before he got the graphics done for his brand.
---
Last edited by Doug Fattic; 01-16-21 at

04:46 PM

.

01-16-21, 08:42 PM
blahblahblah chrome moly
Join Date: Apr 2009
Location: Seattle
Posts: 792
Mentioned: 35 Post(s)
Tagged: 0 Thread(s)
Quoted: 449 Post(s)
I know of four others that did the "blind binder bolt treatment": TS (Tim) Isaac (Colorado), Columbine (CO, later CA), Glenn Erickson (WA) and Bruce Gordon (OR, later CA). Gordon's were very distinctive with the seatstay tops truncated in his unique way, so clearly this one is not a Gordon. Columbines were generally way fancier than this frame, so probably not one of theirs. Erickson only did a few that way; it was just one of many styles he offered. Tim is the only one of the three that did it like that routinely, on his '70s TS Isaac frames he made before going to work for Trek. I'm 99% sure this isn't one of Tim's, it's too new. He used that style also on the Schwinn Paramounts he made in the late '90s at his shop "Match" but this is not a Match Paramount. I made one and only one (a track bike) with that seatstay style in about '77 when I worked at Santana.
Probably doesn't help identify the builder, but the lugs are Takahashi. Distributed in NA by Davidson starting in about '83, which puts an earliest limit on when the frame could have been made. 99% sure the frame is not a Davidson. He sold the lugs to lots of builders large and small, so that doesn't narrow it down much. Pretty sure the dropouts are Shimano EF.
Good luck with the mystery.
Mark B in Seattle

01-16-21, 08:50 PM
A builder in Grand Rapids, Michigan named Randy Smolinski did seat post binder bolts in the same way. Seat lug was finished off in a very similar fashion. Of course all his frames were custom so not all of them had this touch.

01-16-21, 09:47 PM
Senior Member
Join Date: Sep 2005
Location: Oakland, CA
Posts: 2,943
Bikes: '82 Univega Competizione, '72 Motobecane Grand Record, '83 Mercian KOM Touring, '85 Univega Alpina Uno, '76 Eisentraut Limited
Mentioned: 52 Post(s)
Tagged: 0 Thread(s)
Quoted: 941 Post(s)
Could the Chris Pauley logo be mistaken for a dove? The double heart?

01-16-21, 10:16 PM
Senior Member
I had a Bernie Mikkelsen with that seatstay treatment. Lugs were a little different. Bernie didn't (doesn't?) serial his frames. I got this one dated to '82ish by calling him, and him asking me a few questions about rear stay end treatment, seat lug, etc.
__________________
Fuggedaboutit!
---
Last edited by pcb; 01-17-21 at

12:05 AM

.

01-16-21, 11:01 PM
Stop reading my posts!
Join Date: Sep 2004
Posts: 11,824
Mentioned: 73 Post(s)
Tagged: 0 Thread(s)
Quoted: 954 Post(s)
Thanks to all responders: Doug, Mark, TiHabenero, noobinSF, and pcb. Most of the "contenders" Mark mentions were previously considered and subsequently dismissed (by others). Glad to have the lugs and dropouts ID'd ,thanks Mark!
It is very baffling that a frame with so much work involved has no identifying marks (no decals, serial numbers, panto, nada)!
It is definitely the Columbus Dove stamp on the head tube, no mistaking it for any other. I will try to get a better pic of this in the next day or 2.
I doubt this is a Mikkelsen frame, but he's close by so I could take it by Bernie's someday and let him have a look.
I had not heard of Randy Smolinski mentioned, before. Will have to do some visual searches but the Grand Rapids connection would not jibe with the seller's story of it being made in "greater Santa Barbara". However this is still just the seller's story.
Thanks again to all of you, I really appreciate your efforts to help solve this mystery!

Edit: I did find the Chris Pauley page on CR (kind of hidden, was not in the "Classic USA" table of contents) and scoped out the red frame featured therein. It is WAY more custom than my mystery with many more "trick" features and refinements....BUT there is more resemblance between that particular fastback seat cluster and mine than any I have seen before (including the one Smolinski I just viewed on the same CR site). Plus the red frame also has the "frenched" (a hotrod customizer's term) treatment of internal cable routing, too, which I believe to be fairly unusual. So there's 2 clues plus the Santa Barbara location, in favor of a "Chris Pauley" ID. I'm not ready to say "case closed" just yet, but it is encouraging.
---
Last edited by unworthy1; 01-17-21 at

02:04 PM

.

01-17-21, 08:00 AM
Senior Member
Join Date: Feb 2008
Location: Peoria, IL
Posts: 3,169
Mentioned: 72 Post(s)
Tagged: 0 Thread(s)
Quoted: 1205 Post(s)
I had the feeling that I had seen that style of seat cluster somewhere, but I'm not surprised that Mark was able to name the builders using this general style.
Because everyone loves photos of great bikes, I did a quick search through my photos for shots of some of these bikes.
Regarding Smolenski..... Jim from Michigan brought a few to the last Classic Rendezvous gathering. Really cool bikes! These all had a through-hole for the threaded end of the seat post binder bolt, so no match for these bikes.
Here's a shot of a seat cluster....
and a shot of three of the Smolenskis. I really liked the one with ivory paint and black components. The one with the red head tube and seat tube caught my eye too.
For all of the shots I've got of Bruce Gordon's frames, I could only find one showing the rear of the seat cluster. As Mark says, the top of the seat tubes are truncated, versus being fully mitered into the seat lug. It does have the hidden threaded hole for the seat post binder bolt, though.
Columbines seem to be a fairly rare beast. I had a couple of old magazine articles that featured the frames from the Murphy brothers, but nothing that clearly showed the seat cluster. The best I could do was this article that hints that it might have the same style as the OP's frame.
Erickson frames are also relatively rare. He really was getting a fair bit of press back in the 90's with some creative & fancy frames. One article shows the seat cluster clearly, and it does match the OP's frame.
that's all I've got. Hope it helps, or at least demonstrates some of the great work that has been done.
Steve in Peoria

01-17-21, 09:38 AM
Senior Member
Join Date: May 2012
Location: Point Reyes Station, California
Posts: 3,840
Bikes: Indeed!
Mentioned: 79 Post(s)
Tagged: 0 Thread(s)
Quoted: 1138 Post(s)
Another frame builder in "the Santa Barbara Area" was Tim Neenan who made the "Lighthouse" frames and might be still making a few. (He was in the Santa Maria area I believe.) The Lighthouse frames I've seen all had seat binder ears so not a strong contender, but a talented builder who was capable of building in a variety of styles.
Brent

01-17-21, 02:01 PM
Stop reading my posts!
Join Date: Sep 2004
Posts: 11,824
Mentioned: 73 Post(s)
Tagged: 0 Thread(s)
Quoted: 954 Post(s)
I appreciate the recent posts and visuals, I think Tim Neenan was also one who had been "considered but dismissed" for the builder of this red-orange frame. He did make "fastback style" seat clusters but none I saw have the same "blind bolt thru the stays" treatment.
All this aside I have come around to a notion this may be a "bespoke" frame that was made according to the buyer's specs and for that reason maybe one "spec" was for no graphics or other identifying builder's marks (aside from the super-subtle Columbus Dove that was sort of snuck in under the radar). So could have been Chris Pauley as well as one of the other very highly skilled builders from that small community in Santa Barbara, who may have done custom one-offs. Hard to fathom how many really first-rate guys were located there at about the same time when California framebuilding was having its renaissance: besides Pauley and Neenan there was Chris King, Greg Diamond, Michael Celmins...who am I forgetting?
Thanks again C&Vers, you guys are great!

01-18-21, 08:39 AM
Randy was a bike shop manager (maybe he eventually became the owner?) and built frames at his house after hours. I gave him a one day brazing lesson in 1981 so I know when he started. He also did his own painting. Sadly he passed away in 2017. One of my framebuilding class students bought some of his equipment from his wife. Unfortunately she didn't know what it all was and some of it went to recycling. He had some enthusiastic Michigan customers/supporters.
Steelbikeguy showed pictures in this thread of Randy's seat stay attachment style - which is a bit different than the blind allen key type. A binder bolt is brazed onto the seat lug and then the seat stays are mitered and brazed to the binder bolt. That is a good method for those that don't have expensive fixturing. It isn't as popular lately because of the problem with wide tire clearance.