Kool Stop brake pads smooth post cantilever options ?

05-20-21, 12:56 PM
Senior Member
Join Date: Sep 2007
Location: PDX
Posts: 373
Mentioned: 0 Post(s)
Tagged: 0 Thread(s)
Quoted: 5 Post(s)
Likes: 0
Kool Stop brake pads smooth post cantilever options ?
---
hello quick question : i have several 1980s era bicycles that use basic shimano cantilever brakes. i've been using these Kool Stop Salmon smooth posts and braking is good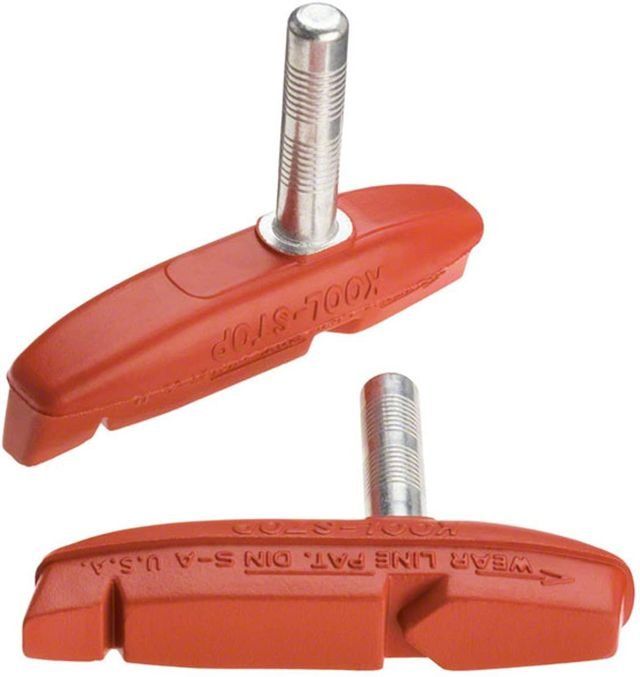 curious if anyone's used these longer but thinner smooth post Kool Stops for better braking ? or if these are only for newer V-Brakes :

05-20-21, 03:35 PM
I use the Thinlines (the middle picture) on my Voyageur SP due to fork clearance issues. I've been happy with their performance. There's something vaguely elegant about their long shape too.

05-20-21, 04:44 PM
Senior Member
Join Date: Apr 2007
Location: Ottawa, Canada
Posts: 651
Bikes: Raleigh Classic 15, 84; Miyata Ridge Runner SE, 85; Miyata 610, 86; Miyata 100M, 86; Miyata Valley Runner, 88; Miyata Triple Cross, 89; GT Karakoram, 90; Miyata Elevation 300, 91; Marinoni Touring, 95; Long Haul Trucker, 2013
Mentioned: 9 Post(s)
Tagged: 0 Thread(s)
Quoted: 131 Post(s)
I've used both, and I haven't noticed any difference in the braking. The top ones look more period correct, if that matters to you.

05-20-21, 07:01 PM
2k miles from the midwest
Join Date: Feb 2005
Location: Washington
Posts: 1,373
Bikes: ~'75 Colin Laing, '80s Schwinn SuperSport 650b, ex-Backroads ti project...
Mentioned: 11 Post(s)
Tagged: 0 Thread(s)
Quoted: 271 Post(s)
I only use the thinline ones when I need to short ones to open a brake larger. The thinner pad has that slot in the perfect spot to cut.

05-20-21, 07:48 PM
Senior Member
Join Date: Jan 2006
Location: Berwyn PA
Posts: 6,150
Bikes: I hate bikes!
Mentioned: 35 Post(s)
Tagged: 0 Thread(s)
Quoted: 315 Post(s)
I use these, so once I get the toe set, I just replace cartridges as needed.

05-22-21, 10:08 PM
Me duelen las nalgas
Join Date: Aug 2015
Location: Texas
Posts: 13,027
Bikes: Centurion Ironman, Trek 5900, Univega Via Carisma, Globe Carmel
Mentioned: 191 Post(s)
Tagged: 0 Thread(s)
Quoted: 4275 Post(s)
I use the Kool Stop Eagle 2 (formerly Eagle Claw) on the rear wheel, and thinline Jagwire black pads on the front. Only reason I do that is because the Eagle 2 pads are very thick and won't quite clear the fork enough to drop the wheel easily or reinsert an inflated tire after patching.

The Jagwire thinline black pad is longer than usual and curved to match the rim curve. It's just as effective as the Kool Stops in the wet. The Eagle 2 pads have a wedge surface that helps scrape mud and gunk off the rim, but I haven't ridden in many situations where that was necessary. I'm not a hardcore gravel or off-road rider.

Only difference is the Kool Stop Eagle 2 pads are easy to toe-in, while the Jagwire thinline is a bit trickier. The Eagle 2 pad is essentially self-aligning -- just mash it flat against the rim and it's toed-in. Maybe it'll need a ride with some braking to wear it in but it'll brake quietly very quickly. The Jagwire pad needs the usual toe-in tricks -- I use zip ties to tip the pad just slightly, which I find easier than using a card, coin or other trick for toeing-in a pad for canti brakes.

05-23-21, 10:21 AM
Extraordinary Magnitude
Join Date: Aug 2009
Location: Waukesha WI
Posts: 12,814
Bikes: 1978 Trek TX700; 1978/79 Trek 736; 1984 Specialized Stumpjumper Sport; 1984 Schwinn Voyageur SP; 1985 Trek 620; 1985 Trek 720; 1986 Trek 400 Elance; 1987 Schwinn High Sierra; 1990 Miyata 1000LT
Mentioned: 77 Post(s)
Tagged: 0 Thread(s)
Quoted: 2280 Post(s)
I've got these on 2 bikes as well:
XT XTR1
by
Dave The Golden Boy
, on Flickr
__________________
*Recipient of the 2006 Time Magazine "Person Of The Year" Award*

Commence to jigglin' huh?!?!

"But hey, always love to hear from opinionated amateurs." -says some guy to Mr. Marshall.

05-23-21, 12:29 PM
Disraeli Gears
I've used Kool-stop ThinLines (salmon) on all the bikes I've built up except one -- the only one with smooth post pads. Oh, sorry, two -- I used the Supra (salmon) pads on a Specialized Hard Rock with cantis. I like the Thinlines a lot, and they've been reliable and long-lasting too.