Giant Quasar

11-08-21, 02:20 PM
Senior Member
Giant Quasar
---
Got this rough looking Giant Quasar. Had drop bars with turkey levers. So, Ramzilla's got to do what Ramzilla does. Did a frame up resto mod to upright w/7 speed trigger shifter drivetrain. It's fully lugged with old timey fork crown. Rides like a dream. Serial number GD950789. Can anybody tell what year this was made?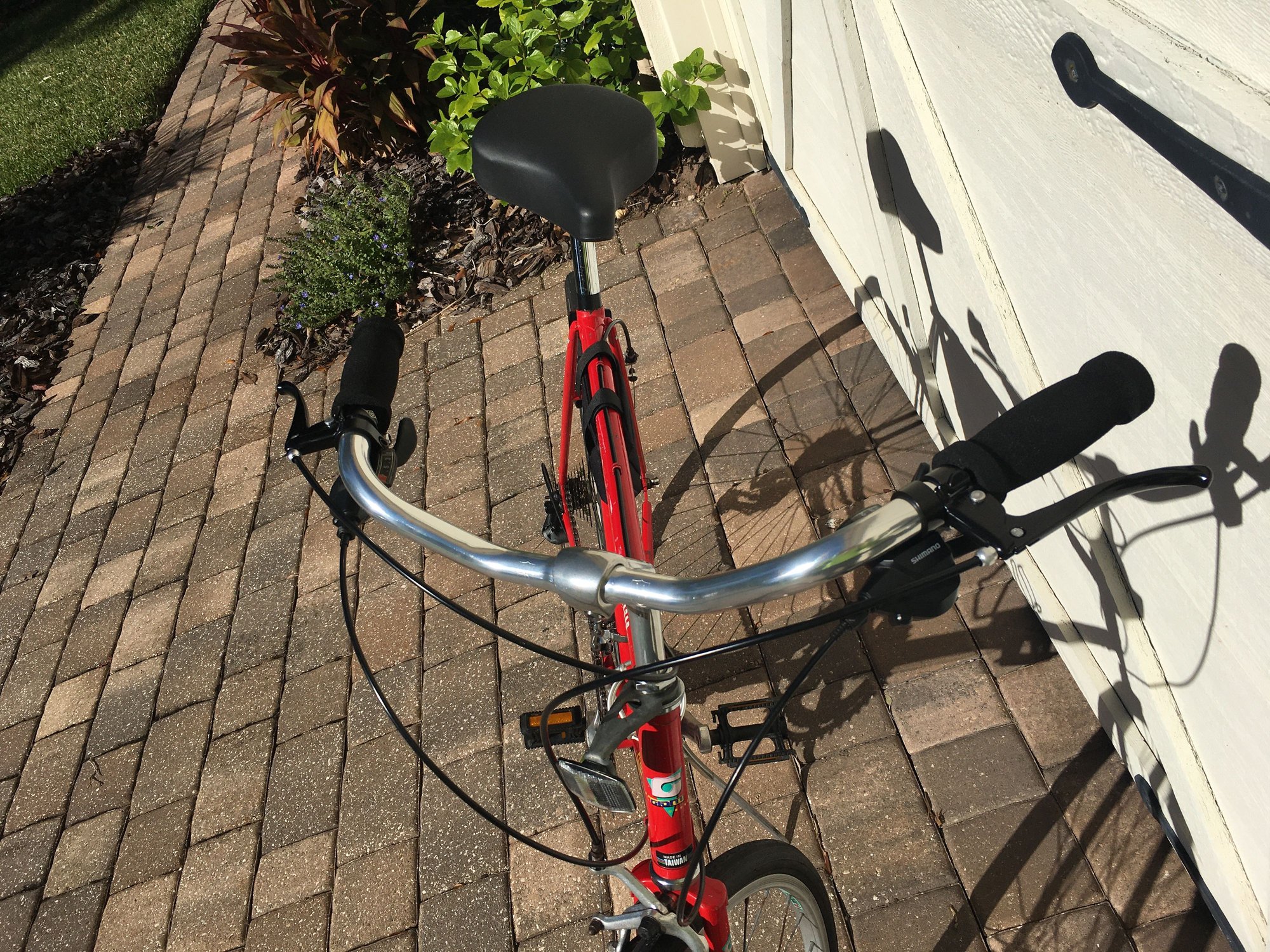 11-08-21, 04:03 PM
Forum Moderator
Join Date: Jul 2007
Location: Kalamazoo MI
Posts: 20,630
Bikes: Fuji SL2.1 Carbon Di2 Cannondale Synapse Alloy 4 Trek Checkpoint ALR gravel Viscount Aerospace Pro Colnago Classic Rabobank
Mentioned: 55 Post(s)
Tagged: 0 Thread(s)
Quoted: 2812 Post(s)

11-08-21, 08:49 PM
Senior Member
Join Date: Nov 2004
Posts: 23,230
Mentioned: 630 Post(s)
Tagged: 1 Thread(s)
Quoted: 4703 Post(s)
Likes: 0

11-14-21, 08:05 PM
Senior Member

11-14-21, 08:10 PM
Senior Member
Oh ****.......................... I just realized I got the front quick release on the wrong side of the axle. Oh well. I'm having a senior moment. !

11-15-21, 08:22 AM
Senior Member
Join Date: Nov 2005
Location: NW Ohio
Posts: 3,001
Bikes: 1984 Miyata 310, 1986 Schwinn Sierra, 2011 Jamis Quest, 1980 Peugeot TH8 Tandem, 1992 Performance Parabola, 1987 Ross Mt. Hood, 1988 Schwinn LeTour, 1988 Trek 400T, 1981 Fuji S12-S LTD
Mentioned: 20 Post(s)
Tagged: 0 Thread(s)
Quoted: 362 Post(s)
The first thing that came to mind when I saw the title was one of those giant TV/stereo consoles with the wood cabinet that were so popular in the 1960s. Quasar advertising highlighted the "works in a drawer". The electronics chassis was in a pull-out drawer so they could be serviced without moving the whole cabinet out from the wall.

I've got a too small Takara frame that would be a good candidate for upright bars and comfy seat.