Olmo Racing mixte

07-03-22, 11:28 PM
Olmo Racing mixte
---
Dear friends,
I found last weekend an interesting mixte type frame (actually a whole bike) Olmo Racing. I need your expertise on precise dating the bike and re-building it with the proper components. I'm afraid that most of the parts now are not the original ones. Maybe only the seat post (Miche by ITM), saddle, wheels and cassette (all branded Miche) are on it's place but what about the rest? I have some doubts about the fork also. By the way, both fork ends and rear dropouts are not marked/stamped.
Serial number of the frame is WC2001N and the size marked on the BB shell is 52. The pattern of BB shell looks to me quite simple. Italian standarts BB - 36x24T. Is it possible that the frame has been built for Omlo by any of other manufacturers and which one?
Please have a look at the pictures and share your expertise about the period the frame was made, proper components etc.
Any info is much appreciated!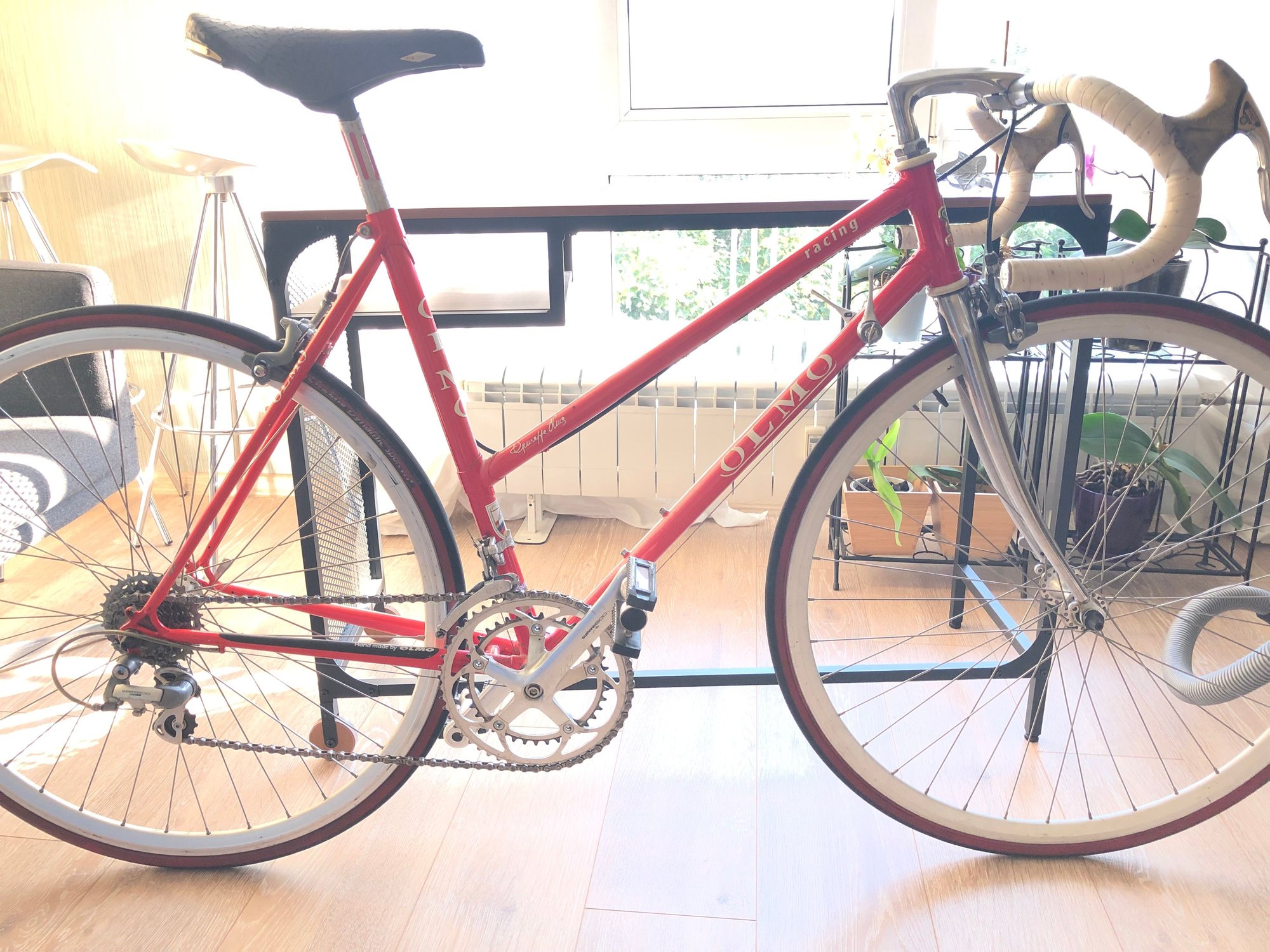 07-04-22, 12:06 AM
Senior Member
Join Date: Aug 2010
Posts: 1,925
Mentioned: 27 Post(s)
Tagged: 0 Thread(s)
Quoted: 830 Post(s)

07-04-22, 04:16 AM
Senior Member
Join Date: Feb 2020
Posts: 1,981
Mentioned: 32 Post(s)
Tagged: 0 Thread(s)
Quoted: 736 Post(s)
Likes: 0
Technically not a mixte, but an "anglais".

Columbus Gara is straight-gauge chr-mo, everything 0.8 except the chainstays (0.9), forks (1.0), and steerer (1.55/2.3).

I have no idea about age or componentry, but even as is it's a looker.

07-04-22, 10:30 AM
Senior Member
Join Date: Nov 2004
Posts: 22,908
Mentioned: 613 Post(s)
Tagged: 1 Thread(s)
Quoted: 4549 Post(s)
Likes: 0
Gara is not listed in the 1988 Columbus literature but it was available at least as early as 1991. We also know that the subject version of the Gara decal was discontinued at least as early as 1998. That would fit the timeframe suggested in the above post.

07-04-22, 02:13 PM
I have a 1994 Olmo Racing. Apart from mine being bigger and a mens model, the frame is almost identical to the op´s frame. On my frame the fork is painted red on the "crown" (Is it a crown when it´s a modern fork?), which makes me belives that the op´s frame might be slightly older then mine. So my guesstimate is 1992-1993.
Frame is relatively heavy (Gara), and geometry feels quite relaxed to me, so I think the choice of Racing as the name, is somewhat inappropriate. But with Shimano 600 tricolor, my bike is still resonably fast, and quite comfortable.
But at least it is red, and I also belive that it is Italian, as mine has a chanstay protector with the text "Handmade by Olmo". As Olmo made both expensive racers and cheap garbage (And just about everything in between), I´m pretty sure they built the frame themselves.