TA Pro 5 Vis "Track" Crankarms vs JIS Spindle Taper

10-11-22, 08:49 AM
Senior Member
Join Date: Jun 2010
Location: Medford MA
Posts: 1,960
Bikes: Ron Cooper touring, 1959 Jack Taylor 650b ladyback touring tandem, Vitus 979, Joe Bell painted Claud Butler Dalesman, Colin Laing curved tube tandem, heavily-Dilberted 1982 Trek 6xx, René Herse tandem
Mentioned: 71 Post(s)
Tagged: 0 Thread(s)
Quoted: 910 Post(s)
To add to the confusion, in my experience (~4 single cranksets and one tandem) I have come across two different types of TA taper. Broadly, I would classify them into "old" and "new". I don't know when the change happened, but this is my hypothesis. Because at some point TA DID start making things ISO. The Zephyr for sure was, along with most (all?) of their sealed BBs.
What I'm calling the "old" TA tapers are like JIS, as Sutherland's says. They are bigger than Campy and ISO. The "new" tapers are basically ISO.
The TA Pro 5 Vis has been in production a long time. Sometimes you can tell an old one from a new one, for example the really old ones come with covered pedal eyes, and the newest ones were sometimes anodized.
Here's a thread where I investigate this a little bit. I was surprised with my tandem crankset sitting off the JIS and old TA spindles I had. The cranks I had barely went halfway on (9mm engagement out of a total 18mm long taper)! I put a Campy spindle on the front and ISO spindle on the back of this tandem, and it appears to work.
Calling TA afficionados: Anodized Pro 5 Vis cranks? Also: JIS vs ISO?? Tandem?
Here's what I think is a "new" crank on an "old" TA spindle. 9mm of free taper.
Here's the same on an ISO spindle. Sits 2mm farther inboard. This is probably acceptable.
Here's an old TA crank (old enough to have the capped pedal eye) on an old TA cup-and-cone spindle. 5.5mm of free taper. I'd consider this acceptable.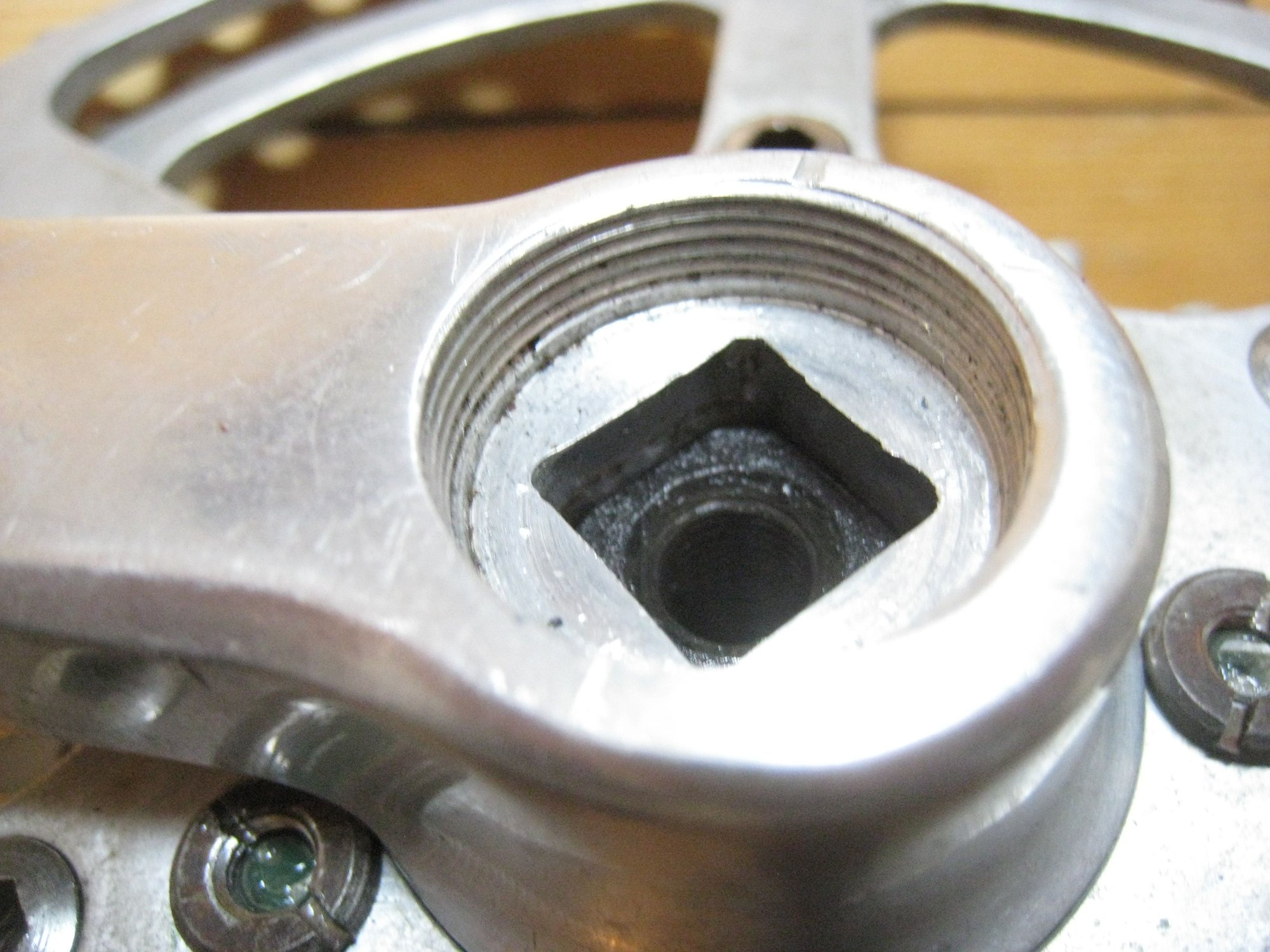 __________________
Owner & co-founder, Cycles René Hubris. Unfortunately attaching questionable braze-ons to perfectly good frames since about 2015. With style.

10-11-22, 09:01 AM
Ride, Wrench, Swap, Race
Join Date: Jan 2010
Location: Northern California
Posts: 8,636
Bikes: Cheltenham-Pedersen racer, Boulder F/S Paris-Roubaix, Varsity racer, '52 Christophe, '62 Continental, '92 Merckx, '75 Limongi, '76 Presto, '72 Gitane SC, '71 Schwinn SS, etc.
Mentioned: 126 Post(s)
Tagged: 0 Thread(s)
Quoted: 1313 Post(s)
Thanks for the data points, scarlson!

I never measured any "new" TA parts, so wouldn't have known that TA had transitioned to the ISO standard, perhaps around the same time (1991?) that Campagnolo did(??).

I'm assuming that TA does refer to the ISO standard in their current literrature(???).