Show Me Your Saddle

11-13-22, 01:16 AM
In 1981, when I was 24 years old, I comfortably rode three double centuries in one month on a Selle San Marco Concor 'Supercorsa' saddle. After the aluminum seat rail on the Concor broke, I then tried (with limited success) the San Marco Regal, the Selle Italia Turbo, Brooks Swift, etc.
I was still sorting thru saddles in 2007, when the Los Angeles Times newspaper published an article which tested and assessed of a group of modern saddles. The reviewer had ridden Paris-Brest-Paris, so I figured that he knew what he was talking about when he commented on the various saddles he tested.
The reviewer really liked the Selle SMP saddle. Based on the LAT review, I then started riding the Selle SMP "Glider" saddle. I chose the Glider model based on its width of 136mm, which was a good fit for me, based on the width of other saddles I previously used.
The SMP's design with the wider center channel and the lower center (in the front-to-back direction) provides extra countersinking against crotch tissue (perineum). In 2015, at age 58, I rode ten (10) centuries on the SMP Glider over the summer, without any comfort or health issues.
In 2016 (at age 59) I test rode a new production Concor (the same model as as the 1981 Supercorsa) and I found it to be an excruciating, crotch splitting torture device.
A photo of an older SMP Glider is attached; I used shoe polish to camouflage the admittedly garish lettering. My newer 70th anniversary SMPs have more restrained graphics.
.

11-13-22, 03:24 AM
Senior Member
Join Date: Jun 2006
Location: NW Burbs, Chicago
Posts: 11,608
Mentioned: 188 Post(s)
Tagged: 0 Thread(s)
Quoted: 2681 Post(s)
I forgot. I was at EuroBike in July and this unknown to me Italian saddle company was exhibiting. I liked their stuff.

11-13-22, 06:46 AM
BIKE RIDE
Join Date: Jun 2014
Location: Michigan
Posts: 1,525
Bikes: my very own customized GUNNAR CrossHairs
Mentioned: 18 Post(s)
Tagged: 0 Thread(s)
Quoted: 415 Post(s)
Like many folks, I primarily ride a Brooks B17. I have several and for un-racing, I really like them.
Recently I thought I'd try the all-plastic C17. I found it at least $20 less comfortable than the Gumby by Gum C17 (the natural rubber matches my side walls….
Natural rubber & cotton top on the left. All plastic on the right.
also reformed this Idealé 90. It's on an incomplete project bike so don't know if we'll get along or not.
🤔 hmmmm …maybe I'm not too good at reformation…?
ps- I already had a Cambium C17 on another bike. So I knew we'd get along on my trail bike pictured.
---
Last edited by mrv; 11-13-22 at

06:56 AM

.

11-13-22, 10:05 AM
Senior Member
Join Date: Jul 2009
Location: PAZ
Posts: 12,396
Mentioned: 255 Post(s)
Tagged: 0 Thread(s)
Quoted: 2581 Post(s)
BITD it was a Concor for me. When I started seriously again with bikes (and specifically vintage ones) in the mid-90s I found the Flite seemed to have a good, transferable shape to older bikes, and the feel was great, so they became my go-to saddle for decades. When I finally got hold of an Evolution, I felt I'd finally found my grail

Quite the Brooks collection as well. Only one here, and it's on a small bike, too small for me to ride. As of 2022, I still haven't ridden a suspended-leather saddle for any appreciable distance. Sigh...
DD
__________________
https://www.flickr.com/photos/30331021@N08/

11-13-22, 10:15 AM
Captain Dorkdisk
Join Date: Oct 2022
Location: The CV of California
Posts: 757
Bikes: More than I need, less than I want.
Mentioned: 8 Post(s)
Tagged: 0 Thread(s)
Quoted: 286 Post(s)
I've got a couple of seat shaped pinecones, looking for a red one and a blue one to match
I need to pressure wash the grey one to get the stains out...

11-13-22, 11:56 AM
Senior Member
Join Date: Aug 2013
Posts: 2,326
Mentioned: 35 Post(s)
Tagged: 0 Thread(s)
Quoted: 762 Post(s)
Most appropriately named saddle ever.

11-13-22, 05:55 PM
multimodal commuter
Join Date: Nov 2006
Location: NJ, NYC, LI
Posts: 19,807
Bikes: 1940s Fothergill, 1959 Allegro Special, 1963? Claud Butler Olympic Sprint, Lambert 'Clubman', 1974 Fuji "the Ace", 1976 Holdsworth 650b conversion rando bike, 1983 Trek 720 tourer, 1984 Counterpoint Opus II, 1993 Basso Gap, 2010 Downtube 8h, and...
Mentioned: 566 Post(s)
Tagged: 0 Thread(s)
Quoted: 1886 Post(s)
Originally Posted by
steelbikeguy
On my C&V bikes, I've got two Brooks B.17s, two Brooks Pro's (one with the older, smaller rivets, and one with the large, hammered rivets), one with a Brooks Swift with titanium rails (a really nice saddle for go-fast bikes), and one with a Lepper Voyager. This Lepper saddle is fairly novel, so let's take a look at it.
The side view shows it as a leather saddle with very short skirts, not unlike the Brooks Swift. The most unusual detail of the Voyager is that the rails and cantle piece are made of tubular steel, instead of the more common solid steel rods or plates.
This shot shows that the cantle piece has a round cross section, and has a couple of holes that show that it is a tube. I'll admit that I'm just trusting that the rails are tubes too.
The decal on one rail says "531 Reynolds", and that is what Lepper says that the rails and cantle piece are made of. Who else can say that they have 531 tubing on their saddle, much less a tubing decal on the saddle??
This is probably a good time to mention that I got this from Joe Russell's shop, from the "take-off" bin for $25.50, probably around the year 2000. These Leppers used to be standard equipment on some Cannondale touring bikes, but a lot of folks didn't get along with them, so they ended up in the take-off bin at a discount.
I should also mention that these Voyagers had a bit of reputation for breaks in the tubular rails, especially where they were welded to the cantle piece. It appears that I'm scrawny enough to not have caused this sort of failure... yet?
The last novel detail about the Voyager is that is uses a strap of woven nylon (I've read) running from front to rear. This is reputed to handle some of the tension inherent to this sort of saddle design, reducing the amount of stretch commonly seen in leather saddles. There is a lighter color piece of material glued over the strap.. not sure why. It is visible at the very rear of the saddle when closely inspected. This photo provides a better view of the additional thickness of this strap...
Other than the distinct tendency for the welds to fail, this is a very nice saddle! I'd rate it up there with the Brooks Swift, honestly. .. especially if you can pick it up for just $25.50!

Steve in Peoria
Thanks for this tour! I've been curious about these, have never seen one. Have you ever weighed it?
__________________
www.rhmsaddles.com.

11-13-22, 08:21 PM
Senior Member
Join Date: Feb 2008
Location: Peoria, IL
Posts: 3,846
Mentioned: 77 Post(s)
Tagged: 0 Thread(s)
Quoted: 1514 Post(s)
hey Rudy! Maybe it's weird, but I don't think the saddle has been off the bike in 20 years.
Never put it on a scale, but it is light. Probably in the ballpark of a titanium Brooks Swift?? I have weighed that...
Steve in Peoria

11-13-22, 08:40 PM
Senior Member
Join Date: Jul 2014
Location: New Zealand
Posts: 922
Bikes: 1963? Anquetil , 1973 PX10,1979 PX10,1984 PX10, VITUS 979 PX10DU,1970S ALAN,1985 PSV10,1980s PY10FC,1978 bERTIN,ALAN carbon
Mentioned: 9 Post(s)
Tagged: 0 Thread(s)
Quoted: 238 Post(s)
Air cooled ********************?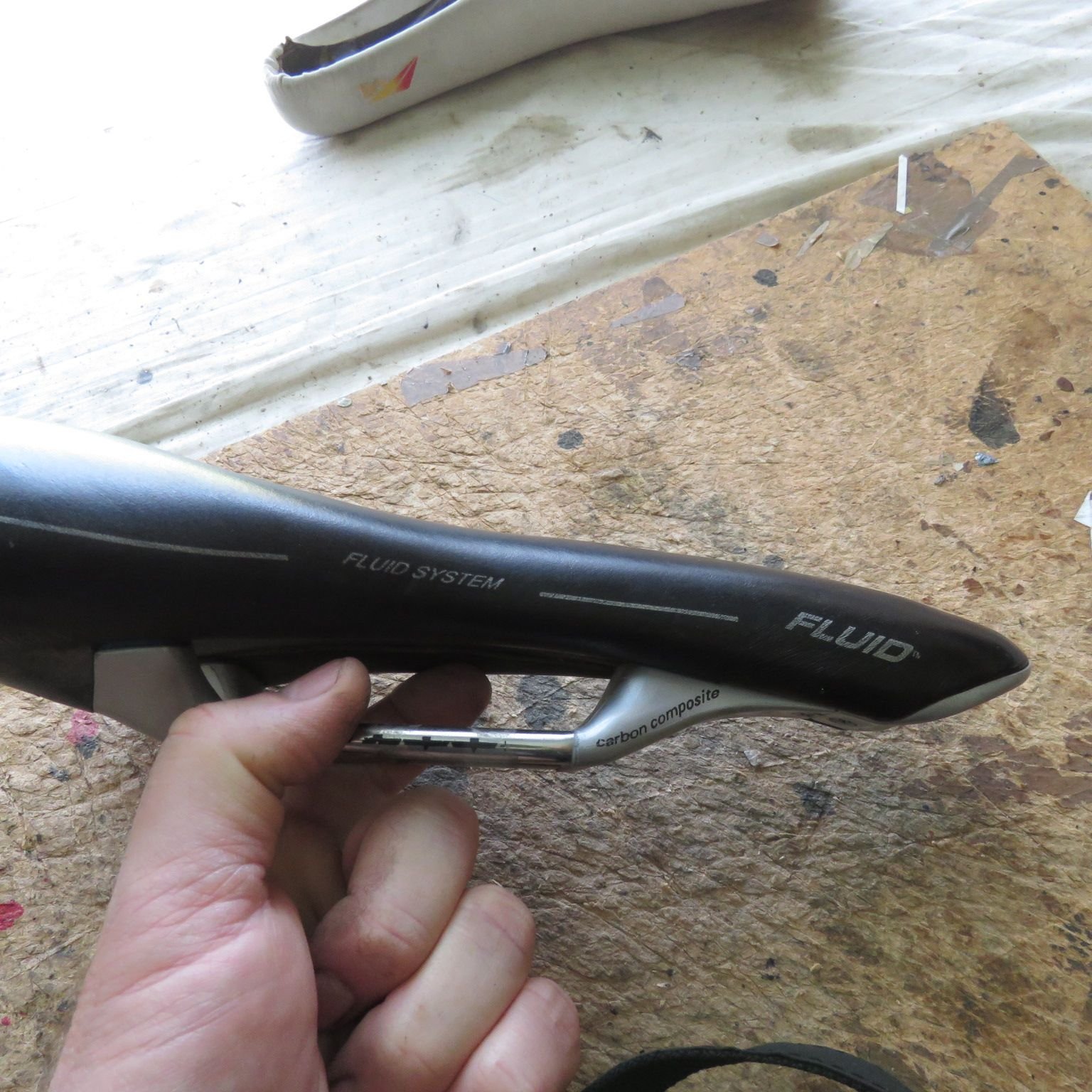 11-13-22, 09:57 PM
my bikes have chrome
Join Date: Aug 2013
Location: Tucson, AZ
Posts: 4,008
Bikes: Schwinn Volare ('78); Raleigh Competition GS ('79)
Mentioned: 29 Post(s)
Tagged: 0 Thread(s)
Quoted: 747 Post(s)
__________________
A race bike in any era is a highly personal choice that at its "best" balances the requirements of fit, weight, handling, durability and cost tempered by the willingness to toss it and oneself down the pavement at considerable speed. ~Bandera