Suntour Symmetric Shifter Levers

05-29-07, 04:48 PM
Destroyer of Worlds
Join Date: Jun 2006
Posts: 446
Mentioned: 0 Post(s)
Tagged: 0 Thread(s)
Quoted: 1 Post(s)
Likes: 0
Liked 0 Times in 0 Posts
Suntour Symmetric Shifter Levers
---
Hey, I made a dumb mistake and took something apart without remembering how it went together. I got the right shift lever on, but the left one is different (probably due to it being Suntour Symmetric, which I believe trims the front der). I'm running out of ideas fast, and I'm doing a bit of damage to the washer and cap which says Suntour Japan. Anyone know the order that these go onto the shifter lever holder? The thing these fit onto is threaded on the inside and has an exterior the shape of the rectangular holes on the top two pieces (see below). Also, if you happen to know the correct order for the right lever, I'd like to know that too, because I may have goofed that up even though it seems to work. I think the right one is all the same except it doesn't have the top left piece (if that's not the case then it doesn't have the top right).
Here's what I'm dealing with (also note that on the bottom right circular cap, on the left of it there's a tab similar to the tab on the piece to the left of it. Also on the lever itself, it's symmetric, so the opposite side also has a circular cutout and a tab):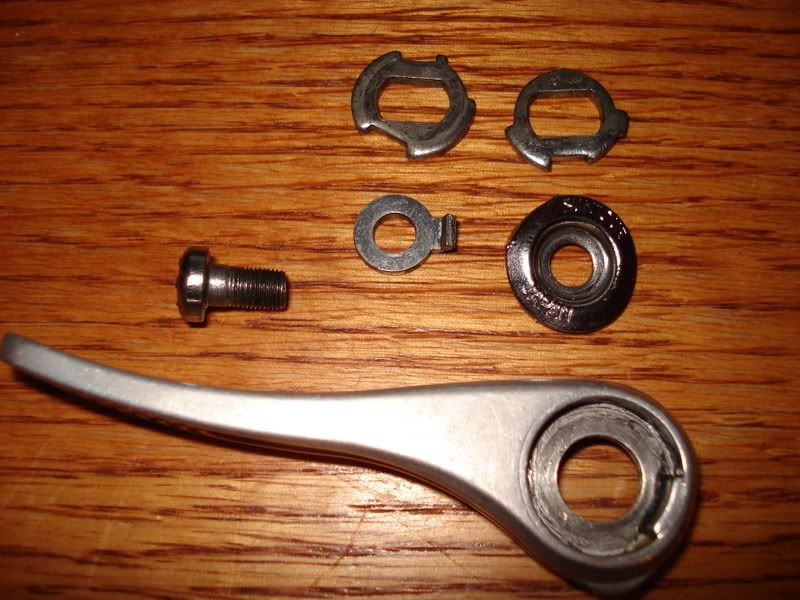 05-30-07, 08:33 AM
Senior Member
Join Date: Oct 2004
Posts: 5,250
Mentioned: 0 Post(s)
Tagged: 0 Thread(s)
Quoted: 2 Post(s)
Likes: 0
I have a set of these on my Centurion Pro Tour. I do not think my description of what I can see of mine (on the bike...I'd be chicken to take it apart) would be of much help to you.

All I can see on mine is that the big disk that is in your photo at 4 o'clock is visible on the outside of the shifters, with the head of the bolt you have on the left mounted in it. The three small pieces in your photo are not visible on my assembled shifters, so they must be mounted between the lever and the rectangular "box" that the levers are mounted on. But, the lever looks "flush" to the mounting box, so I can't see those small pieces at all.

I THINK I've seen a "breakdown" sketch of these shifters in a 1980's era bicycle repair manual. Stores such as "Half Price" books often have those older repair manuals in stock. You might also ask over at the Bike Mechanics Forum. There are guys over there who have worked on just about everything.

Posting Rules
You may not post new threads
You may not post replies
You may not post attachments
You may not edit your posts
---
HTML code is Off
---