Worth rehab or not?

07-07-07, 08:23 PM
Old. Bald. Slow.
Join Date: Jun 2007
Location: Dallas, GA
Posts: 75
Bikes: '05 Trek 2100
Mentioned: 0 Post(s)
Tagged: 0 Thread(s)
Quoted: 0 Post(s)
Likes: 0
Liked 0 Times in 0 Posts
Worth rehab or not?
---
Hi,
I'm new to the C/V forum, but it's very cool to see fine examples of early bikes. I'm thinking about 2 (free) bikes, but one of them I have doubts about.

The first is a Schwinn Typhoon, from the early/mid 70s. It needs tires, and the chrome fenders/rack/stem/bars need to be stripped and rechromed. This one was my Dad's and I have a sentimental attachment to it, so I'm definitely taking it.

The second was also his, but he bought it needing some work and never did it. He basically stuck it in the garage, so I don't feel anything sentimental about it. It's a Schwinn, blue, and the only name on it says "Racer". It has hand brakes and a 3 speed setup that is cable operated and contained in the rear hub (not sure what that's called) and modern-shaped road bars. It also has a sprung saddle. The bike needs cables (or at a minimum, cable WORK), some refinishing, everything taken apart and inpected/lubed/adjusted, and a front rim, which I think might be the biggest problem. I doubt the spokes will turn so it would be more accurate to say a front rim and spokes or possibly just a replacement wheel.

Since I don't know anything about the "racer", is it worth the effort, or is a just a turd in the rough?

Thanks for any advice!

07-08-07, 04:42 AM
Freewheel Medic
Post pictures of the bikes your Dad has given you.
While this is not a Racer, it is the 5 speed cousin, a Collegiate from '66, and I believe the picture speaks to whether it is worth restoring or not.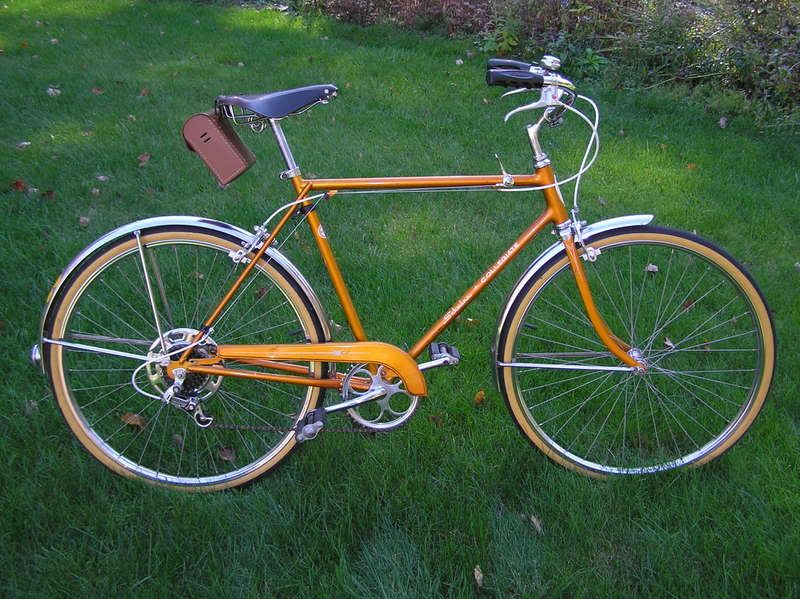 Best of luck on your restoration and we are here to help and guide.
Now take some pictures. We will show you ours but you need to show us yours!
__________________
Bob
Dreaming about riding in NH's summertime!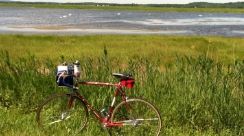 Visit my websites:
FreeWheelSpa.com
or
pastorbobnlnh.com

07-08-07, 06:13 AM
Keeper of the SLDB
Join Date: Sep 2002
Location: Springfield, MO
Posts: 1,629
Bikes: '75 Schwinn Paramount P-10, '86 Ritchey Commando, '87 Schwinn Cimarron, '91 Trek 990, '87 Schwinn High Sierra, '73 Schwinn Super Sport, '4? Schwinn New World, '76 Swing Bike.
Mentioned: 0 Post(s)
Tagged: 0 Thread(s)
Quoted: 0 Post(s)
Likes: 0
Liked 0 Times in 0 Posts
Schwinns -- woot!
On your Dad's original bike, the chrome will be too expensive to redo. It would be better to replace these parts. Nice used ones are not that hard to locate. This forum, eBay or the Schwinn Forum are good places to start this search:
http://www.schwinnbike.com/heritage/....php?forumid=3
Schwinn chrome is of very high quality, so may look bad at first glance, but could clean up. Have you tried bronze wool, oxalic acid, etc.?
The Racer would have upright bars in a stock configuration. This is not a super valuable bike, but is worth saving IMHO. If you would like to research the details a bit, start with the serial numbers (located on the left, rear axle hanger (or dropout) or on the headtube of the frame (just above the fork, below the Schwinn headbadge). Compare the first two letters or letter/number to the chart here:
http://www.geocities.com/sldatabook/serial.html
If you don't get a match, it could be an earlier bike -- then check the charts here:
http://www.bunchobikes.com/serialnumber4.htm
Once you know the date, you can find catalogs here:
http://www.geocities.com/sldatabook/publications.html
http://www.trfindley.com/pg_schwinn_cats.htm
Enjoy the "ride",
Bob

07-08-07, 06:28 AM
Membership Not Required
Join Date: Jan 2005
Location: On the road-USA
Posts: 16,854
Bikes: Giant Excursion, Raleigh Sports, Raleigh R.S.W. Compact, Motobecane? and about 20 more! OMG
Mentioned: 4 Post(s)
Tagged: 0 Thread(s)
Quoted: 66 Post(s)
Likes: 0
Liked 0 Times in 0 Posts
The more I mess with vintage bikes the more convinced I am that they are of a better overall quality than a lot of the later stuff. I have a late 60's Hollywood? that the chrome cleaned up on very well after 30+ years in storage. I have a later model Giant made Collegiate that had very poor quality chrome and paint on it. Just for comparison I have a near same year model Huffy Baypoint that is of an apparent better quality. You can't go wrong with any Schwinn that was Chicago built IMHO

Aaron

__________________
Webshots is bailing out, if you find any of my posts with corrupt picture files and want to see them corrected please let me know. :(
ISO:
A late 1980's
Giant Iguana MTB frameset (or complete bike) 23" Red with yellow graphics.

"Cycling should be a way of life, not a hobby.
RIDE, YOU FOOL, RIDE!"
_Nicodemus
"Steel: nearly a thousand years of metallurgical development
Aluminum: barely a hundred
Which one would you rather have under your butt at 30mph?"
_krazygluon