ISO Chrome Front Fender for Roadmaster

08-10-08, 06:59 PM
Newbie
Join Date: Aug 2008
Location: Eastern PA
Posts: 4
Bikes: Drooling over a 1968 AMF Roadmaster
Mentioned: 0 Post(s)
Tagged: 0 Thread(s)
Quoted: 0 Post(s)
ISO Chrome Front Fender for Roadmaster
---
I've found my childhood first bike! It's a 1968 AMF Roadmaster, but it's missing the front chrome fender (peaked). Anyone know where I can find one? I've already checked eBay, but none there.
I know it could take awhile to find one, but thought I'd ask up front.
I'm also looking for the same seat I had..it was white with gold trim.
Sure would appreciate any info!
Thanks so much!
Warmly,
Lori


08-11-08, 03:23 AM
Freewheel Medic
Join Date: Oct 2005
Location: Ascending or Descending the NH Mountains NW of Concord!
Posts: 10,769
Bikes: Snazzy* Schwinns, Classy Cannondales, & a Lonely '83 Santana Tandem (* Ed.)
Mentioned: 69 Post(s)
Tagged: 0 Thread(s)
Quoted: 281 Post(s)
Lori,
Welcome to C&V. Do you have a picture of your bike? Are the wheels 27"? I doubt that this Roadmaster is a '68, but you are more than welcome to the fenders and anything else you would like for me to pull off of it. I hauled it home from the dump last fall and I doubt I'll do a thing with it.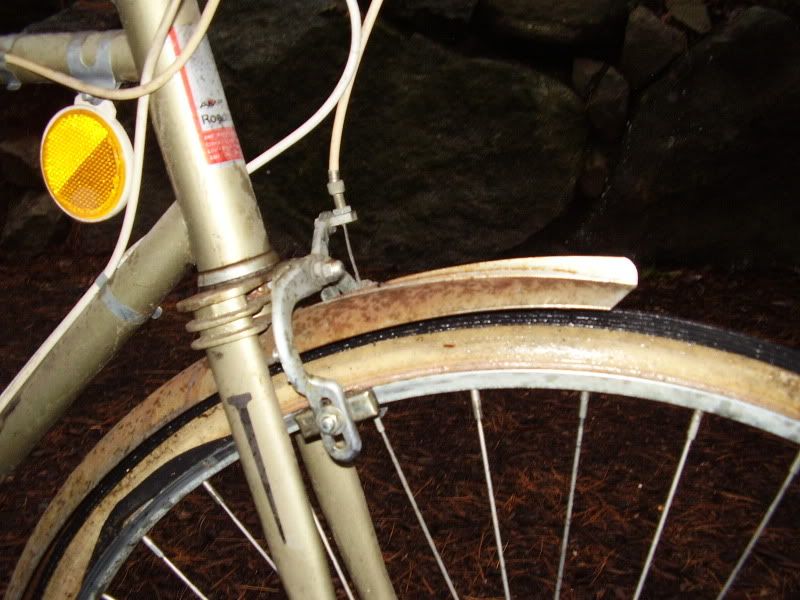 As you can see the fenders and most of the parts are quite rusty. I've not tried any steel or bronze wool or wood bleach on the fenders, but I could give it a little test and let you know the results. BTW, I believe I gave the saddle away sometime last year. PM me if you are interested.
__________________
Bob
Dreaming about riding in NH's summertime!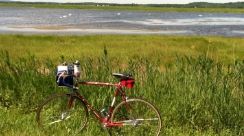 Visit my websites:
FreeWheelSpa.com
or
pastorbobnlnh.com

08-11-08, 07:18 AM
Old Skeptic
Join Date: Jan 2006
Location: New Mexico, USA
Posts: 1,044
Bikes: 19 road bikes & 1 Track bike
Mentioned: 5 Post(s)
Tagged: 0 Thread(s)
Quoted: 3 Post(s)
Can't help you with peaked fenders, but Wald Manufacturing, Inc still makes chrome plated fenders for 26" lightweight, middleweight and balloon tire bikes.

Different widths, suited for tires measuring from 1-1/8" to 2-1/8". Several different models including some with flares bottom ends. Look up their website and you can download their entire wholesale catalogue of accessories - many of which most US bike manufacturers had used on their bikes originally. Some very cool stuff, often designs dating from decades ago, and still made with pride right in the USA.

08-11-08, 08:22 PM
Newbie
Join Date: Aug 2008
Location: Eastern PA
Posts: 4
Bikes: Drooling over a 1968 AMF Roadmaster
Mentioned: 0 Post(s)
Tagged: 0 Thread(s)
Quoted: 0 Post(s)
Wow, thanks SO much for the offer of the parts, Bob! I found one on craigslist and emailed the guy, so I'm waiting to hear from him. I can't tell for sure from the photo he has on craigslist, but it sure looks like what I'm looking for. If not, I'll let you know and maybe I can use that front fender from your's.

I'll also check out Wald Mfg.

Thanks you guys!

Warmly,
Lori

Posting Rules
You may not post new threads
You may not post replies
You may not post attachments
You may not edit your posts
---
HTML code is Off
---