7-speed cassette options for Bridgestone RB-2

08-11-08, 05:40 PM
Are you with me
Join Date: May 2002
Location: Washington D.C.
Posts: 1,311
Bikes: Giant TCR Advanced SL, Blue T-14 TT bike
Mentioned: 2 Post(s)
Tagged: 0 Thread(s)
Quoted: 0 Post(s)
7-speed cassette options for Bridgestone RB-2
---
Hello,
I'd like to upgrade my 1991 Bridgestone RB-2 to facilitate climbing my local hills. the 40-23 combination is not cutting it for the tough climbs.
I see various options on the Harris Cyclery website and I'm curious if anyone knows what will work with my RB-2. I'd like to go the simplest upgrade route possible, thus my hope that a new cassette will work.
The stock cassette is 13 - 14 -15 -17- 19- 21 - 23t, crank is original 52 x 40t
Bike still has the original exage group. Original detailed specs
here, middle column
I would love to go with something that takes me to 28 or bigger in the back. I'm interested in the yellow-highlighted options in the image below: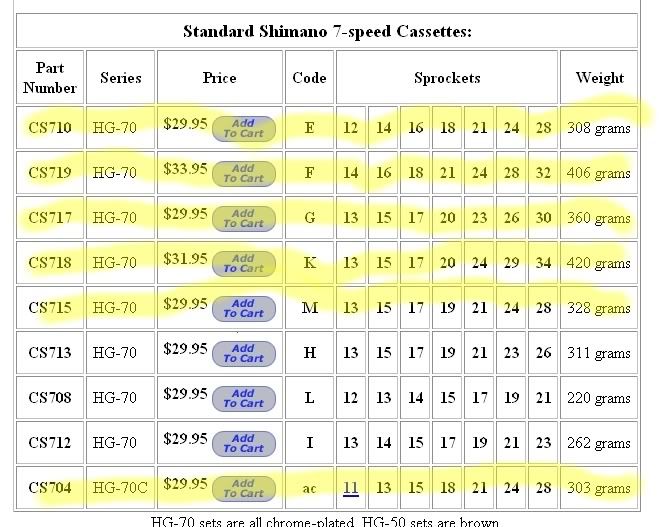 Thanks

08-11-08, 05:54 PM
Death fork? Naaaah!!
Join Date: Nov 2005
Location: The other Maine, north of RT 2
Posts: 4,316
Bikes: '71 Gitane Super Corsa, '73 Atala Giro d'Italia, '73 Schwinn Super Sport, '76 Viscount Aerospace Pro, '81 Miyata 710, '84 Ross Signature 290s, '85 Miele Gara, '87 Miyata 512, '89 Centurion Ironman, many more
Mentioned: 25 Post(s)
Tagged: 0 Thread(s)
Quoted: 197 Post(s)
Keep the 52-40 up front and go with the 13-30 in back. I really like that range for my old legs on NE hills.
It SHOULD work with a short cage Exage RD (works for me), but you'll need a new longer chain.
Top
__________________
You know it's going to be a good day when the stem and seatpost come right out.

(looking for a picture and not seeing it? Thank the Photobucket fiasco.PM me and I'll link it up.)


08-11-08, 06:20 PM
Senior Member
Join Date: Jun 2007
Posts: 441
Mentioned: 0 Post(s)
Tagged: 0 Thread(s)
Quoted: 0 Post(s)
any of those will work, save for the one with the 34t large cog.
you'll definitely need a new chain (your old one is too short, and likely worn so it won't mesh will with the new cassette)
your chainrings are likely fine, unless they are VERY visibly heavily worn. (chainring teeth look like shark fins)


consider the cog sizes in the middle of the cassette, too. a cassette with large and or irregular jumps will be kinda annoyying to ride.

08-11-08, 06:58 PM
Senior Member
Join Date: Feb 2007
Location: Mid Willamette Valley, Orygun
Posts: 10,345
Bikes: 86 RockHopper,2008 Specialized Globe. Both upgraded to 9 speeds.
Mentioned: 3 Post(s)
Tagged: 0 Thread(s)
Quoted: 499 Post(s)
I wouldn't go any larger than what you absolutely need, to try to keep the spacing as close as possible.
Also, you can mix & match cogs from 2 cassettes. I've done that with the E & H cassettes to make a closer geared set for my flat riding. 13-14-15-16-18-21-24.
Since you have the I cassette, you could get an F and make something like a -
14-15-16-18-21-24-28
Just a thought-

08-11-08, 09:30 PM
Senior Member
Join Date: Jun 2008
Location: Middle TN
Posts: 653
Bikes: 2 Centurian Ironman, Rossin Genisis, Greenspeed GT3, Stowaway (wife)
Mentioned: 0 Post(s)
Tagged: 0 Thread(s)
Quoted: 0 Post(s)
I personally like the 14-32. The first 5 cogs match my 14-24 speed freewheel but it has the 2 lower gears.

08-11-08, 09:42 PM
Bottecchia fan
Join Date: Aug 2003
Location: Colorado Springs, CO
Posts: 3,432
Bikes: 1959 Bottecchia Professional (frame), 1966 Bottecchia Professional (in progress...), 1971 Bottecchia Professional (frame), 1973 Bottecchia Gran Turismo, 1974 Bottecchia Special (in progress...), 1977 Bottecchia Special (frame), 1974 Peugeot UO-8
Mentioned: 0 Post(s)
Tagged: 0 Thread(s)
Quoted: 4 Post(s)
__________________
1959 Bottecchia Professional (frame), 1966 Bottecchia Professional, 1971 Bottecchia Professional (frame),
1973 Bottecchia Gran Turismo, 1974 Bottecchia Special, 1977 Bottecchia Special (frame),
1974 Peugeot UO-8, 1988 Panasonic PT-3500, 2002 Bianchi Veloce, 2004 Bianchi Pista

Posting Rules
You may not post new threads
You may not post replies
You may not post attachments
You may not edit your posts
---
HTML code is Off
---