Freewheel Medic
Join Date: Oct 2005
Location: Ascending or Descending the NH Mountains NW of Concord!
Bikes: Snazzy* Schwinns, Classy Cannondales, & a Lonely '83 Santana Tandem (* Ed.)
Posts: 10,591
Mentioned: 40 Post(s)
Tagged: 0 Thread(s)
Quoted: 188 Post(s)
Quote:
Originally Posted by EraserGirl
i bought new shifters for my 96 trek antelope.
i wish i knew something about MTB i have no idea how to install them.
j
Are the shifters the Grip Shift twister kind or the lever type?
Basically, in both cases, release the the RD shifter so as much cable as possible is extended. This is your high gear position. With the FD release the cable and this is your low gear position.
Now with the rear wheel on but the chain off, adjust the FD to be centered over the small granny chainring (if by chance you have an FD that has an opposite pull, center it over the big ring). Adjust the RD to be centered under the smallest cog on the cassette or freewheel. Install the RD & FD cables, pulling the cable tight and then tightening them down with the clamp nut or screw on the derailleurs. You are about 90% of the way home!
Try the shifters to see how they move the derailleurs across the chainrings or cassette. Be careful with the RD, as you will most likely need to hold it down to keep it from crashing into the cassette. Adjust the opposite stops on the derailleurs to keep them from over shifting.
Install the chain, adjusting the length if needed. I use the Sheldon Brown and Park Tool chain length Big-Big method and usually add two links.
Pedal the bike in the stand while shifting through the gears. Use the cable adjusters on the shift levers to take any "chatter" out of the positions. This usually only requires a 1/4 turn or so. After shifting through the range of gears a dozen or more times, check the cable tension in the RD high and the FD low positions. Re-tighten the cable as needed.
I hope this helps. Jump in and you'll find it's not too hard. Best of Luck.
__________________
Bob
Dreaming about riding in NH's summertime!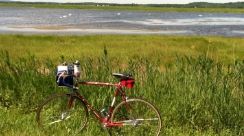 Visit my websites:
FreeWheelSpa.com
or
pastorbobnlnh.com