Help Me Identify and Replace my Derailleur

07-10-09, 05:17 PM
Senior Member
Join Date: Mar 2007
Location: Salt Lake City, UT
Posts: 62
Bikes: 2006 Specialized Stumpjumper
Mentioned: 0 Post(s)
Tagged: 0 Thread(s)
Quoted: 0 Post(s)
Likes: 0
Liked 0 Times in 0 Posts
Help Me Identify and Replace my Derailleur
---
So, I'm an idiot. I got a new (to me) bike last week, and when riding around the neighborhood checking out the gearing I threw the rear derailleur into my spokes. Sigh.
The derailleur was (well, still is, I guess) a Campagnolo Veloce 9-Speed rear derailleur. It looked like this:
So, identifying it is easy. Or, so I thought. Obviously it's a Veloce 9-Speed. But, the question is: how can I identify it well enough to replace it? There's no serial numbers or any sort of obvious way of dating it, so I'm not sure how to replace it. Can I buy a modern Campy 8 or 9-speed derailleur and hook it up to the Syncro II DT shifters on the bike? Do I need to buy a derailleur of a similar vintage? Do I have to stick with Veloce, or can I upgrade to higher-end component?
For what it's worth I'm running two rings on the front, with an 8-speed cassette on the back. At least, I think it's a cassette, it could just as easily be freewheel. I don't know the gearing, but I can certainly check it out when I get home.
I'm a little over my head with trying to ID and purchase bike components, so please excuse my n00bishness.

07-10-09, 05:35 PM
Freewheel Medic
__________________
Bob
Dreaming about riding in NH's summertime!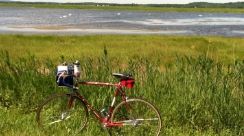 Visit my websites:
FreeWheelSpa.com
or
pastorbobnlnh.com