eBay / CraigsList finds - "Are you looking for one of these!?" Part II

11-27-21, 09:56 AM
Schwinn Town & Country on Facebook Marketplace in Springfield, IL for $200:
https://www.facebook.com/marketplace...7642562735381/
Cool chainguards. I know little about them (only what folks on CR post), but it seems to be pretty original. Seller says 1955, but maybe later?

11-27-21, 10:08 AM
Senior Member
Join Date: Nov 2005
Location: NW Ohio
Posts: 2,824
Bikes: 1984 Miyata 310, 1986 Schwinn Sierra, 2011 Jamis Quest, 1980 Peugeot TH8 Tandem, 1992 Performance Parabola, 1987 Ross Mt. Hood, 1988 Schwinn LeTour, 1988 Trek 400T, 1981 Fuji S12-S LTD
Mentioned: 18 Post(s)
Tagged: 0 Thread(s)
Quoted: 318 Post(s)
$50 Fuji Del Ray near Toledo, Ohio
https://www.facebook.com/marketplace...a-e3e8d5d1968c
---
Last edited by Pompiere; 11-27-21 at

10:12 AM

.

11-27-21, 12:09 PM
Bianchi Goddess
Join Date: Apr 2009
Location: Shady Pines Retirement Fort Wayne, In
Posts: 27,666
Bikes: Too many to list here check my signature.
Mentioned: 146 Post(s)
Tagged: 2 Thread(s)
Quoted: 2059 Post(s)
This is interesting. Too bad it isn't 700c wheels.
__________________
Bianchis '90 Proto, '90 Campione del Fausto Giamondi Specialisma Italiano Mundo, '91 Boarala 'cross, '93 Project 3, '86 Volpe, '97 Ti Megatube, '93 Reparto Corse SBX

Others but still loved; '80 Batavus Professional, '87 Cornelo, '?? Jane Doe (still on the drawing board), '90ish Haro Escape SLX Bertoni "Speckled Trout"


11-27-21, 03:35 PM
Senior Member
Join Date: Feb 2020
Location: Little Rock, AR
Posts: 250
Bikes: (2) 1980 Schwinn Voyageur 11.8 All Chrome, 1985 Schwinn Peloton, 1987 Schwinn Tempo, 1987 Schwinn Prelude, 1988 Schwinn Premis, 1987 Trek 520,, 1985 Schwinn Voyageur, 1985 Schwinn LeTour Luxe, 1989 Schwinn Voyageur, 2011 Specialized Roubaix
Mentioned: 3 Post(s)
Tagged: 0 Thread(s)
Quoted: 81 Post(s)

11-27-21, 03:35 PM
Forum Moderator
Join Date: Jul 2007
Location: Kalamazoo MI
Posts: 19,883
Bikes: Fuji SL2.1 Carbon Di2 Cannondale Synapse Alloy 4 Trek Checkpoint ALR gravel Viscount Aerospace Pro Schwinn Paramount PDG 5
Mentioned: 51 Post(s)
Tagged: 0 Thread(s)
Quoted: 2579 Post(s)
A decent looking World Voyageur rider - $350 in Cleveland
https://cleveland.craigslist.org/bik...412869680.html
__________________
Life is good

11-27-21, 04:18 PM
Trek 728 for $300 in Santa Rosa, CA
https://sfbay.craigslist.org/nby/bik...413388305.html

11-27-21, 04:28 PM
Senior Member
Join Date: Sep 2013
Location: Chicago
Posts: 407
Bikes: '72 Peugeot PX-10 '72 Gitane Tour de France '75 Motobecane Le Champion '85 Trek 830 '85 Trek 760
Mentioned: 1 Post(s)
Tagged: 0 Thread(s)
Quoted: 83 Post(s)
Originally Posted by
smontanaro
24-inch Trek TX-900 frame on eBay:
https://www.ebay.com/itm/1973-Trek-t...-/353786095645
Seller says 1973. I let him know it was Nov 77 based on the serial number.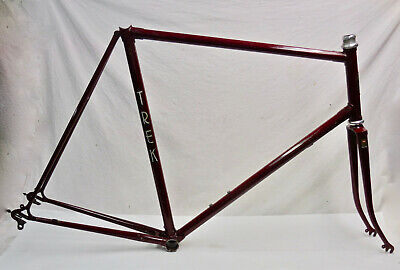 Nice. This, and the rare as hen's teeth 170 are about the only Treks I'd still want to try. Think this is a repaint? Paint looks awfully fresh.

11-27-21, 09:29 PM
Happy banana slug
Join Date: Sep 2015
Location: Arcata, California, U.S., North America, Earth, Saggitarius Arm, Milky Way
Posts: 2,551
Bikes: 1992 Specialized Rockhopper Sport, 2016 Giant Liv Rove Lite, 1995 Trek Singletrack 930, 1994 Trek Multitrack 750
Mentioned: 24 Post(s)
Tagged: 0 Thread(s)
Quoted: 958 Post(s)
Cannondale Delta V
. Interesting.
Cannondale Delta V 700 MTB - $275 (Eureka)
image 1 of 9
© craigslist - Map data ©
OpenStreetMap
1000 B ST near Clark(
google map
)
bicycle frame material:
aluminum
bicycle type:
mountain
condition:
good
frame size:
Medium
make / manufacturer:
Cannondale
model name / number:
Delta V700
suspension:
suspension fork (hardtail)
wheel size:
26 in
1993 Cannondale Delta V 700 MTB $275
3 x 7 Front derailleur is friction. Fork suspension.
Fully gone over.
Mechanic notes:
I have been unsuccessful in locating a adjuster cap for the headshot suspension. I have checked both Google and eBay and without any luck. The cap would cover the aluminum nut at the top of the fork. The aluminum nut has a yellow yellow Schrader valve cap. The nut turns easily by hand to adjust the shock function. Turn it fully clockwise until it stops and the shock will be firm. A half turn counterclockwise and the shock is active. It turns so easily that the cap is for all intents and purposes, cosmetic.
I did a partial rebuild on the shocks. I did not want to get into the 4 dozen needle bearings and the associated alignment of said bearings. At any rate. The shock is now holding its air pressure. And I got the lockout working ( better ). There is a clunking at the full extension of the shock that I have seen in other cannondale head shocks. I donít know if this is normal or not.
The Bike Kitchen is closed to the public until further notice but...
This bike can be ridden and purchased by appointment only (via email). We can coordinate a time to meet at the Bike Kitchen for a test ride. Please bring your own helmet if you have one.
The Bike Kitchen (non-profit)
1000 B Street Eureka, 95501 (The Jefferson School, SIDE BUILDING off of Clark).
https://www.facebook.com/EurekaBikeKitchen
https://www.eurekabikekitchen.org
Bikes sold on a first come, first served basis.
Tuned up and ready to roll.
Sorry, cash only.
This bike made possible through donations from the Humboldt community.
Donations welcome!

11-27-21, 09:38 PM
Well Oiled
https://tulsa.craigslist.org/bik/d/c...413319058.html
Peugeot Super Vitus Tulsa area. Seller hasn't listed a price. It is a make offer listing right now so you may be able to walk away with it cheap. I was going to shoot an offer for giggles, but didn't
__________________


11-27-21, 10:34 PM
Senior Member
I have enough Treks.. but dang if I was closer...
https://dallas.craigslist.org/ftw/bi...409967720.html